14 Bible Verses about Pride
«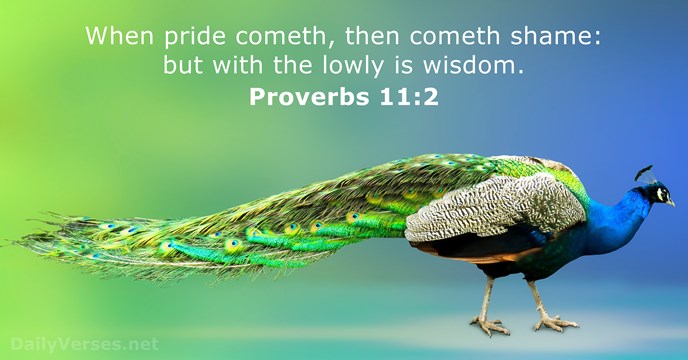 »
When pride cometh, then cometh shame: but with the lowly is wisdom.

Wijze mensen scheppen niet op over zichzelf, want opscheppers worden belachelijk gemaakt.

The fear of the L

ord

is to hate evil: pride, and arrogancy, and the evil way, and the froward mouth, do I hate.

Ik heb eerbied voor de Heer, en daarom haat ik het kwaad. Ik heb een hekel aan trotse mensen, aan leugenaars en aan mensen die kwaad doen.

Be of the same mind one toward another. Mind not high things, but condescend to men of low estate. Be not wise in your own conceits.

Vergeet nooit dat jullie als christenen allemaal gelijk zijn. Je moet jezelf niet belangrijker vinden dan anderen. Wees tevreden met een onbelangrijke plaats, en wees niet eigenwijs.

A man's pride shall bring him low: but honour shall uphold the humble in spirit.

Mensen die zichzelf geweldig vinden, zullen het moeilijk hebben, maar mensen die bescheiden zijn, krijgen respect.

But the L

ord

said unto Samuel, Look not on his countenance, or on the height of his stature; because I have refused him: for the L

ord

seeth not as man seeth; for man looketh on the outward appearance, but the L

ord

looketh on the heart.

Maar de Heer zei tegen Samuel: 'Let niet op zijn uiterlijk. Kijk niet hoe groot hij is. Ik heb hem niet uitgekozen. Wat je van buiten ziet, is niet belangrijk. Daar kijken mensen altijd het eerst naar, maar ik let erop hoe een mens van binnen is.'

But he that glorieth, let him glory in the Lord. For not he that commendeth himself is approved, but whom the Lord commendeth.

Er is er maar één op wie we trots moeten zijn: de Heer. Iemand kan wel over zichzelf zeggen: 'Ik werk voor de Heer.' Maar dat zegt nog niets. Dat weet je pas zeker, als de Heer zelf laat zien dat iemand voor hem werkt.

Before destruction the heart of man is haughty, and before honour is humility.

Als je jezelf geweldig vindt, zul je het moeilijk hebben, maar als je bescheiden bent, krijg je van iedereen respect.

And he said, That which cometh out of the man, that defileth the man. For from within, out of the heart of men, proceed evil thoughts, adulteries, fornications, murders, Thefts, covetousness, wickedness, deceit, lasciviousness, an evil eye, blasphemy, pride, foolishness: All these evil things come from within, and defile the man.

Jezus zei verder: 'Een mens wordt onrein van de dingen die uit hem naar buiten komen. Want alle slechte dingen die een mens doet, komen uit zijn eigen hart: slechte gedachten, verboden seks, moord, belediging, trots en domheid. En ook vreemdgaan, stelen, graaien, liegen, gemeen zijn, jaloers zijn op anderen, en je nergens voor schamen. Al die slechtheid maakt een mens onrein.'

For all that is in the world, the lust of the flesh, and the lust of the eyes, and the pride of life, is not of the Father, but is of the world.

In de wereld is het normaal om je eigen verlangens te volgen. Het is daar normaal om alles wat je ziet, te willen hebben, en om op te scheppen over je bezit. Zulk gedrag hoort bij de wereld, niet bij de Vader.

And base things of the world, and things which are despised, hath God chosen, yea, and things which are not, to bring to nought things that are: That no flesh should glory in his presence.

God heeft mensen uitgekozen die onbelangrijk zijn en niets voorstellen, en voor wie niemand respect heeft. Daarmee maakte hij een eind aan alles wat in deze wereld belangrijk is. Zo zorgt hij ervoor dat niemand trots kan zijn op zichzelf.

Charge them that are rich in this world, that they be not highminded, nor trust in uncertain riches, but in the living God, who giveth us richly all things to enjoy.

Vertel de rijke mensen van deze wereld dat ze niet trots moeten zijn. Ze moeten niet vertrouwen op rijkdom, want die kun je makkelijk verliezen. Ze moeten vertrouwen op God. Hij geeft ons meer dan genoeg om van te genieten.

And though I bestow all my goods to feed the poor, and though I give my body to be burned, and have not charity, it profiteth me nothing.

Als je geen liefde hebt voor anderen, dan is alles wat je doet, zinloos. Zelfs al verkoop je je bezit, en geef je het geld aan de armen. Zelfs al sterf je in het vuur, omdat je je leven geeft voor de goede zaak.

Now I Nebuchadnezzar praise and extol and honour the King of heaven, all whose works are truth, and his ways judgment: and those that walk in pride he is able to abase.

Daarom geef ik alle eer aan God, de koning van de hemel. Alles wat hij doet, is goed. Wat hij ook beslist, hij heeft altijd gelijk. Sommige mensen vinden dat ze een hoge plaats verdiend hebben. Maar aan zulke mensen geeft hij juist een lage plaats.

Let the brother of low degree rejoice in that he is exalted: But the rich, in that he is made low: because as the flower of the grass he shall pass away.

Christenen die arm en onbelangrijk zijn, mogen er trots op zijn dat God hen uitgekozen heeft. En rijke christenen mogen er trots op zijn dat ze op aarde totaal onbelangrijk zijn. Het gaat met hen net als met de bloemen in het gras.
Beloved, if our heart condemn us not, then have we confidence toward God. And whatsoever we ask, we receive of him, because we keep his commandments, and do those things that are pleasing in his sight.
Therefore I say unto you, What things soever ye desire, when ye pray, believe that ye receive them, and ye shall have them.
Read more
Beloved, if our heart condemn us not, then have we confidence toward God. And whatsoever we ask, we receive of him, because we keep his commandments, and do those things that are pleasing in his sight.
Personal Bible reading plan
Create an account to configure your Bible reading plan and you will see your progress and the next chapter to read here!
Read more...