Bible Verses about 'Destroy'
«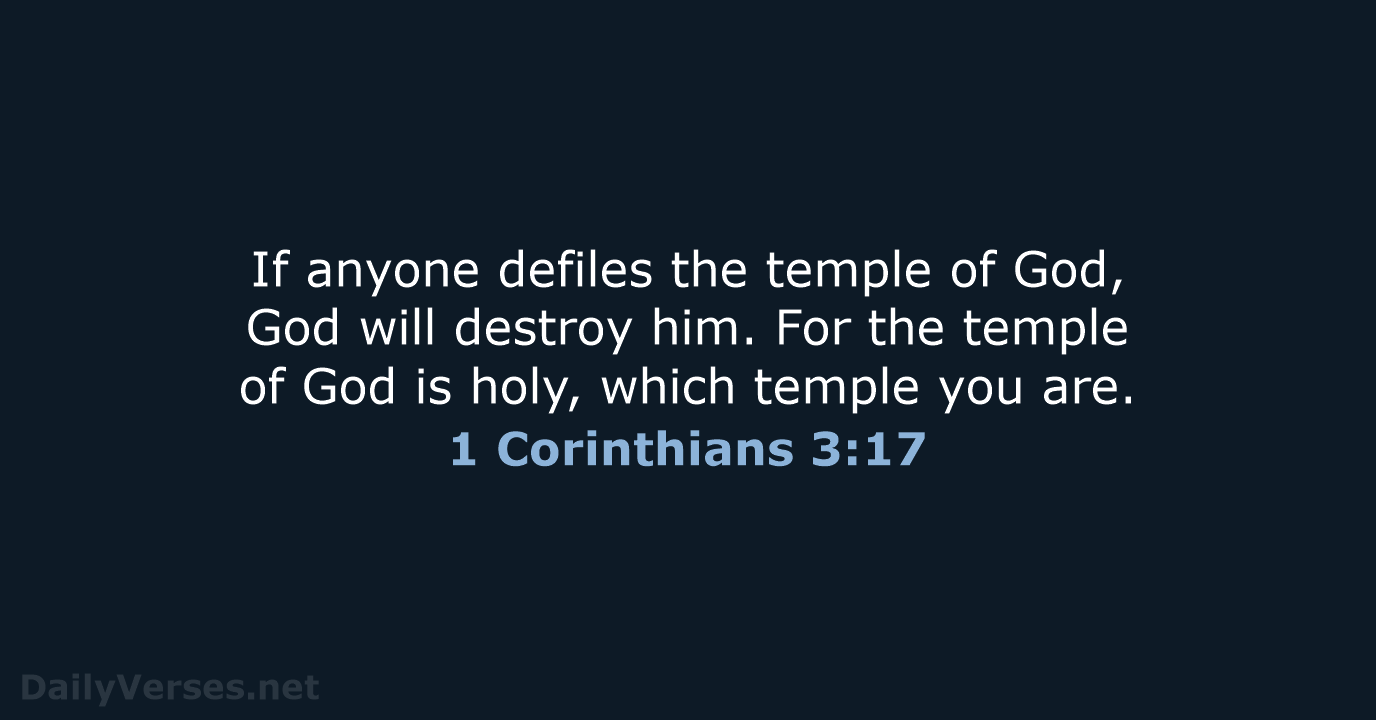 »
If anyone defiles the temple of God, God will destroy him. For the temple of God is holy, which temple you are.

There is one Lawgiver, who is able to save and to destroy. Who are you to judge another?

Do not think that I came to destroy the Law or the Prophets. I did not come to destroy but to fulfill.

The thief does not come except to steal, and to kill, and to destroy. I have come that they may have life, and that they may have it more abundantly.

And do not fear those who kill the body but cannot kill the soul. But rather fear Him who is able to destroy both soul and body in hell.

Thus I establish My covenant with you: Never again shall all flesh be cut off by the waters of the flood; never again shall there be a flood to destroy the earth.

The integrity of the upright will guide them,
But the perversity of the unfaithful will destroy them.

He who sins is of the devil, for the devil has sinned from the beginning. For this purpose the Son of God was manifested, that He might destroy the works of the devil.

The hypocrite with his mouth destroys his neighbor,
But through knowledge the righteous will be delivered.

Do not lay up for yourselves treasures on earth, where moth and rust destroy and where thieves break in and steal; but lay up for yourselves treasures in heaven, where neither moth nor rust destroys and where thieves do not break in and steal.

Repent, and turn from all your transgressions, so that iniquity will not be your ruin.

He who walks with wise men will be wise,
But the companion of fools will be destroyed.
For we know that if our earthly house, this tent, is destroyed, we have a building from God, a house not made with hands, eternal in the heavens.
A man who has friends must himself be friendly,
But there is a friend who sticks closer than a brother.
As for the Almighty, we cannot find Him;
He is excellent in power,
In judgment and abundant justice;
He does not oppress.
Nevertheless in Your great mercy
You did not utterly consume them nor forsake them;
For You are God, gracious and merciful.
The words of a wise man's mouth are gracious,
But the lips of a fool shall swallow him up.
The way of the L

ord

is strength for the upright,
But destruction will come to the workers of iniquity.
For if we have been united together in the likeness of His death, certainly we also shall be in the likeness of His resurrection, knowing this, that our old man was crucified with Him, that the body of sin might be done away with, that we should no longer be slaves of sin.
For the L

ord

loves justice,
And does not forsake His saints;
They are preserved forever,
But the descendants of the wicked shall be cut off.

For as many as have sinned without law will also perish without law, and as many as have sinned in the law will be judged by the law.

The Lord is not slack concerning His promise, as some count slackness, but is longsuffering toward us, not willing that any should perish but that all should come to repentance.
The wicked man does deceptive work, But he who sows righteousness will have a sure reward.
Personal Bible reading plan
Create an account to configure your Bible reading plan and you will see your progress and the next chapter to read here!
Read more...