Bible Verses about 'Did'
«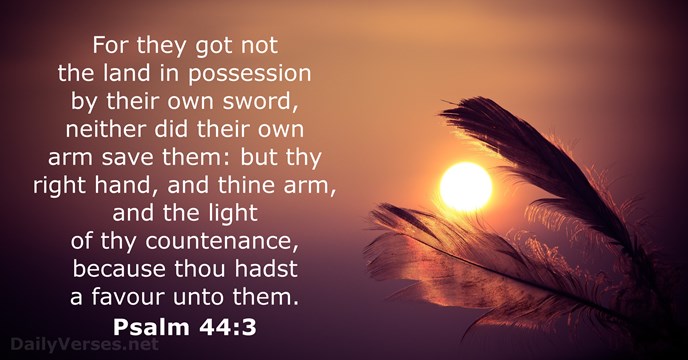 »
Unto Adam also and to his wife did the L

ord

God make coats of skins, and clothed them.
E fez o S

enhor

Deus a Adão e a sua mulher túnicas de peles e os vestiu.

There remaineth therefore a rest to the people of God. For he that is entered into his rest, he also hath ceased from his own works, as God did from his.

Portanto, resta ainda um repouso para o povo de Deus. Porque aquele que entrou no seu repouso, ele próprio repousou de suas obras, como Deus das suas.

For they got not the land in possession by their own sword, neither did their own arm save them: but thy right hand, and thine arm, and the light of thy countenance, because thou hadst a favour unto them.

Pois não conquistaram a terra pela sua espada, nem o seu braço os salvou, e sim a tua destra, e o teu braço, e a luz da tua face, porquanto te agradaste deles.

I ate no pleasant bread, neither came flesh nor wine in my mouth, neither did I anoint myself at all, till three whole weeks were fulfilled.

Manjar desejável não comi, nem carne nem vinho entraram na minha boca, nem me ungi com unguento, até que se cumpriram as três semanas.

I am sought of them that asked not for me; I am found of them that sought me not: I said, Behold me, behold me, unto a nation that was not called by my name.

Fui buscado pelos que não perguntavam por mim; fui achado por aqueles que me não buscavam; a um povo que se não chamava do meu nome eu disse: Eis-me aqui.

Surely he hath borne our griefs, and carried our sorrows: yet we did esteem him stricken, smitten of God, and afflicted.

Verdadeiramente, ele tomou sobre si as nossas enfermidades e as nossas dores levou sobre si; e nós o reputamos por aflito, ferido de Deus e oprimido.

Thou hast also given me the shield of thy salvation: and thy right hand hath holden me up, and thy gentleness hath made me great. Thou hast enlarged my steps under me, that my feet did not slip.

Também me deste o escudo da tua salvação; a tua mão direita me susteve, e a tua mansidão me engrandeceu. Alargaste os meus passos e os meus artelhos não vacilaram.

But he that knew not, and did commit things worthy of stripes, shall be beaten with few stripes. For unto whomsoever much is given, of him shall be much required: and to whom men have committed much, of him they will ask the more.

Mas o que a não soube e fez coisas dignas de açoites com poucos açoites será castigado. E a qualquer que muito for dado, muito se lhe pedirá, e ao que muito se lhe confiou, muito mais se lhe pedirá.

Jesus saith unto her, Said I not unto thee, that, if thou wouldest believe, thou shouldest see the glory of God?

Disse-lhe Jesus: Não te hei dito que, se creres, verás a glória de Deus?

And he humbled thee, and suffered thee to hunger, and fed thee with manna, which thou knewest not, neither did thy fathers know; that he might make thee know that man doth not live by bread only, but by every word that proceedeth out of the mouth of the L

ord

doth man live.
E te humilhou, e te deixou ter fome, e te sustentou com o maná, que tu não conheceste, nem teus pais o conheceram, para te dar a entender que o homem não viverá só de pão, mas que de tudo o que sai da boca do S

enhor

viverá o homem.
Be ye not as your fathers, unto whom the former prophets have cried, saying, Thus saith the L

ord

of hosts; Turn ye now from your evil ways, and from your evil doings: but they did not hear, nor hearken unto me, saith the L

ord

.
E não sejais como vossos pais, aos quais clamavam os primeiros profetas, dizendo: Assim diz o S

enhor

dos Exércitos: Convertei-vos, agora, dos vossos maus caminhos e das vossas más obras. Mas não ouviram, nem me escutaram, diz o S

enhor

.
And he was there with the L

ord

forty days and forty nights; he did neither eat bread, nor drink water. And he wrote upon the tables the words of the covenant, the ten commandments.
E esteve Moisés ali com o S

enhor

quarenta dias e quarenta noites; não comeu pão, nem bebeu água, e escreveu nas tábuas as palavras do concerto, os dez mandamentos.

For God sent not his Son into the world to condemn the world; but that the world through him might be saved.

Porque Deus enviou o seu Filho ao mundo não para que condenasse o mundo, mas para que o mundo fosse salvo por ele.

Nevertheless for thy great mercies' sake thou didst not utterly consume them, nor forsake them; for thou art a gracious and merciful God.

Mas, pela tua grande misericórdia, não os destruíste nem desamparaste; porque és um Deus clemente e misericordioso.

He that spared not his own Son, but delivered him up for us all, how shall he not with him also freely give us all things?

Aquele que nem mesmo a seu próprio Filho poupou, antes, o entregou por todos nós, como nos não dará também com ele todas as coisas?

And Jesus being full of the Holy Ghost returned from Jordan, and was led by the Spirit into the wilderness, Being forty days tempted of the devil. And in those days he did eat nothing: and when they were ended, he afterward hungered.

E Jesus, cheio do Espírito Santo, voltou do Jordão e foi levado pelo Espírito ao deserto. E quarenta dias foi tentado pelo diabo, e, naqueles dias, não comeu coisa alguma, e, terminados eles, teve fome.

For even the Son of man came not to be ministered unto, but to minister, and to give his life a ransom for many.

Porque o Filho do Homem também não veio para ser servido, mas para servir e dar a sua vida em resgate de muitos.

But as many as received him, to them gave he power to become the sons of God, even to them that believe on his name.

Mas a todos quantos o receberam deu-lhes o poder de serem feitos filhos de Deus: aos que creem no seu nome.

Even as the Son of man came not to be ministered unto, but to minister, and to give his life a ransom for many.

Bem como o Filho do Homem não veio para ser servido, mas para servir e para dar a sua vida em resgate de muitos.

And it came to pass, that he went through the corn fields on the sabbath day; and his disciples began, as they went, to pluck the ears of corn. And the Pharisees said unto him, Behold, why do they on the sabbath day that which is not lawful? And he said unto them, Have ye never read what David did, when he had need, and was an hungred, he, and they that were with him? How he went into the house of God in the days of Abiathar the high priest, and did eat the shewbread, which is not lawful to eat but for the priests, and gave also to them which were with him? And he said unto them, The sabbath was made for man, and not man for the sabbath: Therefore the Son of man is Lord also of the sabbath.

E aconteceu que, passando ele num sábado pelas searas, os seus discípulos, caminhando, começaram a colher espigas. E os fariseus lhe disseram: Vês? Por que fazem no sábado o que não é lícito? Mas ele disse-lhes: Nunca lestes o que fez Davi, quando estava em necessidade e teve fome, ele e os que com ele estavam? Como entrou na Casa de Deus, no tempo de Abiatar, sumo sacerdote, e comeu os pães da proposição, dos quais não era lícito comer senão aos sacerdotes, dando também aos que com ele estavam? E disse-lhes: O sábado foi feito por causa do homem, e não o homem, por causa do sábado. Assim, o Filho do Homem até do sábado é senhor.

Then he took the five loaves and the two fishes, and looking up to heaven, he blessed them, and brake, and gave to the disciples to set before the multitude. And they did eat, and were all filled: and there was taken up of fragments that remained to them twelve baskets.

E, tomando os cinco pães e os dois peixes e olhando para o céu, abençoou-os, e partiu-os, e deu-os aos seus discípulos para os porem diante da multidão. E comeram todos e saciaram-se; e levantaram, do que lhes sobejou, doze cestos de pedaços.

And they, continuing daily with one accord in the temple, and breaking bread from house to house, did eat their meat with gladness and singleness of heart, Praising God, and having favour with all the people. And the Lord added to the church daily such as should be saved.

E, perseverando unânimes todos os dias no templo e partindo o pão em casa, comiam juntos com alegria e singeleza de coração, louvando a Deus e caindo na graça de todo o povo. E todos os dias acrescentava o Senhor à igreja aqueles que se haviam de salvar.

Behold, what manner of love the Father hath bestowed upon us, that we should be called the sons of God: therefore the world knoweth us not, because it knew him not.

Vede quão grande amor nos tem concedido o Pai: que fôssemos chamados filhos de Deus. Por isso, o mundo não nos conhece, porque não conhece a ele.

Then went in also that other disciple, which came first to the sepulchre, and he saw, and believed. For as yet they knew not the scripture, that he must rise again from the dead.

Então, entrou também o outro discípulo, que chegara primeiro ao sepulcro, e viu, e creu. Porque ainda não sabiam a Escritura, que diz que era necessário que ressuscitasse dos mortos.

And I knew him not: but he that sent me to baptize with water, the same said unto me, Upon whom thou shalt see the Spirit descending, and remaining on him, the same is he which baptizeth with the Holy Ghost.

E eu não o conhecia, mas o que me mandou a batizar com água, esse me disse: Sobre aquele que vires descer o Espírito e sobre ele repousar, esse é o que batiza com o Espírito Santo.
And this is the confidence that we have in him, that, if we ask any thing according to his will, he heareth us.
Personal Bible reading plan
Create an account to configure your Bible reading plan and you will see your progress and the next chapter to read here!
Read more...