Bible Verses about 'Move'
«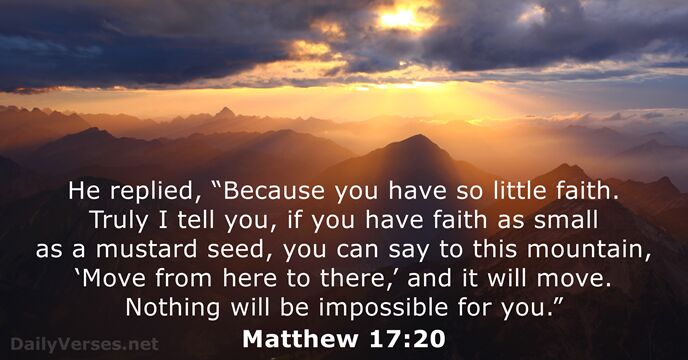 »
'For in him we live and move and have our being.' As some of your own poets have said, 'We are his offspring.'

He replied, "Because you have so little faith. Truly I tell you, if you have faith as small as a mustard seed, you can say to this mountain, 'Move from here to there,' and it will move. Nothing will be impossible for you."

And I will put my Spirit in you and move you to follow my decrees and be careful to keep my laws.

If I have the gift of prophecy and can fathom all mysteries and all knowledge, and if I have a faith that can move mountains, but do not have love, I am nothing.

Therefore, my dear brothers and sisters, stand firm. Let nothing move you. Always give yourselves fully to the work of the Lord, because you know that your labor in the Lord is not in vain.

He will not let your foot slip—
he who watches over you will not slumber.

Then God said, "Let us make mankind in our image, in our likeness, so that they may rule over the fish in the sea and the birds in the sky, over the livestock and all the wild animals, and over all the creatures that move along the ground."

Cast your cares on the L

ord


and he will sustain you;
he will never let
the righteous be shaken.
Surely the righteous will never be shaken;
they will be remembered forever.

God blessed them and said to them, "Be fruitful and increase in number; fill the earth and subdue it. Rule over the fish in the sea and the birds in the sky and over every living creature that moves on the ground."

I keep my eyes always on the L

ord

.
With him at my right hand, I will not be shaken.

For prophecy never had its origin in the human will, but prophets, though human, spoke from God as they were carried along by the Holy Spirit.

However, I consider my life worth nothing to me; my only aim is to finish the race and complete the task the Lord Jesus has given me—the task of testifying to the good news of God's grace.

Truly he is my rock and my salvation;
he is my fortress, I will not be shaken.
"Though the mountains be shaken
and the hills be removed,
yet my unfailing love for you will not be shaken
nor my covenant of peace be removed,"
says the L

ord

, who has compassion on you.
For the practices of the peoples are worthless;
they cut a tree out of the forest,
and a craftsman shapes it with his chisel.
They adorn it with silver and gold;
they fasten it with hammer and nails
so it will not totter.
Like a scarecrow in a cucumber field,
their idols cannot speak;
they must be carried
because they cannot walk.
Do not fear them;
they can do no harm
nor can they do any good.
Truly he is my rock and my salvation;
he is my fortress, I will never be shaken.

Everything that lives and moves about will be food for you. Just as I gave you the green plants, I now give you everything. But you must not eat meat that has its lifeblood still in it.

As far as the east is from the west,
so far has he removed our transgressions from us.

In the beginning God created the heavens and the earth. Now the earth was formless and empty, darkness was over the surface of the deep, and the Spirit of God was hovering over the waters.

I will give you a new heart and put a new spirit in you; I will remove from you your heart of stone and give you a heart of flesh.
So that, just as sin reigned in death, so also grace might reign through righteousness to bring eternal life through Jesus Christ our Lord.
Personal Bible reading plan
Create an account to configure your Bible reading plan and you will see your progress and the next chapter to read here!
Read more...