«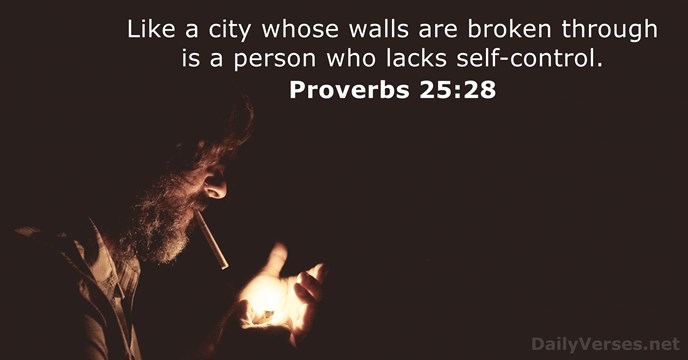 »
Like a city whose walls are broken through
is a person who lacks self-control.

Then Peter began to speak: "I now realize how true it is that God does not show favoritism but accepts from every nation the one who fears him and does what is right."

Do not let any unwholesome talk come out of your mouths, but only what is helpful for building others up according to their needs, that it may benefit those who listen.

I tell you that in the same way there will be more rejoicing in heaven over one sinner who repents than over ninety-nine righteous persons who do not need to repent.

Rather, clothe yourselves with the Lord Jesus Christ, and do not think about how to gratify the desires of the flesh.

Godly sorrow brings repentance that leads to salvation and leaves no regret, but worldly sorrow brings death.

You belong to your father, the devil, and you want to carry out your father's desires. He was a murderer from the beginning, not holding to the truth, for there is no truth in him. When he lies, he speaks his native language, for he is a liar and the father of lies.

Every good and perfect gift is from above, coming down from the Father of the heavenly lights, who does not change like shifting shadows.

And I heard a loud voice from the throne saying, "Look! God's dwelling place is now among the people, and he will dwell with them. They will be his people, and God himself will be with them and be their God. 'He will wipe every tear from their eyes. There will be no more death' or mourning or crying or pain, for the old order of things has passed away."

There is neither Jew nor Gentile, neither slave nor free, nor is there male and female, for you are all one in Christ Jesus.

Do not deceive yourselves. If any of you think you are wise by the standards of this age, you should become "fools" so that you may become wise.

On hearing this, Jesus said, "It is not the healthy who need a doctor, but the sick."

What shall we say, then? Shall we go on sinning so that grace may increase? By no means! We are those who have died to sin; how can we live in it any longer?

All the believers were one in heart and mind. No one claimed that any of their possessions was their own, but they shared everything they had.

For it is by grace you have been saved, through faith—and this is not from yourselves, it is the gift of God—not by works, so that no one can boast.

Do you not know?
Have you not heard?
The L

ord

is the everlasting God,
the Creator of the ends of the earth.
He will not grow tired or weary,
and his understanding no one can fathom.

For Christ's love compels us, because we are convinced that one died for all, and therefore all died. And he died for all, that those who live should no longer live for themselves but for him who died for them and was raised again.

You, therefore, have no excuse, you who pass judgment on someone else, for at whatever point you judge another, you are condemning yourself, because you who pass judgment do the same things.

There are six days when you may work, but the seventh day is a day of sabbath rest, a day of sacred assembly. You are not to do any work; wherever you live, it is a sabbath to the L

ord

.

Make sure that nobody pays back wrong for wrong, but always strive to do what is good for each other and for everyone else.

He is the Rock, his works are perfect,
and all his ways are just.
A faithful God who does no wrong,
upright and just is he.

For if we have been united with him in a death like his, we will certainly also be united with him in a resurrection like his. For we know that our old self was crucified with him so that the body ruled by sin might be done away with, that we should no longer be slaves to sin.

We who are Jews by birth and not sinful Gentiles know that a person is not justified by the works of the law, but by faith in Jesus Christ. So we, too, have put our faith in Christ Jesus that we may be justified by faith in Christ and not by the works of the law, because by the works of the law no one will be justified.

If anyone has material possessions and sees a brother or sister in need but has no pity on them, how can the love of God be in that person?

You are the salt of the earth. But if the salt loses its saltiness, how can it be made salty again? It is no longer good for anything, except to be thrown out and trampled underfoot.
So that, just as sin reigned in death, so also grace might reign through righteousness to bring eternal life through Jesus Christ our Lord.
Personal Bible reading plan
Create an account to configure your Bible reading plan and you will see your progress and the next chapter to read here!
Read more...