Bible Verses about 'Received'
«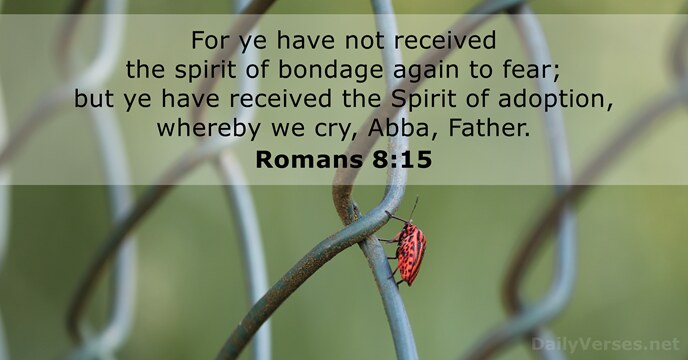 »
For ye have not received the spirit of bondage again to fear; but ye have received the Spirit of adoption, whereby we cry, Abba, Father.

Heal the sick, cleanse the lepers, raise the dead, cast out devils: freely ye have received, freely give.

Can any man forbid water, that these should not be baptized, which have received the Holy Ghost as well as we?

Those things, which ye have both learned, and received, and heard, and seen in me, do: and the God of peace shall be with you.

When Jesus therefore had received the vinegar, he said, It is finished: and he bowed his head, and gave up the ghost.

Wherefore receive ye one another, as Christ also received us to the glory of God.

Then they that gladly received his word were baptized: and the same day there were added unto them about three thousand souls.

And Jesus said unto him, Go thy way; thy faith hath made thee whole. And immediately he received his sight, and followed Jesus in the way.

Therefore being by the right hand of God exalted, and having received of the Father the promise of the Holy Ghost, he hath shed forth this, which ye now see and hear.

So then after the Lord had spoken unto them, he was received up into heaven, and sat on the right hand of God.

And when he had spoken these things, while they beheld, he was taken up; and a cloud received him out of their sight.

But as many as received him, to them gave he power to become the sons of God, even to them that believe on his name.

Through faith also Sara herself received strength to conceive seed, and was delivered of a child when she was past age, because she judged him faithful who had promised.

Let not him that eateth despise him that eateth not; and let not him which eateth not judge him that eateth: for God hath received him.

But the anointing which ye have received of him abideth in you, and ye need not that any man teach you: but as the same anointing teacheth you of all things, and is truth, and is no lie, and even as it hath taught you, ye shall abide in him.

For I delivered unto you first of all that which I also received, how that Christ died for our sins according to the scriptures; And that he was buried, and that he rose again the third day according to the scriptures.

Therefore I say unto you, What things soever ye desire, when ye pray, believe that ye receive them, and ye shall have them.

Moreover, brethren, I declare unto you the gospel which I preached unto you, which also ye have received, and wherein ye stand; By which also ye are saved, if ye keep in memory what I preached unto you, unless ye have believed in vain.

But none of these things move me, neither count I my life dear unto myself, so that I might finish my course with joy, and the ministry, which I have received of the Lord Jesus, to testify the gospel of the grace of God.

He also that received seed among the thorns is he that heareth the word; and the care of this world, and the deceitfulness of riches, choke the word, and he becometh unfruitful.

And without controversy great is the mystery of godliness:
God was manifest in the flesh,
justified in the Spirit,
seen of angels,
preached unto the Gentiles,
believed on in the world,
received up into glory.

Forasmuch as ye know that ye were not redeemed with corruptible things, as silver and gold, from your vain conversation received by tradition from your fathers; But with the precious blood of Christ, as of a lamb without blemish and without spot.

Therefore when thou doest thine alms, do not sound a trumpet before thee, as the hypocrites do in the synagogues and in the streets, that they may have glory of men. Verily I say unto you, They have their reward.

Moreover when ye fast, be not, as the hypocrites, of a sad countenance: for they disfigure their faces, that they may appear unto men to fast. Verily I say unto you, They have their reward.

Howbeit for this cause I obtained mercy, that in me first Jesus Christ might shew forth all longsuffering, for a pattern to them which should hereafter believe on him to life everlasting.
Let your conversation be without covetousness; and be content with such things as ye have: for he hath said, I will never leave thee, nor forsake thee.
Personal Bible reading plan
Create an account to configure your Bible reading plan and you will see your progress and the next chapter to read here!
Read more...