Bible Verses about 'Some'
«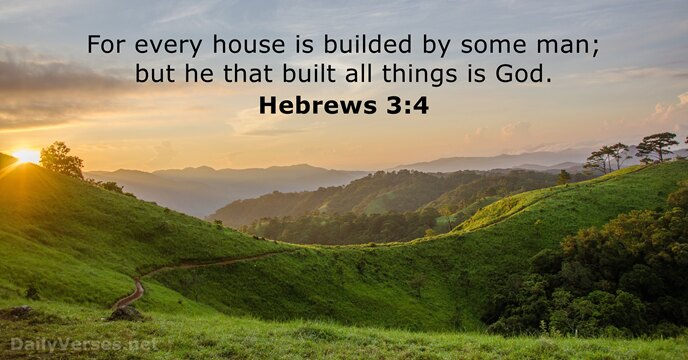 »
For every house is builded by some man; but he that built all things is God.

Awake to righteousness, and sin not; for some have not the knowledge of God: I speak this to your shame.

Let brotherly love continue. Be not forgetful to entertain strangers: for thereby some have entertained angels unawares.

For the love of money is the root of all evil: which while some coveted after, they have erred from the faith, and pierced themselves through with many sorrows.

The Lord is not slack concerning his promise, as some men count slackness; but is longsuffering to us-ward, not willing that any should perish, but that all should come to repentance.

For I long to see you, that I may impart unto you some spiritual gift, to the end ye may be established; That is, that I may be comforted together with you by the mutual faith both of you and me.

And let us consider one another to provoke unto love and to good works: Not forsaking the assembling of ourselves together, as the manner of some is; but exhorting one another: and so much the more, as ye see the day approaching.

For in him we live, and move, and have our being; as certain also of your own poets have said, For we are also his offspring.

For scarcely for a righteous man will one die: yet peradventure for a good man some would even dare to die. But God commendeth his love toward us, in that, while we were yet sinners, Christ died for us.

But now in Christ Jesus ye who sometimes were far off are made nigh by the blood of Christ.

For bodily exercise profiteth little: but godliness is profitable unto all things, having promise of the life that now is, and of that which is to come.

It is a snare to the man who devoureth that which is holy,
and after vows to make enquiry.

Be sober, be vigilant; because your adversary the devil, as a roaring lion, walketh about, seeking whom he may devour.

For what shall it profit a man, if he shall gain the whole world, and lose his own soul?

Then he said unto them, Go your way, eat the fat, and drink the sweet, and send portions unto them for whom nothing is prepared: for this day is holy unto our L

ord

: neither be ye sorry; for the joy of the L

ord

is your strength.

Greater love hath no man than this, that a man lay down his life for his friends.

And it came to pass, that he went through the corn fields on the sabbath day; and his disciples began, as they went, to pluck the ears of corn. And the Pharisees said unto him, Behold, why do they on the sabbath day that which is not lawful? And he said unto them, Have ye never read what David did, when he had need, and was an hungred, he, and they that were with him? How he went into the house of God in the days of Abiathar the high priest, and did eat the shewbread, which is not lawful to eat but for the priests, and gave also to them which were with him? And he said unto them, The sabbath was made for man, and not man for the sabbath: Therefore the Son of man is Lord also of the sabbath.

Forbearing one another, and forgiving one another, if any man have a quarrel against any: even as Christ forgave you, so also do ye.

For what is a man profited, if he shall gain the whole world, and lose his own soul? or what shall a man give in exchange for his soul?

Who art thou that judgest another man's servant? to his own master he standeth or falleth. Yea, he shall be holden up: for God is able to make him stand.

But Peter said, Ananias, why hath Satan filled thine heart to lie to the Holy Ghost, and to keep back part of the price of the land? Whiles it remained, was it not thine own? and after it was sold, was it not in thine own power? why hast thou conceived this thing in thine heart? thou hast not lied unto men, but unto God.

If a man say, I love God, and hateth his brother, he is a liar: for he that loveth not his brother whom he hath seen, how can he love God whom he hath not seen?

Every man also to whom God hath given riches and wealth, and hath given him power to eat thereof, and to take his portion, and to rejoice in his labour; this is the gift of God.

Brethren, if a man be overtaken in a fault, ye which are spiritual, restore such an one in the spirit of meekness; considering thyself, lest thou also be tempted.

He also that received seed among the thorns is he that heareth the word; and the care of this world, and the deceitfulness of riches, choke the word, and he becometh unfruitful.
Lead me in thy truth, and teach me: for thou art the God of my salvation; on thee do I wait all the day.
Personal Bible reading plan
Create an account to configure your Bible reading plan and you will see your progress and the next chapter to read here!
Read more...