Bible Verses about 'Saying'
«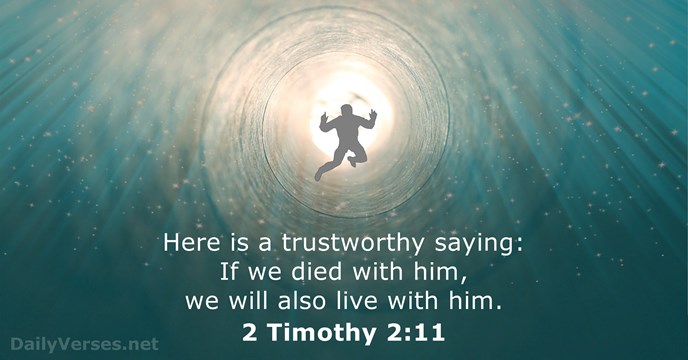 »
Here is a trustworthy saying:
If we died with him,
we will also live with him.

In the same way, after the supper he took the cup, saying, "This cup is the new covenant in my blood, which is poured out for you."

And he took bread, gave thanks and broke it, and gave it to them, saying, "This is my body given for you; do this in remembrance of me."

I fell to the ground and heard a voice say to me, 'Saul! Saul! Why do you persecute me?'

If your brother or sister sins against you, rebuke them; and if they repent, forgive them. Even if they sin against you seven times in a day and seven times come back to you saying 'I repent,' you must forgive them.

I am not saying this because I am in need, for I have learned to be content whatever the circumstances.

When Jesus spoke again to the people, he said, "I am the light of the world. Whoever follows me will never walk in darkness, but will have the light of life."

Then I heard every creature in heaven and on earth and under the earth and on the sea, and all that is in them, saying: "To him who sits on the throne and to the Lamb be praise and honor and glory and power, for ever and ever!"

And I heard a loud voice from the throne saying, "Look! God's dwelling place is now among the people, and he will dwell with them. They will be his people, and God himself will be with them and be their God. 'He will wipe every tear from their eyes. There will be no more death' or mourning or crying or pain, for the old order of things has passed away."

But God has helped me to this very day; so I stand here and testify to small and great alike. I am saying nothing beyond what the prophets and Moses said would happen— that the Messiah would suffer and, as the first to rise from the dead, would bring the message of light to his own people and to the Gentiles.

For this is what the Lord has commanded us:
"I have made you a light for the Gentiles,
that you may bring salvation to the ends of the earth."
For I am the L

ord

your God
who takes hold of your right hand
and says to you, Do not fear;
I will help you.

Hearing this, Jesus said to Jairus, "Don't be afraid; just believe, and she will be healed."

They stripped him and put a scarlet robe on him, and then twisted together a crown of thorns and set it on his head. They put a staff in his right hand. Then they knelt in front of him and mocked him. "Hail, king of the Jews!" they said.

On the last and greatest day of the festival, Jesus stood and said in a loud voice, "Let anyone who is thirsty come to me and drink."

But after he had considered this, an angel of the Lord appeared to him in a dream and said, "Joseph son of David, do not be afraid to take Mary home as your wife, because what is conceived in her is from the Holy Spirit."

After Jesus was born in Bethlehem in Judea, during the time of King Herod, Magi from the east came to Jerusalem and asked, "Where is the one who has been born king of the Jews? We saw his star when it rose and have come to worship him."

Paul said, "John's baptism was a baptism of repentance. He told the people to believe in the one coming after him, that is, in Jesus."

The crowds that went ahead of him and those that followed shouted,
"Hosanna to the Son of David!"
"Blessed is he who comes in the name of the Lord!"
"Hosanna in the highest heaven!"

From that time on Jesus began to preach, "Repent, for the kingdom of heaven has come near."

He is not here; he has risen! Remember how he told you, while he was still with you in Galilee: 'The Son of Man must be delivered over to the hands of sinners, be crucified and on the third day be raised again.'

Do not be like your ancestors, to whom the earlier prophets proclaimed: This is what the L

ord

Almighty says: 'Turn from your evil ways and your evil practices.' But they would not listen or pay attention to me, declares the L

ord

.

After he said this, he was taken up before their very eyes, and a cloud hid him from their sight.

"The time has come," he said. "The kingdom of God has come near. Repent and believe the good news!"

All this took place to fulfill what the Lord had said through the prophet: "The virgin will conceive and give birth to a son, and they will call him Immanuel" (which means "God with us").
Be perfect, therefore, as your heavenly Father is perfect.
Personal Bible reading plan
Create an account to configure your Bible reading plan and you will see your progress and the next chapter to read here!
Read more...