Bible Verses about Work
«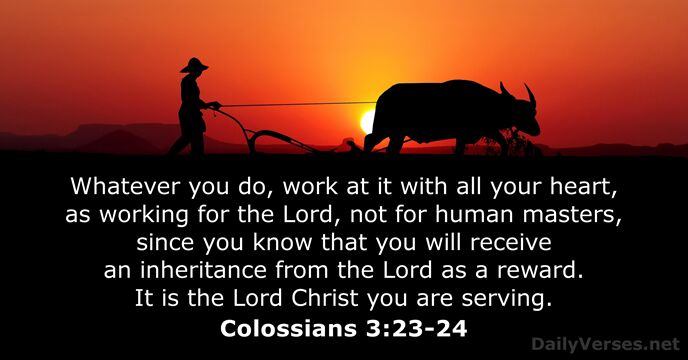 »
Whatever you do, work at it with all your heart, as working for the Lord, not for human masters, since you know that you will receive an inheritance from the Lord as a reward. It is the Lord Christ you are serving.

And whatsoever ye do, do it heartily, as to the Lord, and not unto men; Knowing that of the Lord ye shall receive the reward of the inheritance: for ye serve the Lord Christ.

Commit to the L

ord

whatever you do, and he will establish your plans.
Commit thy works unto the L

ord

, and thy thoughts shall be established.

Do everything in love.

Let all your things be done with charity.

Therefore, my dear brothers and sisters, stand firm. Let nothing move you. Always give yourselves fully to the work of the Lord, because you know that your labor in the Lord is not in vain.

Therefore, my beloved brethren, be ye stedfast, unmoveable, always abounding in the work of the Lord, forasmuch as ye know that your labour is not in vain in the Lord.

The blessing of the L

ord

brings wealth, without painful toil for it.
The blessing of the L

ord

, it maketh rich, and he addeth no sorrow with it.

Diligent hands will rule, but laziness ends in forced labor.

The hand of the diligent shall bear rule: but the slothful shall be under tribute.

And whatever you do, whether in word or deed, do it all in the name of the Lord Jesus, giving thanks to God the Father through him.

And whatsoever ye do in word or deed, do all in the name of the Lord Jesus, giving thanks to God and the Father by him.

Dishonest money dwindles away, but whoever gathers money little by little makes it grow.

Wealth gotten by vanity shall be diminished: but he that gathereth by labour shall increase.

I know that there is nothing better for people than to be happy and to do good while they live. That each of them may eat and drink, and find satisfaction in all their toil—this is the gift of God.

I know that there is no good in them, but for a man to rejoice, and to do good in his life. And also that every man should eat and drink, and enjoy the good of all his labour, it is the gift of God.

And God is able to bless you abundantly, so that in all things at all times, having all that you need, you will abound in every good work.

And God is able to make all grace abound toward you; that ye, always having all sufficiency in all things, may abound to every good work.

May the favor of the Lord our God rest on us; establish the work of our hands for us— yes, establish the work of our hands.

And let the beauty of the L

ord

our God be upon us: and establish thou the work of our hands upon us; yea, the work of our hands establish thou it.

Watch out that you do not lose what we have worked for, but that you may be rewarded fully.

Look to yourselves, that we lose not those things which we have wrought, but that we receive a full reward.

Two are better than one, because they have a good return for their labor.

Two are better than one; because they have a good reward for their labour.

Do your best to present yourself to God as one approved, a worker who does not need to be ashamed and who correctly handles the word of truth.

Study to shew thyself approved unto God, a workman that needeth not to be ashamed, rightly dividing the word of truth.

Look at the birds of the air; they do not sow or reap or store away in barns, and yet your heavenly Father feeds them. Are you not much more valuable than they?

Behold the fowls of the air: for they sow not, neither do they reap, nor gather into barns; yet your heavenly Father feedeth them. Are ye not much better than they?

Moreover, when God gives someone wealth and possessions, and the ability to enjoy them, to accept their lot and be happy in their toil—this is a gift of God.

Every man also to whom God hath given riches and wealth, and hath given him power to eat thereof, and to take his portion, and to rejoice in his labour; this is the gift of God.

Who is going to harm you if you are eager to do good?

And who is he that will harm you, if ye be followers of that which is good?

This is what I have observed to be good: that it is appropriate for a person to eat, to drink and to find satisfaction in their toilsome labor under the sun during the few days of life God has given them—for this is their lot.

Behold that which I have seen: it is good and comely for one to eat and to drink, and to enjoy the good of all his labour that he taketh under the sun all the days of his life, which God giveth him: for it is his portion.

And I saw that all toil and all achievement spring from one person's envy of another. This too is meaningless, a chasing after the wind.

Again, I considered all travail, and every right work, that for this a man is envied of his neighbour. This is also vanity and vexation of spirit.

However, I consider my life worth nothing to me; my only aim is to finish the race and complete the task the Lord Jesus has given me—the task of testifying to the good news of God's grace.

But none of these things move me, neither count I my life dear unto myself, so that I might finish my course with joy, and the ministry, which I have received of the Lord Jesus, to testify the gospel of the grace of God.

All Scripture is God-breathed and is useful for teaching, rebuking, correcting and training in righteousness, so that the servant of God may be thoroughly equipped for every good work.

All scripture is given by inspiration of God, and is profitable for doctrine, for reproof, for correction, for instruction in righteousness: That the man of God may be perfect, thoroughly furnished unto all good works.

God is not unjust; he will not forget your work and the love you have shown him as you have helped his people and continue to help them.

For God is not unrighteous to forget your work and labour of love, which ye have shewed toward his name, in that ye have ministered to the saints, and do minister.

There remains, then, a Sabbath-rest for the people of God; for anyone who enters God's rest also rests from their works, just as God did from his.

There remaineth therefore a rest to the people of God. For he that is entered into his rest, he also hath ceased from his own works, as God did from his.

Very truly I tell you, whoever believes in me will do the works I have been doing, and they will do even greater things than these, because I am going to the Father.

Verily, verily, I say unto you, He that believeth on me, the works that I do shall he do also; and greater works than these shall he do; because I go unto my Father.

Teach slaves to be subject to their masters in everything, to try to please them, not to talk back to them, and not to steal from them, but to show that they can be fully trusted, so that in every way they will make the teaching about God our Savior attractive.

Exhort servants to be obedient unto their own masters, and to please them well in all things; not answering again; Not purloining, but shewing all good fidelity; that they may adorn the doctrine of God our Saviour in all things.
Be perfect, therefore, as your heavenly Father is perfect.
Personal Bible reading plan
Create an account to configure your Bible reading plan and you will see your progress and the next chapter to read here!
Read more...