Bible Verses about Anger
«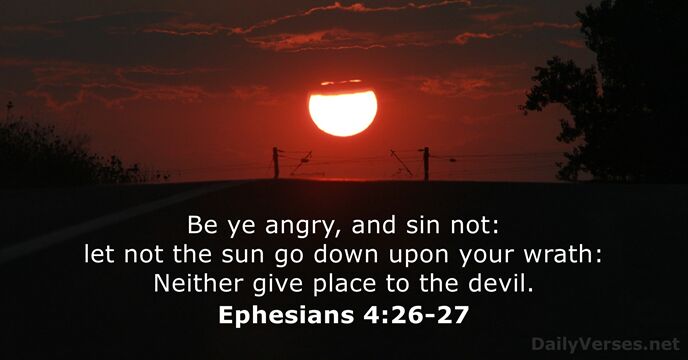 »
Be ye angry, and sin not: let not the sun go down upon your wrath: Neither give place to the devil.

Vaikka vihastuttekin, älkää tehkö syntiä. Sopikaa riitanne, ennen kuin aurinko laskee. Älkää antako Paholaiselle tilaisuutta.

Charity suffereth long, and is kind; charity envieth not; charity vaunteth not itself, is not puffed up, Doth not behave itself unseemly, seeketh not her own, is not easily provoked, thinketh no evil.

Rakkaus on kärsivällinen, rakkaus on lempeä. Rakkaus ei kadehdi, ei kersku, ei pöyhkeile, ei käyttäydy sopimattomasti, ei etsi omaa etuaan, ei katkeroidu, ei muistele kärsimäänsä pahaa.

Thou shalt not hate thy brother in thine heart: thou shalt in any wise rebuke thy neighbour, and not suffer sin upon him. Thou shalt not avenge, nor bear any grudge against the children of thy people, but thou shalt love thy neighbour as thyself: I am the L

ord

.

Älä paheksu lähimmäistäsi vain ajatuksissasi, vaan nuhtele häntä avoimesti; muuten joudut osalliseksi hänen syyllisyydestään. Älä kosta omaan kansaasi kuuluvalle äläkä pidä yllä riitaa hänen kanssaan, vaan rakasta lähimmäistäsi niin kuin itseäsi. Minä olen Herra.

Hatred stirreth up strifes: but love covereth all sins.

Viha ajaa ihmiset toisiaan vastaan, rakkaus peittää paljotkin rikkomukset.

Wherefore, my beloved brethren, let every man be swift to hear, slow to speak, slow to wrath.

Tietäkää, rakkaat veljeni, että itse kunkin tulee olla herkkä kuulemaan mutta hidas puhumaan ja hidas vihaan.

A soft answer turneth away wrath: but grievous words stir up anger.

Sävyisä vastaus taltuttaa kiukun, loukkaava sana nostaa vihan.

He that is slow to wrath is of great understanding: but he that is hasty of spirit exalteth folly.

Pitkämielisyys on järkevän miehen merkki, äkkipikaisuus on hulluuden huippu.

And he said, That which cometh out of the man, that defileth the man. For from within, out of the heart of men, proceed evil thoughts, adulteries, fornications, murders, Thefts, covetousness, wickedness, deceit, lasciviousness, an evil eye, blasphemy, pride, foolishness: All these evil things come from within, and defile the man.

Ja hän jatkoi: »Se mikä tulee ihmisestä ulos, se saastuttaa ihmisen. Juuri ihmisen sisältä, sydämestä, lähtevät pahat ajatukset, ja niiden mukana siveettömyys, varkaudet, murhat, aviorikokset, ahneus, häijyys, vilppi, irstaus, pahansuopuus, herjaus, ylpeys ja uhmamieli. Kaikki tämä paha tulee ihmisen sisältä ja saastuttaa hänet.»

A fool uttereth all his mind: but a wise man keepeth it in till afterwards.

Tyhmä päästää vihansa valloilleen, viisas malttaa ja hillitsee vihansa.

A fool's wrath is presently known: but a prudent man covereth shame.

Tyhmä tuo heti julki suuttumuksensa, viisas nielee loukkauksen ja vaikenee.

Only by pride cometh contention: but with the well advised is wisdom.

Ylimielisyydestä koituu vain riitaa, viisas se, joka neuvoja kuulee.

It is an honour for a man to cease from strife: but every fool will be meddling.

Kunnia sille, joka riitansa sopii, hullu purkaa vihansa julki.

Take heed, brethren, lest there be in any of you an evil heart of unbelief, in departing from the living God.

Varokaa siis, veljet, ettei kukaan teistä ole sydämessään paha ja epäuskoinen ja näin luovu elävästä Jumalasta.

Return, thou backsliding Israel, saith the L

ord

; and I will not cause mine anger to fall upon you: for I am merciful, saith the L

ord

, and I will not keep anger for ever.

Käänny, Luopio-Israel, sanoo Herra! Minä en enää ole vihoissani sinulle, minä olen armollinen, sanoo Herra, ei minun vihani jatku loputtomiin.
Finally, brethren, farewell. Be perfect, be of good comfort, be of one mind, live in peace; and the God of love and peace shall be with you.
Personal Bible reading plan
Create an account to configure your Bible reading plan and you will see your progress and the next chapter to read here!
Read more...