Bible Verses about Anger
«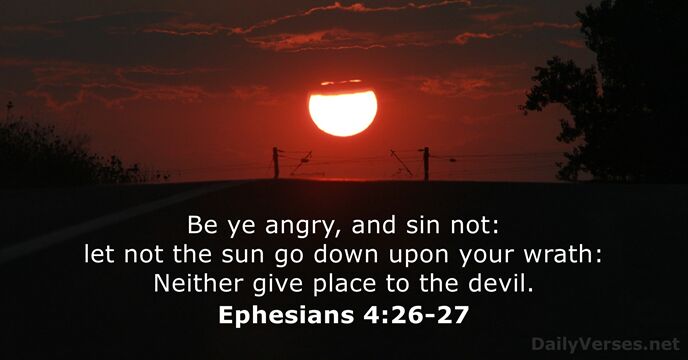 »
Be ye angry, and sin not: let not the sun go down upon your wrath: Neither give place to the devil.

Airaos, pero no pequéis; no se ponga el sol sobre vuestro enojo, ni deis lugar al diablo.

Charity suffereth long, and is kind; charity envieth not; charity vaunteth not itself, is not puffed up, Doth not behave itself unseemly, seeketh not her own, is not easily provoked, thinketh no evil.

El amor es sufrido, es benigno; el amor no tiene envidia; el amor no es jactancioso, no se envanece, no hace nada indebido, no busca lo suyo, no se irrita, no guarda rencor.

Thou shalt not hate thy brother in thine heart: thou shalt in any wise rebuke thy neighbour, and not suffer sin upon him. Thou shalt not avenge, nor bear any grudge against the children of thy people, but thou shalt love thy neighbour as thyself: I am the L

ord

.

No aborrecerás a tu hermano en tu corazón. Reprenderás a tu prójimo, para que no participes de su pecado. No te vengarás ni guardarás rencor a los hijos de tu pueblo, sino amarás a tu prójimo como a ti mismo. Yo, Jehová.

Hatred stirreth up strifes: but love covereth all sins.

El odio despierta rencillas, pero el amor cubre todas las faltas.

Wherefore, my beloved brethren, let every man be swift to hear, slow to speak, slow to wrath.

Por esto, mis amados hermanos, todo hombre sea pronto para oír, tardo para hablar, tardo para airarse.

A soft answer turneth away wrath: but grievous words stir up anger.

La respuesta suave aplaca la ira, pero la palabra áspera hace subir el furor.

He that is slow to wrath is of great understanding: but he that is hasty of spirit exalteth folly.

El que tarda en airarse es grande de entendimiento; el impaciente de espíritu pone de manifiesto su necedad.

And he said, That which cometh out of the man, that defileth the man. For from within, out of the heart of men, proceed evil thoughts, adulteries, fornications, murders, Thefts, covetousness, wickedness, deceit, lasciviousness, an evil eye, blasphemy, pride, foolishness: All these evil things come from within, and defile the man.

Pero decía que lo que sale del hombre, eso contamina al hombre, porque de dentro, del corazón de los hombres, salen los malos pensamientos, los adulterios, las fornicaciones, los homicidios, los hurtos, las avaricias, las maldades, el engaño, la lujuria, la envidia, la calumnia, el orgullo y la insensatez. Todas estas maldades salen de dentro y contaminan al hombre.

A fool uttereth all his mind: but a wise man keepeth it in till afterwards.

El necio da rienda suelta a toda su ira, pero el sabio, al fin, la apacigua.

A fool's wrath is presently known: but a prudent man covereth shame.

El necio, al punto da a conocer su ira, pero el prudente no hace caso de la injuria.

Only by pride cometh contention: but with the well advised is wisdom.

Ciertamente la soberbia produce discordia, pero con los prudentes está la sabiduría.

It is an honour for a man to cease from strife: but every fool will be meddling.

Honra es del hombre abandonar la contienda, pero cualquier insensato se enreda en ella.

Take heed, brethren, lest there be in any of you an evil heart of unbelief, in departing from the living God.

Mirad, hermanos, que no haya en ninguno de vosotros corazón tan malo e incrédulo que se aparte del Dios vivo.

Return, thou backsliding Israel, saith the L

ord

; and I will not cause mine anger to fall upon you: for I am merciful, saith the L

ord

, and I will not keep anger for ever.

Vuélvete, rebelde Israel, dice Jehová; no haré caer mi ira sobre ti, porque misericordioso soy yo, dice Jehová; no guardaré para siempre el enojo.
For we have not an high priest which cannot be touched with the feeling of our infirmities; but was in all points tempted like as we are, yet without sin.
Personal Bible reading plan
Create an account to configure your Bible reading plan and you will see your progress and the next chapter to read here!
Read more...