37 Versículos de la Biblia sobre la Dependencia
«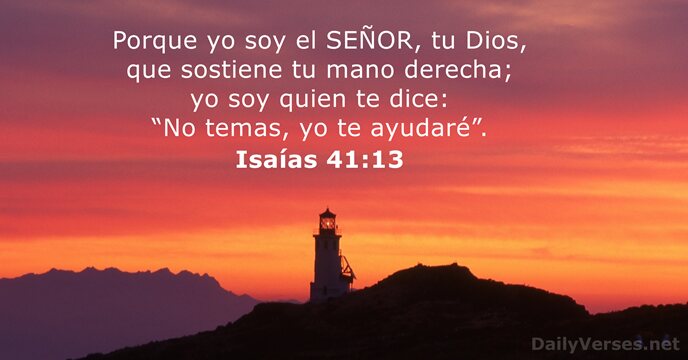 »
Porque yo soy el S

eñor

, tu Dios, que sostiene tu mano derecha; yo soy quien te dice: "No temas, yo te ayudaré".
For I, the L

ord

your God, hold your right hand; it is I who say to you, "Fear not, I am the one who helps you."
Confía en el S

eñor

de todo corazón, y no en tu propia inteligencia. Reconócelo en todos tus caminos, y él allanará tus sendas.
Trust in the L

ord

with all your heart, and do not lean on your own understanding. In all your ways acknowledge him, and he will make straight your paths.
El corazón del hombre traza su rumbo, pero sus pasos los dirige el S

eñor

.
The heart of man plans his way, but the L

ord

establishes his steps.

Podrán desfallecer mi cuerpo y mi espíritu, pero Dios fortalece mi corazón; él es mi herencia eterna.

My flesh and my heart may fail, but God is the strength of my heart and my portion forever.

A las montañas levanto mis ojos; ¿de dónde ha de venir mi ayuda? Mi ayuda proviene del S

eñor

, creador del cielo y de la tierra.
I lift up my eyes to the hills. From where does my help come? My help comes from the L

ord

, who made heaven and earth.
El corazón humano genera muchos proyectos, pero al final prevalecen los designios del S

eñor

.
Many are the plans in the mind of a man, but it is the purpose of the L

ord

that will stand.

Vivan en armonía los unos con los otros. No sean arrogantes, sino háganse solidarios con los humildes. No se crean los únicos que saben.

Live in harmony with one another. Do not be haughty, but associate with the lowly. Never be wise in your own sight.

Él fortalece al cansado y acrecienta las fuerzas del débil.

He gives power to the faint, and to him who has no might he increases strength.

No permitirá que tu pie resbale; jamás duerme el que te cuida.

He will not let your foot be moved; he who keeps you will not slumber.

No digo esto porque esté necesitado, pues he aprendido a estar satisfecho en cualquier situación en que me encuentre.

Not that I am speaking of being in need, for I have learned in whatever situation I am to be content.

Por lo tanto, no se angustien por el mañana, el cual tendrá sus propios afanes. Cada día tiene ya sus problemas.

Therefore do not be anxious about tomorrow, for tomorrow will be anxious for itself. Sufficient for the day is its own trouble.

Yo soy la vid y ustedes son las ramas. El que permanece en mí, como yo en él, dará mucho fruto; separados de mí no pueden ustedes hacer nada.

I am the vine; you are the branches. Whoever abides in me and I in him, he it is that bears much fruit, for apart from me you can do nothing.

El S

eñor

es mi pastor, nada me falta; en verdes pastos me hace descansar. Junto a tranquilas aguas me conduce.
The L

ord

is my shepherd; I shall not want. He makes me lie down in green pastures. He leads me beside still waters.
Ustedes quédense quietos, que el S

eñor

presentará batalla por ustedes.
The L

ord

will fight for you, and you have only to be silent.
Siempre tengo presente al S

eñor

; con él a mi derecha, nada me hará caer.
I have set the L

ord

always before me; because he is at my right hand, I shall not be shaken.

Pero, ¿quién soy yo, y quién es mi pueblo, para que podamos darte estas ofrendas voluntarias? En verdad, tú eres el dueño de todo, y lo que te hemos dado, de ti lo hemos recibido.

But who am I, and what is my people, that we should be able thus to offer willingly? For all things come from you, and of your own have we given you.

La bendición del S

eñor

trae riquezas, y nada se gana con preocuparse.
The blessing of the L

ord

makes rich, and he adds no sorrow with it.
Si el S

eñor

no edifica la casa, en vano se esfuerzan los albañiles. Si el S

eñor

no cuida la ciudad, en vano hacen guardia los vigilantes.
Unless the L

ord

builds the house, those who build it labor in vain. Unless the L

ord

watches over the city, the watchman stays awake in vain.
No bien decía: «Mis pies resbalan», cuando ya tu amor, S

eñor

, venía en mi ayuda.
When I thought, "My foot slips," your steadfast love, O L

ord

, held me up.
Desde mi angustia clamé al S

eñor

, y él respondió dándome libertad.
Out of my distress I called on the L

ord

; the L

ord

answered me and set me free.

Cuídame, oh Dios, porque en ti busco refugio.

Preserve me, O God, for in you I take refuge.

Pues así como cada uno de nosotros tiene un solo cuerpo con muchos miembros, y no todos estos miembros desempeñan la misma función, también nosotros, siendo muchos, formamos un solo cuerpo en Cristo, y cada miembro está unido a todos los demás.

For as in one body we have many members, and the members do not all have the same function, so we, though many, are one body in Christ, and individually members one of another.

Restáuranos, S

eñor

Dios Todopoderoso; haz resplandecer tu rostro sobre nosotros, y sálvanos.
Restore us, O L

ord

God of hosts! Let your face shine, that we may be saved!

Los que viven según la naturaleza pecaminosa no pueden agradar a Dios.

Those who are in the flesh cannot please God.

Porque no fue su espada la que conquistó la tierra, ni fue su brazo el que les dio la victoria: fue tu brazo, tu mano derecha; fue la luz de tu rostro, porque tú los amabas.

For not by their own sword did they win the land, nor did their own arm save them, but your right hand and your arm, and the light of your face, for you delighted in them.
Por tanto, imiten a Dios, como hijos muy amados.
Más bien, sean bondadosos y compasivos unos con otros, y perdónense mutuamente, así como Dios los perdonó a ustedes en Cristo.
Por tanto, imiten a Dios, como hijos muy amados.
Plan de lectura de la Biblia
Registrar y configurar su plan de lectura de la Biblia que desea ver su progreso y el siguiente capítulo para leer aquí!