Versículos de la Biblia sobre la Esperanza
«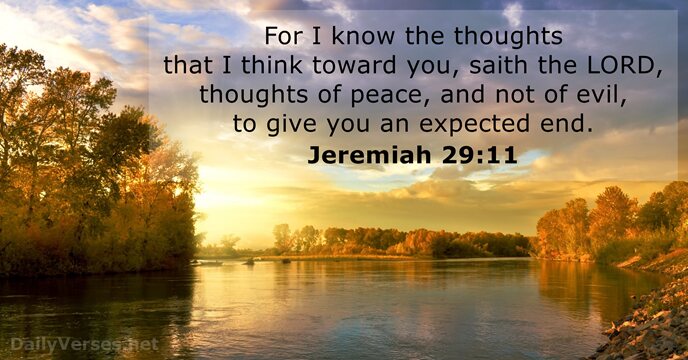 »
Porque yo sé los pensamientos que tengo acerca de vosotros, dice Jehová, pensamientos de paz y no de mal, para daros el fin que esperáis.

For I know the thoughts that I think toward you, saith the L

ord

, thoughts of peace, and not of evil, to give you an expected end.

¿Por qué te abates, alma mía, y por qué te turbas dentro de mí? Espera en Dios, porque aún he de alabarlo, ¡salvación mía y Dios mío!

Why art thou cast down, O my soul? and why art thou disquieted within me? hope thou in God: for I shall yet praise him, who is the health of my countenance, and my God.

Mas los que esperan en Jehová tendrán nuevas fuerzas, levantarán alas como las águilas, correrán y no se cansarán, caminarán y no se fatigarán.

But they that wait upon the L

ord

shall renew their strength; they shall mount up with wings as eagles; they shall run, and not be weary; and they shall walk, and not faint.

Jehová te guardará de todo mal, él guardará tu alma. Jehová guardará tu salida y tu entrada desde ahora y para siempre.

The L

ord

shall preserve thee from all evil: he shall preserve thy soul. The L

ord

shall preserve thy going out and thy coming in from this time forth, and even for evermore.

Y el Dios de la esperanza os llene de todo gozo y paz en la fe, para que abundéis en esperanza por el poder del Espíritu Santo.

Now the God of hope fill you with all joy and peace in believing, that ye may abound in hope, through the power of the Holy Ghost.

Es, pues, la fe la certeza de lo que se espera, la convicción de lo que no se ve.

Now faith is the substance of things hoped for, the evidence of things not seen.

Venid a mí todos los que estáis trabajados y cargados, y yo os haré descansar.

Come unto me, all ye that labour and are heavy laden, and I will give you rest.

Ahora permanecen la fe, la esperanza y el amor, estos tres; pero el mayor de ellos es el amor.

And now abideth faith, hope, charity, these three; but the greatest of these is charity.

Y no sólo esto, sino que también nos gloriamos en las tribulaciones, sabiendo que la tribulación produce paciencia; y la paciencia, prueba; y la prueba, esperanza.

And not only so, but we glory in tribulations also: knowing that tribulation worketh patience; And patience, experience; and experience, hope.

Mi escondedero y mi escudo eres tú. En tu palabra he esperado.

Thou art my hiding place and my shield: I hope in thy word.

Mantengamos firme, sin fluctuar, la profesión de nuestra esperanza, porque fiel es el que prometió.

Let us hold fast the profession of our faith without wavering; (for he is faithful that promised;)

Esforzaos todos vosotros, los que esperáis en Jehová, y tome aliento vuestro corazón.

Be of good courage, and he shall strengthen your heart, all ye that hope in the L

ord

.

Pero si esperamos lo que no vemos, con paciencia lo aguardamos.

But if we hope for that we see not, then do we with patience wait for it.

Mas yo volveré mis ojos a Jehová, esperaré al Dios de mi salvación; el Dios mío me oirá.

Therefore I will look unto the L

ord

; I will wait for the God of my salvation: my God will hear me.

La esperanza que se demora es tormento del corazón; árbol de vida es el deseo cumplido.

Hope deferred maketh the heart sick: but when the desire cometh, it is a tree of life.

«Mi porción es Jehová; por tanto, en él esperaré», dice mi alma.

The L

ord

is my portion, saith my soul; therefore will I hope in him.

Encamíname en tu verdad y enséñame, porque tú eres el Dios de mi salvación; en ti he esperado todo el día.

Lead me in thy truth, and teach me: for thou art the God of my salvation; on thee do I wait all the day.

Esperé yo en Jehová; esperó mi alma, en su palabra he esperado.

I wait for the L

ord

, my soul doth wait, and in his word do I hope.

¡Sea tu misericordia, Jehová, sobre nosotros, según esperamos en ti!

Let thy mercy, O L

ord

, be upon us, according as we hope in thee.

Y la esperanza no nos defrauda, porque el amor de Dios ha sido derramado en nuestros corazones por el Espíritu Santo que nos fue dado.

And hope maketh not ashamed; because the love of God is shed abroad in our hearts by the Holy Ghost which is given unto us.

Bendito el Dios y Padre de nuestro Señor Jesucristo, que según su gran misericordia nos hizo renacer para una esperanza viva, por la resurrección de Jesucristo de los muertos.

Blessed be the God and Father of our Lord Jesus Christ, which according to his abundant mercy hath begotten us again unto a lively hope by the resurrection of Jesus Christ from the dead.

El espíritu de Jehová, el Señor, está sobre mí, porque me ha ungido Jehová. Me ha enviado a predicar buenas noticias a los pobres, a vendar a los quebrantados de corazón, a publicar libertad a los cautivos y a los prisioneros apertura de la cárcel.

The Spirit of the Lord G

od

is upon me; because the L

ord

hath anointed me to preach good tidings unto the meek; he hath sent me to bind up the brokenhearted, to proclaim liberty to the captives, and the opening of the prison to them that are bound.

Al contrario, santificad a Dios el Señor en vuestros corazones, y estad siempre preparados para presentar defensa con mansedumbre y reverencia ante todo el que os demande razón de la esperanza que hay en vosotros.

But sanctify the Lord God in your hearts: and be ready always to give an answer to every man that asketh you a reason of the hope that is in you with meekness and fear.

A ellos, Dios quiso dar a conocer las riquezas de la gloria de este misterio entre los gentiles, que es Cristo en vosotros, esperanza de gloria.

To whom God would make known what is the riches of the glory of this mystery among the Gentiles; which is Christ in you, the hope of glory.

Un solo cuerpo y un solo Espíritu, como fuisteis también llamados en una misma esperanza de vuestra vocación.

There is one body, and one Spirit, even as ye are called in one hope of your calling.
No tenemos un sumo sacerdote que no pueda compadecerse de nuestras debilidades, sino uno que fue tentado en todo según nuestra semejanza, pero sin pecado.
Plan de lectura de la Biblia
Registrar y configurar su plan de lectura de la Biblia que desea ver su progreso y el siguiente capítulo para leer aquí!