Versículos de la Biblia sobre el Espíritu
«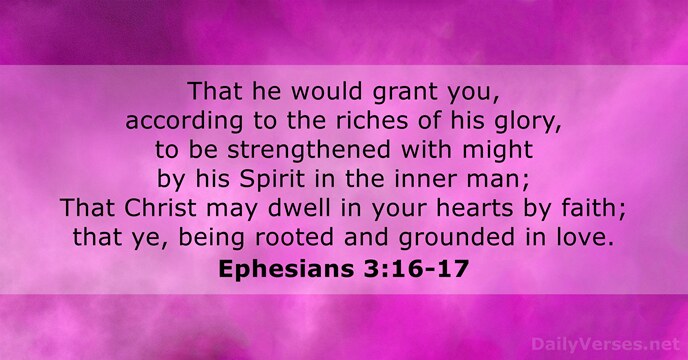 »
Para que os dé, conforme a las riquezas de su gloria, el ser fortalecidos con poder en el hombre interior por su Espíritu; que habite Cristo por la fe en vuestros corazones, a fin de que, arraigados y cimentados en amor.

That he would grant you, according to the riches of his glory, to be strengthened with might by his Spirit in the inner man; That Christ may dwell in your hearts by faith; that ye, being rooted and grounded in love.

Y el Dios de la esperanza os llene de todo gozo y paz en la fe, para que abundéis en esperanza por el poder del Espíritu Santo.

Now the God of hope fill you with all joy and peace in believing, that ye may abound in hope, through the power of the Holy Ghost.

Pero el fruto del Espíritu es amor, gozo, paz, paciencia, benignidad, bondad, fe, mansedumbre, templanza; contra tales cosas no hay ley.

But the fruit of the Spirit is love, joy, peace, longsuffering, gentleness, goodness, faith, Meekness, temperance: against such there is no law.

El Señor es el Espíritu; y donde está el Espíritu del Señor, allí hay libertad.

Now the Lord is that Spirit: and where the Spirit of the Lord is, there is liberty.

¿O ignoráis que vuestro cuerpo es templo del Espíritu Santo, el cual está en vosotros, el cual habéis recibido de Dios, y que no sois vuestros?, pues habéis sido comprados por precio; glorificad, pues, a Dios en vuestro cuerpo y en vuestro espíritu, los cuales son de Dios.

What? know ye not that your body is the temple of the Holy Ghost which is in you, which ye have of God, and ye are not your own? For ye are bought with a price: therefore glorify God in your body, and in your spirit, which are God's.

En esto conocemos que permanecemos en él y él en nosotros, en que nos ha dado de su Espíritu.

Hereby know we that we dwell in him, and he in us, because he hath given us of his Spirit.

Dios es Espíritu, y los que lo adoran, en espíritu y en verdad es necesario que lo adoren.

God is a Spirit: and they that worship him must worship him in spirit and in truth.

Si vivimos por el Espíritu, andemos también por el Espíritu.

If we live in the Spirit, let us also walk in the Spirit.

Y se les aparecieron lenguas repartidas, como de fuego, asentándose sobre cada uno de ellos. Todos fueron llenos del Espíritu Santo y comenzaron a hablar en otras lenguas, según el Espíritu les daba que hablaran.

And there appeared unto them cloven tongues like as of fire, and it sat upon each of them. And they were all filled with the Holy Ghost, and began to speak with other tongues, as the Spirit gave them utterance.

Porque no nos ha dado Dios espíritu de cobardía, sino de poder, de amor y de dominio propio.

For God hath not given us the spirit of fear; but of power, and of love, and of a sound mind.

De igual manera, el Espíritu nos ayuda en nuestra debilidad, pues qué hemos de pedir como conviene, no lo sabemos, pero el Espíritu mismo intercede por nosotros con gemidos indecibles.

Likewise the Spirit also helpeth our infirmities: for we know not what we should pray for as we ought: but the Spirit itself maketh intercession for us with groanings which cannot be uttered.

El espíritu de Jehová, el Señor, está sobre mí, porque me ha ungido Jehová. Me ha enviado a predicar buenas noticias a los pobres, a vendar a los quebrantados de corazón, a publicar libertad a los cautivos y a los prisioneros apertura de la cárcel.

The Spirit of the Lord G

od

is upon me; because the L

ord

hath anointed me to preach good tidings unto the meek; he hath sent me to bind up the brokenhearted, to proclaim liberty to the captives, and the opening of the prison to them that are bound.

Pues si vosotros, siendo malos, sabéis dar buenas dádivas a vuestros hijos, ¿cuánto más vuestro Padre celestial dará el Espíritu Santo a los que se lo pidan?

If ye then, being evil, know how to give good gifts unto your children: how much more shall your heavenly Father give the Holy Spirit to them that ask him?

Todos los que son guiados por el Espíritu de Dios, son hijos de Dios.

For as many as are led by the Spirit of God, they are the sons of God.

¿Acaso no sabéis que sois templo de Dios y que el Espíritu de Dios está en vosotros?

Know ye not that ye are the temple of God, and that the Spirit of God dwelleth in you?

Amados, no creáis a todo espíritu, sino probad los espíritus si son de Dios, porque muchos falsos profetas han salido por el mundo.

Beloved, believe not every spirit, but try the spirits whether they are of God: because many false prophets are gone out into the world.

Y la esperanza no nos defrauda, porque el amor de Dios ha sido derramado en nuestros corazones por el Espíritu Santo que nos fue dado.

And hope maketh not ashamed; because the love of God is shed abroad in our hearts by the Holy Ghost which is given unto us.

Ésta es palabra de Jehová para Zorobabel, y dice: "No con ejército, ni con fuerza, sino con mi espíritu, ha dicho Jehová de los ejércitos."

This is the word of the L

ord

unto Zerubbabel, saying, Not by might, nor by power, but by my spirit, saith the L

ord

of hosts.

Para que el Dios de nuestro Señor Jesucristo, el Padre de gloria, os dé espíritu de sabiduría y de revelación en el conocimiento de él.

That the God of our Lord Jesus Christ, the Father of glory, may give unto you the spirit of wisdom and revelation in the knowledge of him.

El ocuparse de la carne es muerte, pero el ocuparse del Espíritu es vida y paz.

For to be carnally minded is death; but to be spiritually minded is life and peace.

El Espíritu mismo da testimonio a nuestro espíritu, de que somos hijos de Dios.

The Spirit itself beareth witness with our spirit, that we are the children of God.

Pero recibiréis poder cuando haya venido sobre vosotros el Espíritu Santo, y me seréis testigos en Jerusalén, en toda Judea, en Samaria y hasta lo último de la tierra.

But ye shall receive power, after that the Holy Ghost is come upon you: and ye shall be witnesses unto me both in Jerusalem, and in all Judaea, and in Samaria, and unto the uttermost part of the earth.

Porque el deseo de la carne es contra el Espíritu y el del Espíritu es contra la carne; y estos se oponen entre sí, para que no hagáis lo que quisierais.

For the flesh lusteth against the Spirit, and the Spirit against the flesh: and these are contrary the one to the other: so that ye cannot do the things that ye would.

Por tanto, nosotros todos, mirando con el rostro descubierto y reflejando como en un espejo la gloria del Señor, somos transformados de gloria en gloria en su misma imagen, por la acción del Espíritu del Señor.

But we all, with open face beholding as in a glass the glory of the Lord, are changed into the same image from glory to glory, even as by the Spirit of the Lord.

Pues no habéis recibido el espíritu de esclavitud para estar otra vez en temor, sino que habéis recibido el Espíritu de adopción, por el cual clamamos: «¡Abba, Padre!»

For ye have not received the spirit of bondage again to fear; but ye have received the Spirit of adoption, whereby we cry, Abba, Father.
Pero corra el juicio como las aguas y la justicia como arroyo impetuoso.
Plan de lectura de la Biblia
Registrar y configurar su plan de lectura de la Biblia que desea ver su progreso y el siguiente capítulo para leer aquí!