Bible Verses about Healing
«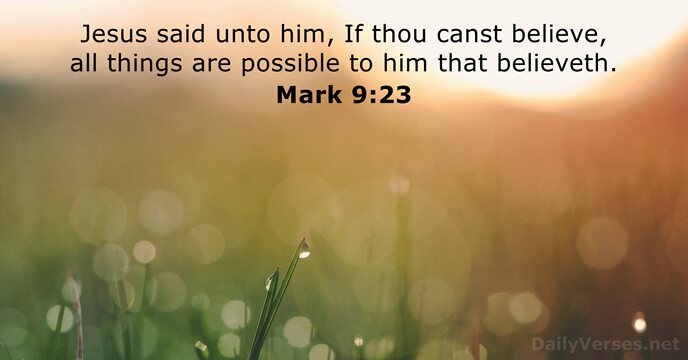 »
Jesus said unto him, If thou canst believe, all things are possible to him that believeth.

"Wenn du etwas kannst?", erwiderte Jesus. "Was soll das heißen? Für den, der Gott vertraut, ist alles möglich!"

But when Jesus heard it, he answered him, saying, Fear not: believe only, and she shall be made whole.

Jesus hörte es und sagte zu dem Vorsteher: "Hab keine Angst! Vertrau mir, dann wird sie gerettet werden!"

He healeth the broken in heart, and bindeth up their wounds.

Er heilt die, deren Herzen gebrochen sind, und verbindet ihre schmerzenden Wunden.

Is any sick among you? let him call for the elders of the church; and let them pray over him, anointing him with oil in the name of the Lord: And the prayer of faith shall save the sick, and the Lord shall raise him up; and if he have committed sins, they shall be forgiven him.

Wenn jemand von euch schwach oder krank ist, soll er die Ältesten der Gemeinde zu sich rufen, damit sie ihn im Namen des Herrn mit Öl einsalben und über ihm beten. Das vertrauensvolle Gebet wird den Kranken retten. Der Herr wird ihn aufrichten und ihm vergeben, wenn er Sünden begangen hat.

And Jesus said unto him, Go thy way; thy faith hath made thee whole. And immediately he received his sight, and followed Jesus in the way.

Jesus sagte zu ihm: "Geh nur! Dein Glaube hat dich gerettet!" Im gleichen Augenblick konnte der Mann sehen und folgte Jesus auf dem Weg.

Heal the sick, cleanse the lepers, raise the dead, cast out devils: freely ye have received, freely give.

Heilt Kranke, weckt Tote auf, macht Aussätzige rein, treibt Dämonen aus! Was ihr kostenlos bekommen habt, das gebt kostenlos weiter.

A merry heart doeth good like a medicine: but a broken spirit drieth the bones.

Ein frohes Herz tut dem Körper wohl, ein zerschlagener Geist trocknet ihn aus.

Confess your faults one to another, and pray one for another, that ye may be healed. The effectual fervent prayer of a righteous man availeth much.

Bekennt also einander die Sünden und betet füreinander, damit ihr geheilt werdet. Das Gebet eines Gerechten ist wirksam und vermag viel.

But he was wounded for our transgressions, he was bruised for our iniquities: the chastisement of our peace was upon him; and with his stripes we are healed.

Doch man hat ihn durchbohrt wegen unserer Schuld, ihn wegen unserer Sünden gequält. Für unseren Frieden ertrug er den Schmerz, und durch seine Striemen sind wir geheilt.

If my people, which are called by my name, shall humble themselves, and pray, and seek my face, and turn from their wicked ways; then will I hear from heaven, and will forgive their sin, and will heal their land.

Und wenn dann mein Volk, über dem mein Name ausgerufen ist, sich demütigt und zu mir betet, wenn es meine Gegenwart sucht und von seinen bösen Wegen umkehrt, dann werde ich es vom Himmel her hören, ihre Sünden vergeben und ihr Land heilen.

But unto you that fear my name shall the Sun of righteousness arise with healing in his wings; and ye shall go forth, and grow up as calves of the stall.

Aber euch, die ihr meinen Namen fürchtet, wird die Sonne aufgehen. Gerechtigkeit und Heilung strahlen für euch auf, und ihr werdet Freudensprünge machen wie Kälber, die man auf die Weide hinauslässt.

Heal me, O L

ord

, and I shall be healed; save me, and I shall be saved: for thou art my praise.

Heile mich, Jahwe, dann werde ich geheilt! Hilf du mir, dann ist mir geholfen! Denn du bist der Grund für mein Lob.

Who his own self bare our sins in his own body on the tree, that we, being dead to sins, should live unto righteousness: by whose stripes ye were healed.

Mit seinem Körper hat er unsere Sünden auf das Holz hinaufgetragen, damit wir - für die Sünden gestorben - nun so leben, wie es vor Gott recht ist. Durch seine Striemen seid ihr geheilt.

Turn again, and tell Hezekiah the captain of my people, Thus saith the L

ord

, the God of David thy father, I have heard thy prayer, I have seen thy tears: behold, I will heal thee: on the third day thou shalt go up unto the house of the L

ord

.

Kehr um und sag zu Hiskija, dem Fürsten meines Volkes: 'Jahwe, der Gott deines Vorfahren David, lässt dir sagen: Ich habe dein Gebet gehört und deine Tränen gesehen. Ich werde dich gesund machen. Übermorgen kannst du wieder ins Haus Jahwes gehen.'

And heal the sick that are therein, and say unto them, The kingdom of God is come nigh unto you.

Heilt die Kranken, die da sind, und sagt den Leuten: 'Jetzt ist Gottes Herrschaft schon ganz nah bei euch!'

But when Jesus heard that, he said unto them, They that be whole need not a physician, but they that are sick.

Jesus hörte es und erwiderte: "Nicht die Gesunden brauchen den Arzt, sondern die Kranken."

If thou wilt diligently hearken to the voice of the L

ord

thy God, and wilt do that which is right in his sight, and wilt give ear to his commandments, and keep all his statutes, I will put none of these diseases upon thee, which I have brought upon the Egyptians: for I am the L

ord

that healeth thee.

Er sagte: "Wenn du auf Jahwe, deinen Gott, hörst und tust, was ihm gefällt, wenn du seinen Geboten folgst und dich an seine Vorschriften hältst, dann werde ich dir keine von den Krankheiten schicken, die ich den Ägyptern auferlegt habe. Denn ich bin Jahwe, dein Arzt."

He sent his word, and healed them, and delivered them from their destructions.

Er schickte sein Wort und heilte sie und bewahrte sie so vor dem Grab.

And he was teaching in one of the synagogues on the sabbath. And, behold, there was a woman which had a spirit of infirmity eighteen years, and was bowed together, and could in no wise lift up herself. And when Jesus saw her, he called her to him, and said unto her, Woman, thou art loosed from thine infirmity. And he laid his hands on her: and immediately she was made straight, and glorified God. And the ruler of the synagogue answered with indignation, because that Jesus had healed on the sabbath day, and said unto the people, There are six days in which men ought to work: in them therefore come and be healed, and not on the sabbath day. The Lord then answered him, and said, Thou hypocrite, doth not each one of you on the sabbath loose his ox or his ass from the stall, and lead him away to watering? And ought not this woman, being a daughter of Abraham, whom Satan hath bound, lo, these eighteen years, be loosed from this bond on the sabbath day? And when he had said these things, all his adversaries were ashamed: and all the people rejoiced for all the glorious things that were done by him.

Als Jesus am Sabbat in einer Synagoge lehrte, befand sich eine Frau unter den Zuhörern, die seit achtzehn Jahren krank war. Ein Geist der Schwäche hatte sie verkrüppeln lassen. Sie war ganz verkrümmt und konnte sich nicht mehr aufrichten. Als Jesus sie sah, rief er sie zu sich: "Frau", sagte er, "du bist frei von deinem Leiden!" Dann legte er seine Hände auf sie. Da konnte sie sich wieder aufrichten, und sie lobte und rühmte Gott. Der Synagogenvorsteher aber ärgerte sich darüber, dass Jesus am Sabbat heilte, und sagte zu der versammelten Menge: "Es gibt sechs Tage, die zum Arbeiten da sind. Kommt an diesen Tagen, um euch heilen zu lassen, aber nicht am Sabbat." Der Herr entgegnete ihm: "Ihr Heuchler! Jeder von euch bindet am Sabbat seinen Ochsen oder Esel von der Krippe los und führt ihn zur Tränke. Und diese Frau hier, die der Satan achtzehn Jahre lang gebunden hatte und die doch auch zu Gottes Volk gehört, sie sollte an einem Sabbat nicht von ihrer Fessel befreit werden dürfen?" Diese Antwort beschämte seine Widersacher. Alle anderen aber freuten sich über die wunderbaren Dinge, die durch Jesus geschahen.

The Spirit of the Lord is upon me, because he hath anointed me to preach the gospel to the poor; he hath sent me to heal the brokenhearted, to preach deliverance to the captives, and recovering of sight to the blind, to set at liberty them that are bruised.

Der Geist des Herrn ruht auf mir, weil er mich gesalbt hat. Er hat mich gesandt, Armen die gute Botschaft zu bringen und Gefangenen die Freiheit. Ich soll Blinden sagen, dass sie sehen werden und Zerbrochenen, dass sie frei werden von Schuld.

The L

ord

openeth the eyes of the blind: the L

ord

raiseth them that are bowed down: the L

ord

loveth the righteous.

Jahwe gibt den Blinden Licht, Jahwe richtet die Gebeugten auf. Jahwe liebt die Gerechten.
Be not overcome of evil, but overcome evil with good.
Personal Bible reading plan
Create an account to configure your Bible reading plan and you will see your progress and the next chapter to read here!
Read more...