Bible Verses about Judgment
«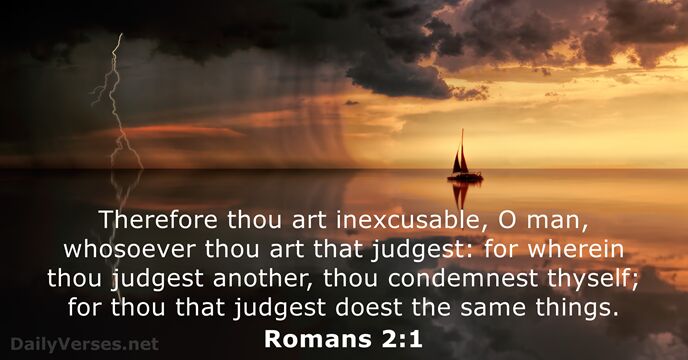 »
Therefore thou art inexcusable, O man, whosoever thou art that judgest: for wherein thou judgest another, thou condemnest thyself; for thou that judgest doest the same things.

Por eso eres inexcusable, hombre, tú que juzgas, quienquiera que seas, porque al juzgar a otro, te condenas a ti mismo, pues tú, que juzgas, haces lo mismo.

Judge not, that ye be not judged.

No juzguéis, para que no seáis juzgados.

Every way of a man is right in his own eyes: but the L

ord

pondereth the hearts.

Todo camino del hombre es recto en su propia opinión, pero Jehová pesa los corazones.

Let us not therefore judge one another any more: but judge this rather, that no man put a stumblingblock or an occasion to fall in his brother's way.

Así que, ya no nos juzguemos más los unos a los otros, sino más bien decidid no poner tropiezo u ocasión de caer al hermano.

But I say unto you, That every idle word that men shall speak, they shall give account thereof in the day of judgment.

Pero yo os digo que de toda palabra ociosa que hablen los hombres, de ella darán cuenta en el día del juicio.

And why beholdest thou the mote that is in thy brother's eye, but considerest not the beam that is in thine own eye?

¿Por qué miras la paja que está en el ojo de tu hermano y no echas de ver la viga que está en tu propio ojo?

Judge not, and ye shall not be judged: condemn not, and ye shall not be condemned: forgive, and ye shall be forgiven.

No juzguéis y no seréis juzgados; no condenéis y no seréis condenados; perdonad y seréis perdonados.

Who art thou that judgest another man's servant? to his own master he standeth or falleth. Yea, he shall be holden up: for God is able to make him stand.

¿Tú quién eres, que juzgas al criado ajeno? Para su propio Señor está en pie, o cae; pero estará firme, porque poderoso es el Señor para hacerlo estar firme.

No weapon that is formed against thee shall prosper; and every tongue that shall rise against thee in judgment thou shalt condemn. This is the heritage of the servants of the L

ord

, and their righteousness is of me, saith the L

ord

.

«Ninguna arma forjada contra ti, prosperará, y tú condenarás toda lengua que se levante contra ti en el juicio. Ésta es la herencia de los siervos de Jehová: su salvación de mí vendrá», dice Jehová.

For as many as have sinned without law shall also perish without law: and as many as have sinned in the law shall be judged by the law.

Todos los que sin la Ley han pecado, sin la Ley también perecerán; y todos los que bajo la Ley han pecado, por la Ley serán juzgados.

There is one lawgiver, who is able to save and to destroy: who art thou that judgest another?

Uno solo es el dador de la Ley, que puede salvar y condenar; pero tú, ¿quién eres para que juzgues a otro?

Marriage is honourable in all, and the bed undefiled: but whoremongers and adulterers God will judge.

Honroso sea en todos el matrimonio y el lecho sin mancilla; pero a los fornicarios y a los adúlteros los juzgará Dios.

For God sent not his Son into the world to condemn the world; but that the world through him might be saved.

Dios no envió a su Hijo al mundo para condenar al mundo, sino para que el mundo sea salvo por él.

Let no man therefore judge you in meat, or in drink, or in respect of an holyday, or of the new moon, or of the sabbath days: Which are a shadow of things to come; but the body is of Christ.

Por tanto, nadie os critique en asuntos de comida o de bebida, o en cuanto a días de fiesta, luna nueva o sábados. Todo esto es sombra de lo que ha de venir; pero el cuerpo es de Cristo.

Let not him that eateth despise him that eateth not; and let not him which eateth not judge him that eateth: for God hath received him.

El que come de todo no menosprecie al que no come, y el que no come no juzgue al que come, porque Dios lo ha recibido.

And I saw the dead, small and great, stand before God; and the books were opened: and another book was opened, which is the book of life: and the dead were judged out of those things which were written in the books, according to their works. And the sea gave up the dead which were in it; and death and hell delivered up the dead which were in them: and they were judged every man according to their works.

Y vi los muertos, grandes y pequeños, de pie ante Dios. Los libros fueron abiertos, y otro libro fue abierto, el cual es el libro de la vida. Y fueron juzgados los muertos por las cosas que estaban escritas en los libros, según sus obras. El mar entregó los muertos que había en él, y la muerte y el Hades entregaron los muertos que había en ellos, y fueron juzgados cada uno según sus obras.

There is therefore now no condemnation to them which are in Christ Jesus, who walk not after the flesh, but after the Spirit. For the law of the Spirit of life in Christ Jesus hath made me free from the law of sin and death.

Ahora, pues, ninguna condenación hay para los que están en Cristo Jesús, los que no andan conforme a la carne, sino conforme al Espíritu, porque la ley del Espíritu de vida en Cristo Jesús me ha librado de la ley del pecado y de la muerte.

With my soul have I desired thee in the night; yea, with my spirit within me will I seek thee early: for when thy judgments are in the earth, the inhabitants of the world will learn righteousness.

Con mi alma te he deseado en la noche y, en tanto que me dure el espíritu dentro de mí, madrugaré a buscarte; porque luego que hay juicios tuyos en la tierra, los moradores del mundo aprenden justicia.

But I keep under my body, and bring it into subjection: lest that by any means, when I have preached to others, I myself should be a castaway.

Sino que golpeo mi cuerpo y lo pongo en servidumbre, no sea que, habiendo sido heraldo para otros, yo mismo venga a ser eliminado.

He that believeth on him is not condemned: but he that believeth not is condemned already, because he hath not believed in the name of the only begotten Son of God.

El que en él cree no es condenado; pero el que no cree ya ha sido condenado, porque no ha creído en el nombre del unigénito Hijo de Dios.

For the wages of sin is death; but the gift of God is eternal life through Jesus Christ our Lord.

Porque la paga del pecado es muerte, pero la dádiva de Dios es vida eterna en Cristo Jesús, Señor nuestro.

But above all things, my brethren, swear not, neither by heaven, neither by the earth, neither by any other oath: but let your yea be yea; and your nay, nay; lest ye fall into condemnation.

Sobre todo, hermanos míos, no juréis, ni por el cielo ni por la tierra ni por ningún otro juramento; sino que vuestro «sí» sea sí, y vuestro «no» sea no, para que no caigáis en condenación.

He that believeth and is baptized shall be saved; but he that believeth not shall be damned.

El que crea y sea bautizado, será salvo; pero el que no crea, será condenado.

The Lord knoweth how to deliver the godly out of temptations, and to reserve the unjust unto the day of judgment to be punished.

El Señor sabe librar de tentación a los piadosos, y reservar a los injustos para ser castigados en el día del juicio.

I have fought a good fight, I have finished my course, I have kept the faith: Henceforth there is laid up for me a crown of righteousness, which the Lord, the righteous judge, shall give me at that day: and not to me only, but unto all them also that love his appearing.

He peleado la buena batalla, he acabado la carrera, he guardado la fe. Por lo demás, me está reservada la corona de justicia, la cual me dará el Señor, juez justo, en aquel día; y no sólo a mí, sino también a todos los que aman su venida.
Let your conversation be without covetousness; and be content with such things as ye have: for he hath said, I will never leave thee, nor forsake thee.
Personal Bible reading plan
Create an account to configure your Bible reading plan and you will see your progress and the next chapter to read here!
Read more...