«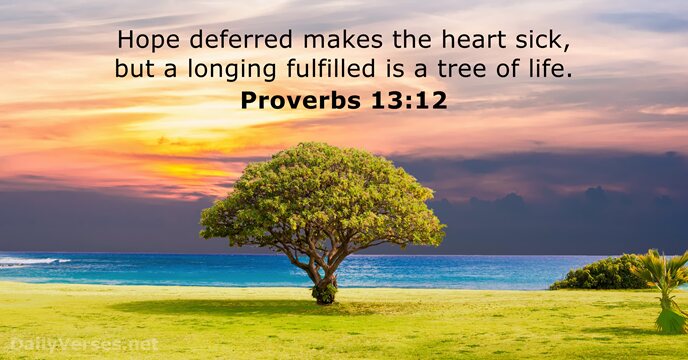 »
Hope deferred makes the heart sick,
but a longing fulfilled is a tree of life.

For we know that if the earthly tent we live in is destroyed, we have a building from God, an eternal house in heaven, not built by human hands.

What good will it be for someone to gain the whole world, yet forfeit their soul? Or what can anyone give in exchange for their soul?

Whoever walks in integrity walks securely,
but whoever takes crooked paths will be found out.

All Scripture is God-breathed and is useful for teaching, rebuking, correcting and training in righteousness, so that the servant of God may be thoroughly equipped for every good work.

I know that there is nothing better for people than to be happy and to do good while they live. That each of them may eat and drink, and find satisfaction in all their toil—this is the gift of God.

I will never forget your precepts,
for by them you have preserved my life.

When Jesus spoke again to the people, he said, "I am the light of the world. Whoever follows me will never walk in darkness, but will have the light of life."

Surely God is my help;
the Lord is the one who sustains me.

If anyone acknowledges that Jesus is the Son of God, God lives in them and they in God.

He has made everything beautiful in its time. He has also set eternity in the human heart; yet no one can fathom what God has done from beginning to end.

Those whom I love I rebuke and discipline. So be earnest and repent.

It is for freedom that Christ has set us free. Stand firm, then, and do not let yourselves be burdened again by a yoke of slavery.

Give careful thought to the paths for your feet
and be steadfast in all your ways.

Whoever has the Son has life; whoever does not have the Son of God does not have life.

I know what it is to be in need, and I know what it is to have plenty. I have learned the secret of being content in any and every situation, whether well fed or hungry, whether living in plenty or in want.

The mind governed by the flesh is death, but the mind governed by the Spirit is life and peace.

There is a way that appears to be right,
but in the end it leads to death.

So whether you eat or drink or whatever you do, do it all for the glory of God.

Finally, brothers and sisters, rejoice! Strive for full restoration, encourage one another, be of one mind, live in peace. And the God of love and peace will be with you.

Remember your Creator
in the days of your youth,
before the days of trouble come
and the years approach when you will say,
"I find no pleasure in them".

However, I consider my life worth nothing to me; my only aim is to finish the race and complete the task the Lord Jesus has given me—the task of testifying to the good news of God's grace.

You intended to harm me, but God intended it for good to accomplish what is now being done, the saving of many lives.

For though we live in the world, we do not wage war as the world does.

Do not worry about your life, what you will eat; or about your body, what you will wear. For life is more than food, and the body more than clothes.
If you believe, you will receive whatever you ask for in prayer.
Personal Bible reading plan
Create an account to configure your Bible reading plan and you will see your progress and the next chapter to read here!
Read more...