«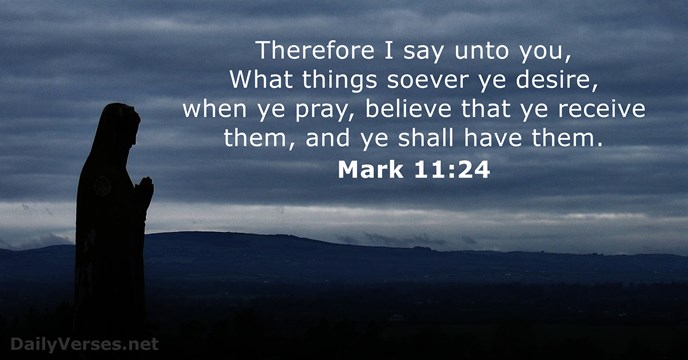 »
Therefore I say unto you, What things soever ye desire, when ye pray, believe that ye receive them, and ye shall have them.

Jesus said unto him, If thou canst believe, all things are possible to him that believeth.

And Jesus looking upon them saith, With men it is impossible, but not with God: for with God all things are possible.

And the second is like, namely this, Thou shalt love thy neighbour as thyself. There is none other commandment greater than these.

For what shall it profit a man, if he shall gain the whole world, and lose his own soul?

And Jesus said unto him, Go thy way; thy faith hath made thee whole. And immediately he received his sight, and followed Jesus in the way.

And he said unto them, Go ye into all the world, and preach the gospel to every creature.

And he saith unto them, Be not affrighted: Ye seek Jesus of Nazareth, which was crucified: he is risen; he is not here: behold the place where they laid him.

He that believeth and is baptized shall be saved; but he that believeth not shall be damned.

And he said, That which cometh out of the man, that defileth the man. For from within, out of the heart of men, proceed evil thoughts, adulteries, fornications, murders, Thefts, covetousness, wickedness, deceit, lasciviousness, an evil eye, blasphemy, pride, foolishness: All these evil things come from within, and defile the man.
But they that wait upon the Lord shall renew their strength; they shall mount up with wings as eagles; they shall run, and not be weary; and they shall walk, and not faint.
Personal Bible reading plan
Create an account to configure your Bible reading plan and you will see your progress and the next chapter to read here!
Read more...