Bible Verses about Mercy
«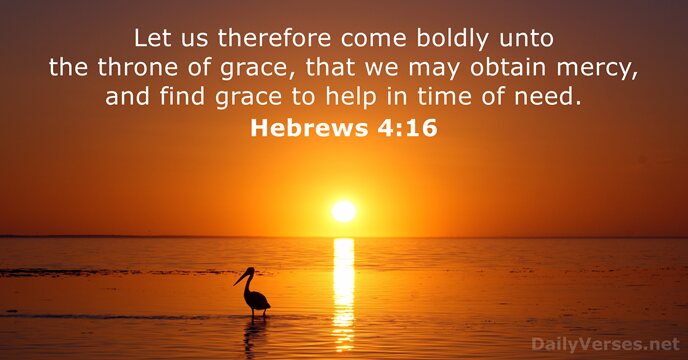 »
Let us therefore come boldly unto the throne of grace, that we may obtain mercy, and find grace to help in time of need.

Astukaamme sen tähden rohkeasti armon valtaistuimen eteen, jotta saisimme armoa ja laupeutta, löytäisimme avun silloin kun sitä tarvitsemme.

But go ye and learn what that meaneth, I will have mercy, and not sacrifice: for I am not come to call the righteous, but sinners to repentance.

Menkää ja tutkikaa, mitä tämä tarkoittaa: 'Armahtavaisuutta minä tahdon, en uhrimenoja.' En minä ole tullut kutsumaan hurskaita, vaan syntisiä.

But God, who is rich in mercy, for his great love wherewith he loved us, Even when we were dead in sins, hath quickened us together with Christ, (by grace ye are saved).

Jumalan laupeus on kuitenkin niin runsas ja hän rakasti meitä niin suuresti, että hän teki meidät, rikkomustemme tähden kuolleet, eläviksi Kristuksen kanssa. Armosta teidät on pelastettu.

Have mercy upon me, O God, according to thy lovingkindness: according unto the multitude of thy tender mercies blot out my transgressions. Wash me throughly from mine iniquity, and cleanse me from my sin.

Jumala, ole minulle armollinen hyvyydessäsi, pyyhi pois minun syntini suuren laupeutesi tähden. Pese minut puhtaaksi rikoksestani ja anna lankeemukseni anteeksi.

Who is a God like unto thee, that pardoneth iniquity, and passeth by the transgression of the remnant of his heritage? he retaineth not his anger for ever, because he delighteth in mercy.

Jumala, onko sinun vertaistasi! Sinä annat synnit anteeksi ja jätät rankaisematta jäljelle jääneen kansasi rikkomukset. Sinä et pidä vihaa iäti, sinä olet laupias.

For the L

ord

your God is gracious and merciful, and will not turn away his face from you, if ye return unto him.

Herra, teidän Jumalanne, on anteeksiantava ja laupias eikä käännä pois kasvojaan, jos palaatte hänen luokseen.

And therefore will the L

ord

wait, that he may be gracious unto you, and therefore will he be exalted, that he may have mercy upon you: for the L

ord

is a God of judgment: blessed are all they that wait for him.

Kuitenkin Herra vain odottaa, että voisi olla teille armollinen, hän nousee armahtamaan teitä. Herra on oikeuden Jumala. Autuaita ne, jotka häntä odottavat!

For if ye forgive men their trespasses, your heavenly Father will also forgive you.

Jos te annatte toisille ihmisille anteeksi heidän rikkomuksensa, antaa myös taivaallinen Isänne teille anteeksi.

Remember, O L

ord

, thy tender mercies and thy lovingkindnesses; for they have been ever of old. Remember not the sins of my youth, nor my transgressions: according to thy mercy remember thou me for thy goodness' sake, O L

ord

.

Herra, sinä olet laupias, muista minua, osoita ikiaikaista hyvyyttäsi. Älä muista nuoruuteni syntejä, älä pahoja tekojani! Sinä, joka olet uskollinen ja hyvä, älä unohda minua!

I beseech you therefore, brethren, by the mercies of God, that ye present your bodies a living sacrifice, holy, acceptable unto God, which is your reasonable service.

Jumalan armahtavaan laupeuteen vedoten kehotan teitä, veljet: Antakaa koko elämänne pyhäksi ja eläväksi, Jumalalle mieluisaksi uhriksi. Näin te palvelette Jumalaa järjellisellä tavalla.

What then? shall we sin, because we are not under the law, but under grace? God forbid.

Miten siis on? Saammeko tehdä syntiä, koska emme elä lain vaan armon alaisina? Emme toki!

And let the beauty of the L

ord

our God be upon us: and establish thou the work of our hands upon us; yea, the work of our hands establish thou it.

Herra, meidän Jumalamme, ole lempeä meille, anna töillemme menestys, siunaa kättemme työt.

Withhold not thou thy tender mercies from me, O L

ord

: let thy lovingkindness and thy truth continually preserve me.

Herra, ethän ota minulta pois armoasi! Sinun hyvyytesi ja uskollisuutesi varjelkoon minua aina.

Surely goodness and mercy shall follow me all the days of my life: and I will dwell in the house of the L

ord

for ever.

Sinun hyvyytesi ja rakkautesi ympäröi minut kaikkina elämäni päivinä, ja minä saan asua Herran huoneessa päivieni loppuun asti.

A good man sheweth favour, and lendeth: he will guide his affairs with discretion.

Hyvin käy sen, joka on armelias ja lainaa omastaan muille, sen, joka aina toimii oikeuden mukaan.

For God so loved the world, that he gave his only begotten Son, that whosoever believeth in him should not perish, but have everlasting life.

Jumala on rakastanut maailmaa niin paljon, että antoi ainoan Poikansa, jottei yksikään, joka häneen uskoo, joutuisi kadotukseen, vaan saisi iankaikkisen elämän.

Nevertheless for thy great mercies' sake thou didst not utterly consume them, nor forsake them; for thou art a gracious and merciful God.

Mutta suuressa armossasi et antanut heidän tuhoutua etkä hylännyt heitä, sillä sinä olet anteeksiantava ja laupias Jumala.

Out of the depths have I cried unto thee, O L

ord

. Lord, hear my voice: let thine ears be attentive to the voice of my supplications.

Syvyydestä minä huudan sinua, Herra. Herra, kuule minun ääneni, tarkatkoot sinun korvasi rukoustani.

He that covereth his sins shall not prosper: but whoso confesseth and forsaketh them shall have mercy.

Joka rikkomuksensa salaa, ei menesty, joka ne tunnustaa ja hylkää, saa armon.

And he said unto me, My grace is sufficient for thee: for my strength is made perfect in weakness. Most gladly therefore will I rather glory in my infirmities, that the power of Christ may rest upon me.

Mutta hän on vastannut minulle: »Minun armoni riittää sinulle. Voima tulee täydelliseksi heikkoudessa.» Sen tähden ylpeilen mieluimmin heikkoudestani, jotta minuun asettuisi Kristuksen voima.

But not as the offence, so also is the free gift. For if through the offence of one many be dead, much more the grace of God, and the gift by grace, which is by one man, Jesus Christ, hath abounded unto many.

Rikkomusta ei kuitenkaan voi verrata armoon. Yhden ainoan ihmisen rikkomus on tosin tuottanut kaikille kuoleman, mutta vielä paljon runsaammin ovat Jumalan armo ja hänen lahjansa tulleet yhden ainoan ihmisen, Jeesuksen Kristuksen, ansiosta kaikkien osaksi.

Let the wicked forsake his way, and the unrighteous man his thoughts: and let him return unto the L

ord

, and he will have mercy upon him; and to our God, for he will abundantly pardon.

Hylätköön jumalaton tiensä ja väärintekijä juonensa, kääntyköön takaisin Herran luo, sillä hän armahtaa, turvautukoon Jumalaan, sillä hänen anteeksiantonsa on runsas.

Then came Peter to him, and said, Lord, how oft shall my brother sin against me, and I forgive him? till seven times? Jesus saith unto him, I say not unto thee, Until seven times: but, Until seventy times seven.

Silloin Pietari tuli Jeesuksen luo ja sanoi: »Herra, jos veljeni yhä uudestaan tekee väärin minua kohtaan, niin kuinka monta kertaa minun on annettava hänelle anteeksi? Peräti seitsemän kertaako?» »Ei seitsemän, vaan seitsemänkymmentäseitsemän kertaa», vastasi Jeesus.

The grace of the Lord Jesus Christ, and the love of God, and the communion of the Holy Ghost, be with you all. Amen.

Tulkoon teidän kaikkien osaksi Herran Jeesuksen Kristuksen armo, Jumalan rakkaus ja Pyhän Hengen yhteys!

Not by works of righteousness which we have done, but according to his mercy he saved us, by the washing of regeneration, and renewing of the Holy Ghost.

Hän pelasti meidät, ei meidän hurskaiden tekojemme tähden, vaan pelkästä armosta. Hän pelasti meidät pesemällä meidät puhtaiksi, niin että synnyimme uudesti ja Pyhä Henki uudisti meidät.
Be ye therefore perfect, even as your Father which is in heaven is perfect.
Personal Bible reading plan
Create an account to configure your Bible reading plan and you will see your progress and the next chapter to read here!
Read more...