<
2 Korintiërs 13 - NBG & NIV
Lees dit hoofdstuk online, klik
hier
om het hoofdstuk te lezen.
Bijbelteksten
«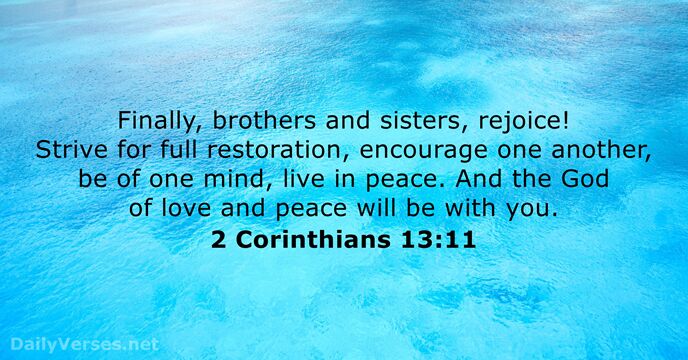 »
| | |
| --- | --- |
| Overigens, broeders, weest blijde, laat u terecht brengen, laat u vermanen, weest eensgezind, houdt vrede, en de God der liefde en des vredes zal met u zijn. | Finally, brothers and sisters, rejoice! Strive for full restoration, encourage one another, be of one mind, live in peace. And the God of love and peace will be with you. |
| De genade des Heren Jezus Christus, en de liefde Gods, en de gemeenschap des heiligen Geestes zij met u allen. | May the grace of the Lord Jesus Christ, and the love of God, and the fellowship of the Holy Spirit be with you all. |
Ontvang de dagelijkse Bijbeltekst:
Want door één Geest zijn wij allen tot één lichaam gedoopt, hetzij Joden, hetzij Grieken, hetzij slaven, hetzij vrijen, en allen zijn wij met één Geest gedrenkt.