Bible Verses about Prophecy
«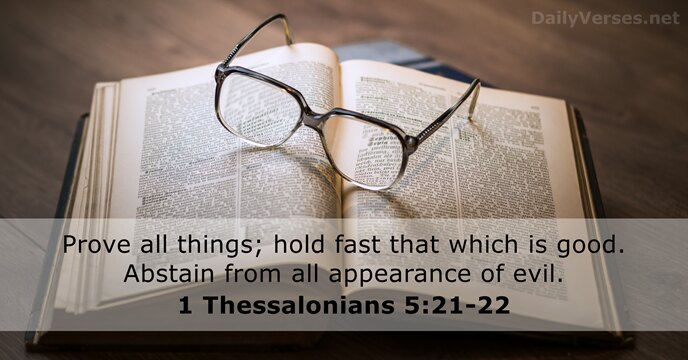 »
Prove all things; hold fast that which is good. Abstain from all appearance of evil.

Mais examinez tout et retenez ce qui est bon. Abstenez-vous de toute forme de mal.

And though I have the gift of prophecy, and understand all mysteries, and all knowledge; and though I have all faith, so that I could remove mountains, and have not charity, I am nothing.

Si j'ai le don de prophétie, la compréhension de tous les mystères et toute la connaissance, si j'ai même toute la foi jusqu'à transporter des montagnes, mais que je n'ai pas l'amour, je ne suis rien.

For the prophecy came not in old time by the will of man: but holy men of God spake as they were moved by the Holy Ghost.

Car ce n'est jamais par une volonté d'homme qu'une prophétie a été apportée, mais c'est poussés par le Saint-Esprit que des hommes ont parlé de la part de Dieu.

Beloved, believe not every spirit, but try the spirits whether they are of God: because many false prophets are gone out into the world.

Bien-aimés, ne vous fiez pas à tout esprit mais mettez les esprits à l'épreuve pour savoir s'ils sont de Dieu, car plusieurs prétendus prophètes sont venus dans le monde.

Surely the Lord G

od

will do nothing, but he revealeth his secret unto his servants the prophets.

En effet, le Seigneur, l'Eternel, ne fait rien sans avoir révélé son secret à ses serviteurs les prophètes.

Turn again, and tell Hezekiah the captain of my people, Thus saith the L

ord

, the God of David thy father, I have heard thy prayer, I have seen thy tears: behold, I will heal thee: on the third day thou shalt go up unto the house of the L

ord

.

Retourne annoncer à Ezéchias, le chef de mon peuple: 'Voici ce que dit l'Eternel, le Dieu de ton ancêtre David: J'ai entendu ta prière, j'ai vu tes larmes. Je vais te guérir et dès après-demain tu pourras monter à la maison de l'Eternel.'

Beware of false prophets, which come to you in sheep's clothing, but inwardly they are ravening wolves.

Méfiez-vous des prétendus prophètes! Ils viennent à vous en vêtements de brebis, mais au-dedans ce sont des loups voraces.

Therefore all things whatsoever ye would that men should do to you, do ye even so to them: for this is the law and the prophets.

Tout ce que vous voudriez que les hommes fassent pour vous, vous aussi, faites-le de même pour eux, car c'est ce qu'enseignent la loi et les prophètes.

Ye are of God, little children, and have overcome them: because greater is he that is in you, than he that is in the world.

Vous, petits enfants, vous êtes de Dieu et vous avez vaincu ces prétendus prophètes parce que celui qui est en vous est plus grand que celui qui est dans le monde.

Now therefore ye are no more strangers and foreigners, but fellowcitizens with the saints, and of the household of God; And are built upon the foundation of the apostles and prophets, Jesus Christ himself being the chief corner stone.

Ainsi donc, vous n'êtes plus des étrangers ni des résidents temporaires; vous êtes au contraire concitoyens des saints, membres de la famille de Dieu. Vous avez été édifiés sur le fondement des apôtres et prophètes, Jésus-Christ lui-même étant la pierre angulaire.

When they heard this, they were baptized in the name of the Lord Jesus. And when Paul had laid his hands upon them, the Holy Ghost came on them; and they spake with tongues, and prophesied.

Sur ces paroles, ils furent baptisés au nom du Seigneur Jésus. Lorsque Paul posa les mains sur eux, le Saint-Esprit vint sur eux et ils se mirent à parler en langues et à prophétiser.

Therefore the Lord himself shall give you a sign; Behold, a virgin shall conceive, and bear a son, and shall call his name Immanuel.

Voilà pourquoi c'est le Seigneur lui-même qui vous donnera un signe: la vierge sera enceinte, elle mettra au monde un fils et l'appellera Emmanuel.

But now the righteousness of God without the law is manifested, being witnessed by the law and the prophets; Even the righteousness of God which is by faith of Jesus Christ unto all and upon all them that believe: for there is no difference.

Mais maintenant, la justice de Dieu dont témoignent la loi et les prophètes a été manifestée indépendamment de la loi: c'est la justice de Dieu par la foi en Jésus-Christ pour tous ceux qui croient. Il n'y a pas de différence.

Rejoice greatly, O daughter of Zion; shout, O daughter of Jerusalem: behold, thy King cometh unto thee: he is just, and having salvation; lowly, and riding upon an ass, and upon a colt the foal of an ass.

Réjouis-toi, fille de Sion! Lance des acclamations, fille de Jérusalem! Voici ton roi qui vient à toi; il est juste et victorieux, il est humble et monté sur un âne, sur un ânon, le petit d'une ânesse.

Now all this was done, that it might be fulfilled which was spoken of the Lord by the prophet, saying, Behold, a virgin shall be with child, and shall bring forth a son, and they shall call his name Emmanuel, which being interpreted is, God with us.

Tout cela arriva afin que s'accomplisse ce que le Seigneur avait annoncé par le prophète: La vierge sera enceinte, elle mettra au monde un fils et on l'appellera Emmanuel, ce qui signifie «Dieu avec nous».

Think not that I am come to destroy the law, or the prophets: I am not come to destroy, but to fulfil.

Ne croyez pas que je sois venu pour abolir la loi ou les prophètes; je suis venu non pour abolir, mais pour accomplir.

But thou, Bethlehem Ephratah, though thou be little among the thousands of Judah, yet out of thee shall he come forth unto me that is to be ruler in Israel; whose goings forth have been from of old, from everlasting.

Et toi, Bethléhem Ephrata, qui es petite parmi les villes de Juda, de toi sortira pour moi celui qui dominera sur Israël et dont l'origine remonte loin dans le passé, à l'éternité.
For as the sufferings of Christ abound in us, so our consolation also aboundeth by Christ.
Personal Bible reading plan
Create an account to configure your Bible reading plan and you will see your progress and the next chapter to read here!
Read more...