Bible Verses about 'Die'
«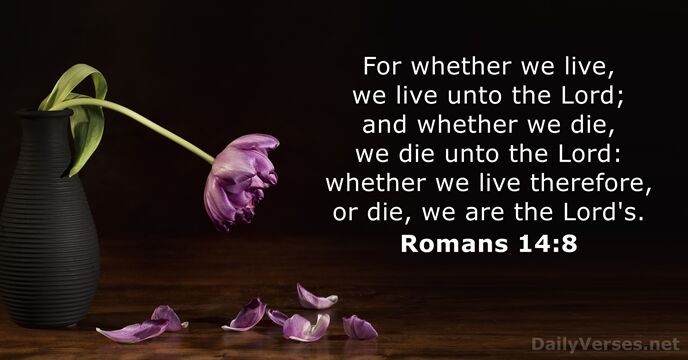 »
For whether we live, we live unto the Lord; and whether we die, we die unto the Lord: whether we live therefore, or die, we are the Lord's.

For to me to live is Christ, and to die is gain.

For as in Adam all die, even so in Christ shall all be made alive.

For scarcely for a righteous man will one die: yet peradventure for a good man some would even dare to die. But God commendeth his love toward us, in that, while we were yet sinners, Christ died for us.

He that keepeth the commandment keepeth his own soul;
but he that despiseth his ways shall die.

Jesus said unto her, I am the resurrection, and the life: he that believeth in me, though he were dead, yet shall he live: And whosoever liveth and believeth in me shall never die. Believest thou this?

But if the wicked will turn from all his sins that he hath committed, and keep all my statutes, and do that which is lawful and right, he shall surely live, he shall not die.

I, even I, am he that comforteth you:
who art thou, that thou shouldest be afraid of a man that shall die,
and of the son of man which shall be made as grass.

For the love of Christ constraineth us; because we thus judge, that if one died for all, then were all dead: And that he died for all, that they which live should not henceforth live unto themselves, but unto him which died for them, and rose again.

For when we were yet without strength, in due time Christ died for the ungodly.

Who his own self bare our sins in his own body on the tree, that we, being dead to sins, should live unto righteousness: by whose stripes ye were healed.

For if we believe that Jesus died and rose again, even so them also which sleep in Jesus will God bring with him.

For I have no pleasure in the death of him that dieth, saith the Lord G

od

: wherefore turn yourselves, and live ye.
It is a faithful saying:
For if we be dead with him,
we shall also live with him.
Open thy mouth for the dumb in the cause of all
such as are appointed to destruction.

I do not frustrate the grace of God: for if righteousness come by the law, then Christ is dead in vain.

For I delivered unto you first of all that which I also received, how that Christ died for our sins according to the scriptures; And that he was buried, and that he rose again the third day according to the scriptures.

What shall we say then? Shall we continue in sin, that grace may abound? God forbid. How shall we, that are dead to sin, live any longer therein?

But not as the offence, so also is the free gift. For if through the offence of one many be dead, much more the grace of God, and the gift by grace, which is by one man, Jesus Christ, hath abounded unto many.

And for this cause he is the mediator of the new testament, that by means of death, for the redemption of the transgressions that were under the first testament, they which are called might receive the promise of eternal inheritance.
Great is the Lord, and greatly to be praised; and his greatness is unsearchable.
Personal Bible reading plan
Create an account to configure your Bible reading plan and you will see your progress and the next chapter to read here!
Read more...