23 Bible Verses about 'Forgive'
«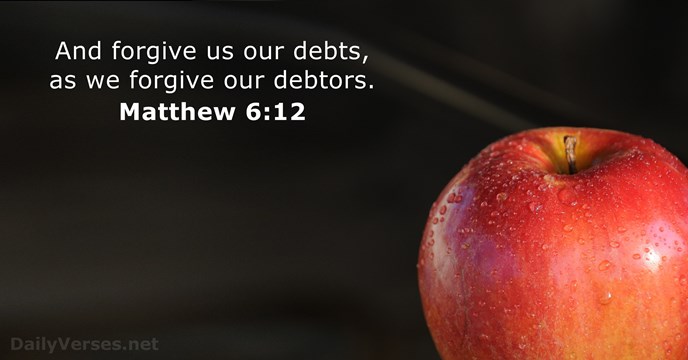 »
And forgive us our debts,
as we forgive our debtors.

For if ye forgive men their trespasses, your heavenly Father will also forgive you.

But if ye forgive not men their trespasses, neither will your Father forgive your trespasses.

Judge not, and ye shall not be judged: condemn not, and ye shall not be condemned: forgive, and ye shall be forgiven.

And when ye stand praying, forgive, if ye have ought against any: that your Father also which is in heaven may forgive you your trespasses.

If thy brother trespass against thee, rebuke him; and if he repent, forgive him. And if he trespass against thee seven times in a day, and seven times in a day turn again to thee, saying, I repent; thou shalt forgive him.

If we confess our sins, he is faithful and just to forgive us our sins, and to cleanse us from all unrighteousness.

Forbearing one another, and forgiving one another, if any man have a quarrel against any: even as Christ forgave you, so also do ye.

For thou, Lord, art good, and ready to forgive;
and plenteous in mercy unto all them that call upon thee.

If my people, which are called by my name, shall humble themselves, and pray, and seek my face, and turn from their wicked ways; then will I hear from heaven, and will forgive their sin, and will heal their land.

Then came Peter to him, and said, Lord, how oft shall my brother sin against me, and I forgive him? till seven times? Jesus saith unto him, I say not unto thee, Until seven times: but, Until seventy times seven.

For I will be merciful to their unrighteousness, and their sins and their iniquities will I remember no more.

Help us, O God of our salvation,
for the glory of thy name:
and deliver us, and purge away our sins,
for thy name's sake.

Wherefore I say unto you, All manner of sin and blasphemy shall be forgiven unto men: but the blasphemy against the Holy Ghost shall not be forgiven unto men.

Blessed is he
whose transgression is forgiven,
whose sin is covered.

And whosoever speaketh a word against the Son of man, it shall be forgiven him: but whosoever speaketh against the Holy Ghost, it shall not be forgiven him, neither in this world, neither in the world to come.

In whom we have redemption through his blood, the forgiveness of sins, according to the riches of his grace.

Who hath delivered us from the power of darkness, and hath translated us into the kingdom of his dear Son: In whom we have redemption through his blood, even the forgiveness of sins.

Be it known unto you therefore, men and brethren, that through this man is preached unto you the forgiveness of sins: And by him all that believe are justified from all things, from which ye could not be justified by the law of Moses.

Is any sick among you? let him call for the elders of the church; and let them pray over him, anointing him with oil in the name of the Lord: And the prayer of faith shall save the sick, and the Lord shall raise him up; and if he have committed sins, they shall be forgiven him.

Then Peter said unto them, Repent, and be baptized every one of you in the name of Jesus Christ for the remission of sins, and ye shall receive the gift of the Holy Ghost.

And be ye kind one to another, tenderhearted, forgiving one another, even as God for Christ's sake hath forgiven you.

Who is a God like unto thee,
that pardoneth iniquity,
and passeth by the transgression
of the remnant of his heritage?
he retaineth not his anger for ever,
because he delighteth in mercy.
A fool uttereth all his mind:
but a wise man keepeth it in till afterwards.
My son, attend to my words;
incline thine ear unto my sayings.
Let them not depart from thine eyes;
keep them in the midst of thine heart.
Read more
A fool uttereth all his mind: but a wise man keepeth it in till afterwards.
Personal Bible reading plan
Create an account to configure your Bible read plan and you will see your progress and the next chapter to read here!
Read more...