Bible Verses about the Almighty
«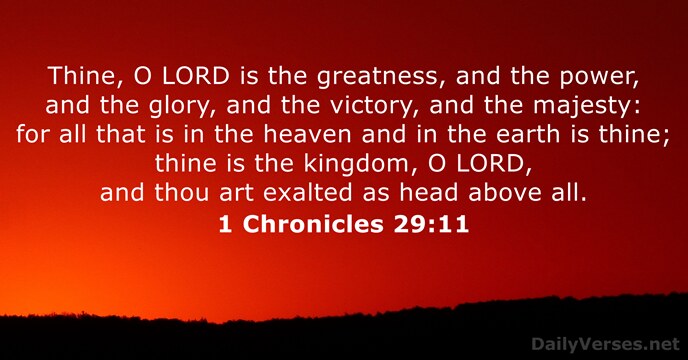 »
Thine, O L

ord

is the greatness, and the power, and the glory, and the victory, and the majesty: for all that is in the heaven and in the earth is thine; thine is the kingdom, O L

ord

, and thou art exalted as head above all.

A toi, Eternel, sont la grandeur, la puissance et la splendeur, l'éternité et la gloire, car tout ce qui est dans le ciel et sur la terre t'appartient. A toi, Eternel, sont le règne et l'autorité suprême!

Behold, I am the L

ord

, the God of all flesh: is there any thing too hard for me?

C'est moi qui suis l'Eternel, le Dieu de toute créature. Y a-t-il quoi que ce soit de trop difficile pour moi?

For with God nothing shall be impossible.

En effet, rien n'est impossible à Dieu.

I am Alpha and Omega, the beginning and the ending, saith the Lord, which is, and which was, and which is to come, the Almighty.

Je suis l'Alpha et l'Oméga, dit le Seigneur Dieu, celui qui est, qui était et qui vient, le Tout-Puissant.

He that dwelleth in the secret place of the most High shall abide under the shadow of the Almighty. I will say of the L

ord

, He is my refuge and my fortress: my God; in him will I trust.

Celui qui habite sous l'abri du Très-Haut repose à l'ombre du Tout-Puissant. Je dis à l'Eternel: «Tu es mon refuge et ma forteresse, mon Dieu en qui je me confie!»

Turn us again, O L

ord

God of hosts, cause thy face to shine; and we shall be saved.

Eternel, Dieu de l'univers, relève-nous! Fais briller ton visage, et nous serons sauvés!

Great is the L

ord

, and greatly to be praised; and his greatness is unsearchable.

L'Eternel est grand et digne de recevoir toute louange, sa grandeur est insondable.

Ah Lord G

od

! behold, thou hast made the heaven and the earth by thy great power and stretched out arm, and there is nothing too hard for thee.

Seigneur Eternel, c'est toi qui as fait le ciel et la terre par ta grande puissance et ta force. Rien n'est trop difficile pour toi.

Both riches and honour come of thee, and thou reignest over all; and in thine hand is power and might; and in thine hand it is to make great, and to give strength unto all.

C'est de toi que viennent la richesse et l'honneur, c'est toi qui domines sur tout, c'est dans ta main que sont la force et la puissance, et c'est ta main qui a le pouvoir de tout agrandir et de tout fortifier.

For I am persuaded, that neither death, nor life, nor angels, nor principalities, nor powers, nor things present, nor things to come, Nor height, nor depth, nor any other creature, shall be able to separate us from the love of God, which is in Christ Jesus our Lord.

En effet, j'ai l'assurance que ni la mort ni la vie, ni les anges ni les dominations, ni le présent ni l'avenir, ni les puissances, ni la hauteur, ni la profondeur, ni aucune autre créature ne pourra nous séparer de l'amour de Dieu manifesté en Jésus-Christ notre Seigneur.

For the invisible things of him from the creation of the world are clearly seen, being understood by the things that are made, even his eternal power and Godhead; so that they are without excuse.

En effet, les perfections invisibles de Dieu, sa puissance éternelle et sa divinité, se voient depuis la création du monde, elles se comprennent par ce qu'il a fait. Ils sont donc inexcusables.

The earth is the L

ord

's, and the fulness thereof; the world, and they that dwell therein.

C'est à l'Eternel qu'appartient la terre avec tout ce qu'elle contient, le monde avec tous ceux qui l'habitent.

Finally, my brethren, be strong in the Lord, and in the power of his might.

Enfin, mes frères et sœurs, fortifiez-vous dans le Seigneur et dans sa force toute-puissante.

Now unto the King eternal, immortal, invisible, the only wise God, be honour and glory for ever and ever. Amen.

Au roi des siècles, au Dieu immortel, invisible et seul sage soient honneur et gloire aux siècles des siècles! Amen!

Ye are of God, little children, and have overcome them: because greater is he that is in you, than he that is in the world.

Vous, petits enfants, vous êtes de Dieu et vous avez vaincu ces prétendus prophètes parce que celui qui est en vous est plus grand que celui qui est dans le monde.

He revealeth the deep and secret things: he knoweth what is in the darkness, and the light dwelleth with him.

C'est lui qui dévoile ce qui est profondément enfoui et caché, qui connaît ce qui est dans les ténèbres, et la lumière réside auprès de lui.

The L

ord

maketh poor, and maketh rich: he bringeth low, and lifteth up.

L'Eternel appauvrit et il enrichit, il abaisse et il élève.

And I will make them and the places round about my hill a blessing; and I will cause the shower to come down in his season; there shall be showers of blessing.

Je ferai d'elles et des alentours de ma colline une source de bénédiction. J'enverrai la pluie au moment voulu. Ce seront des pluies de bénédiction.

For there is not a word in my tongue, but, lo, O L

ord

, thou knowest it altogether.

La parole n'est pas encore sur ma langue que déjà, Eternel, tu la connais entièrement.

And he said, Abba, Father, all things are possible unto thee; take away this cup from me: nevertheless not what I will, but what thou wilt.

Il disait: «Abba, Père, tout t'est possible. Eloigne de moi cette coupe! Toutefois, non pas ce que je veux, mais ce que tu veux.»

And the L

ord

said unto Satan, Behold, all that he hath is in thy power; only upon himself put not forth thine hand. So Satan went forth from the presence of the L

ord

.

L'Eternel dit à Satan: «Voici tout ce qui lui appartient: je te le livre. Seulement, ne porte pas la main sur lui.» Satan se retira alors de la présence de l'Eternel.
But Jesus said, Suffer little children, and forbid them not, to come unto me: for of such is the kingdom of heaven.
Personal Bible reading plan
Create an account to configure your Bible reading plan and you will see your progress and the next chapter to read here!
Read more...