Bible Verses about Anger
«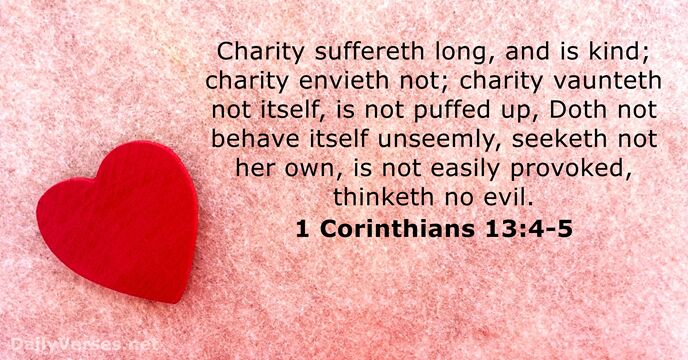 »
Charity suffereth long, and is kind; charity envieth not; charity vaunteth not itself, is not puffed up, Doth not behave itself unseemly, seeketh not her own, is not easily provoked, thinketh no evil.

De liefde is geduldig en vriendelijk. Liefde wordt niet jaloers. Liefde schept niet op en vindt zichzelf niet vreselijk belangrijk. Liefde zegt of doet geen onaardige dingen en denkt niet alleen maar aan zichzelf. Liefde raakt niet verbitterd. Liefde vergeeft als een ander iets verkeerds heeft gedaan.

Be ye angry, and sin not: let not the sun go down upon your wrath: Neither give place to the devil.

Als je boos op iemand wordt, houd je boosheid dan niet vast, want dat is verkeerd. Zorg ervoor dat je vóór het eind van de dag je boosheid weer kwijt bent. Zo geef je de duivel geen kans.

Thou shalt not hate thy brother in thine heart: thou shalt in any wise rebuke thy neighbour, and not suffer sin upon him. Thou shalt not avenge, nor bear any grudge against the children of thy people, but thou shalt love thy neighbour as thyself: I am the L

ord

.

Jullie mogen elkaar niet haten. Als iemand verkeerd doet, moeten jullie hem openlijk bestraffen en ervoor zorgen dat het weer goed komt. Jullie mogen hem niet zijn gang laten gaan. Jullie mogen niet zelf wraak nemen en niemand van je volk haten. Maar jullie moeten van de andere mensen net zo veel houden als van jezelf. Ik ben de Heer.

Hatred stirreth up strifes: but love covereth all sins.

Haat veroorzaakt ruzies, maar liefde vergeeft alles.

Wherefore, my beloved brethren, let every man be swift to hear, slow to speak, slow to wrath.

Onthoud goed, lieve broeders en zusters, dat iedereen goed moet luisteren, maar niet te gauw iets moet zeggen. Word ook niet te snel boos.

A soft answer turneth away wrath: but grievous words stir up anger.

Met een vriendelijk antwoord kalmeer je iemand die woedend is. Maar met beledigende woorden maak je hem juist kwaad.

He that is slow to wrath is of great understanding: but he that is hasty of spirit exalteth folly.

Geduld is een teken van wijsheid. Iemand die snel kwaad wordt, laat daarmee zien dat hij een dwaas is.

And he said, That which cometh out of the man, that defileth the man. For from within, out of the heart of men, proceed evil thoughts, adulteries, fornications, murders, Thefts, covetousness, wickedness, deceit, lasciviousness, an evil eye, blasphemy, pride, foolishness: All these evil things come from within, and defile the man.

"Wat uít je mond komt, maakt je onrein. Want dat komt van binnenuit, uit je hart. Daar vandaan komen de slechte gedachten, verkeerde dingen op het gebied van seks, moord, diefstal, ontrouw aan je man of vrouw, hebzucht, slechtheid, bedrog, gebrek aan zelfbeheersing, roddel, kwaadsprekerij, trots, onverstandigheid. Al die slechte dingen komen van binnenuit naar buiten en maken je onrein."

Only by pride cometh contention: but with the well advised is wisdom.

Mensen die denken alles te weten, veroorzaken ruzies. Maar mensen die naar goede raad luisteren, zijn wijs.

A fool uttereth all his mind: but a wise man keepeth it in till afterwards.

Dwaze mensen zeggen alles wat ze denken. Maar wijze mensen houden hun gedachten voor zich.

A fool's wrath is presently known: but a prudent man covereth shame.

Een dwaas laat het onmiddellijk merken als hij kwaad is. Maar een verstandig mens verbergt het.

It is an honour for a man to cease from strife: but every fool will be meddling.

Het eert een mens als hij ruzies vermijdt. Maar een dwaas doet met elke ruzie mee.

Take heed, brethren, lest there be in any of you an evil heart of unbelief, in departing from the living God.

Let er dus op, broeders en zusters, dat niemand van jullie besluit om de levende God niet langer te gehoorzamen. Want zo iemand is koppig en ongelovig.

Return, thou backsliding Israel, saith the L

ord

; and I will not cause mine anger to fall upon you: for I am merciful, saith the L

ord

, and I will not keep anger for ever.

Kom terug bij Mij, weggelopen Israël! De Heer zegt: Ik zal niet meer boos op je zijn. Ik houd van je. Ik zal niet voor altijd boos op je blijven.
Blessed be the God and Father of our Lord Jesus Christ, who hath blessed us with all spiritual blessings in heavenly places in Christ.
Personal Bible reading plan
Create an account to configure your Bible reading plan and you will see your progress and the next chapter to read here!
Read more...