Bible Verses about Death
«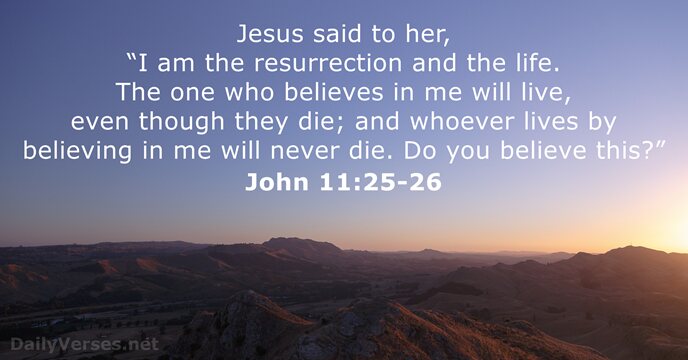 »
Jesus said to her, "I am the resurrection and the life. The one who believes in me will live, even though they die; and whoever lives by believing in me will never die. Do you believe this?"

Disse-lhe Jesus: Eu sou a ressurreição e a vida; quem crê em mim, ainda que esteja morto, viverá; e todo aquele que vive e crê em mim nunca morrerá. Crês tu isso?

If we live, we live for the Lord; and if we die, we die for the Lord. So, whether we live or die, we belong to the Lord.

Porque, se vivemos, para o Senhor vivemos; se morremos, para o Senhor morremos. De sorte que, ou vivamos ou morramos, somos do Senhor.

For the Lord himself will come down from heaven, with a loud command, with the voice of the archangel and with the trumpet call of God, and the dead in Christ will rise first. After that, we who are still alive and are left will be caught up together with them in the clouds to meet the Lord in the air. And so we will be with the Lord forever.

Porque o mesmo Senhor descerá do céu com alarido, e com voz de arcanjo, e com a trombeta de Deus; e os que morreram em Cristo ressuscitarão primeiro; depois, nós, os que ficarmos vivos, seremos arrebatados juntamente com eles nas nuvens, a encontrar o Senhor nos ares, e assim estaremos sempre com o Senhor.

Even though I walk through the darkest valley, I will fear no evil, for you are with me; your rod and your staff, they comfort me.

Ainda que eu andasse pelo vale da sombra da morte, não temeria mal algum, porque tu estás comigo; a tua vara e o teu cajado me consolam.

For to me, to live is Christ and to die is gain.

Porque para mim o viver é Cristo, e o morrer é ganho.

Here is a trustworthy saying: If we died with him, we will also live with him.

Palavra fiel é esta: que, se morrermos com ele, também com ele viveremos.

Place me like a seal over your heart, like a seal on your arm; for love is as strong as death, its jealousy unyielding as the grave. It burns like blazing fire, like a mighty flame.

Põe-me como selo sobre o teu coração, como selo sobre o teu braço, porque o amor é forte como a morte, e duro como a sepultura o ciúme; as suas brasas são brasas de fogo, labaredas do S

enhor

.

For I am convinced that neither death nor life, neither angels nor demons, neither the present nor the future, nor any powers, neither height nor depth, nor anything else in all creation, will be able to separate us from the love of God that is in Christ Jesus our Lord.

Porque estou certo de que nem a morte, nem a vida, nem os anjos, nem os principados, nem as potestades, nem o presente, nem o porvir, nem a altura, nem a profundidade, nem alguma outra criatura nos poderá separar do amor de Deus, que está em Cristo Jesus, nosso Senhor!

For as in Adam all die, so in Christ all will be made alive.

Porque, assim como todos morrem em Adão, assim também todos serão vivificados em Cristo.

For I take no pleasure in the death of anyone, declares the Sovereign L

ord

. Repent and live!
Porque não tomo prazer na morte do que morre, diz o Senhor J

eová

; convertei-vos, pois, e vivei.

And I heard a loud voice from the throne saying, "Look! God's dwelling place is now among the people, and he will dwell with them. They will be his people, and God himself will be with them and be their God. 'He will wipe every tear from their eyes. There will be no more death' or mourning or crying or pain, for the old order of things has passed away."

E ouvi uma grande voz do céu, que dizia: Eis aqui o tabernáculo de Deus com os homens, pois com eles habitará, e eles serão o seu povo, e o mesmo Deus estará com eles e será o seu Deus. E Deus limpará de seus olhos toda lágrima, e não haverá mais morte, nem pranto, nem clamor, nem dor, porque já as primeiras coisas são passadas.

I am torn between the two: I desire to depart and be with Christ, which is better by far; but it is more necessary for you that I remain in the body.

Mas de ambos os lados estou em aperto, tendo desejo de partir e estar com Cristo, porque isto é ainda muito melhor. Mas julgo mais necessário, por amor de vós, ficar na carne.

For since death came through a man, the resurrection of the dead comes also through a man.

Porque, assim como a morte veio por um homem, também a ressurreição dos mortos veio por um homem.

For whoever wants to save their life will lose it, but whoever loses their life for me will find it.

Porque aquele que quiser salvar a sua vida perdê-la-á, e quem perder a sua vida por amor de mim achá-la-á.

Where can I go from your Spirit? Where can I flee from your presence? If I go up to the heavens, you are there; if I make my bed in the depths, you are there.

Para onde me irei do teu Espírito ou para onde fugirei da tua face? Se subir ao céu, tu aí estás; se fizer no Seol a minha cama, eis que tu ali estás também.

In Hades, where he was in torment, he looked up and saw Abraham far away, with Lazarus by his side. So he called to him, 'Father Abraham, have pity on me and send Lazarus to dip the tip of his finger in water and cool my tongue, because I am in agony in this fire.'

E, no Hades, ergueu os olhos, estando em tormentos, e viu ao longe Abraão e Lázaro, no seu seio. E, clamando, disse: Abraão, meu pai, tem misericórdia de mim e manda a Lázaro que molhe na água a ponta do seu dedo e me refresque a língua, porque estou atormentado nesta chama.

Jesus called out with a loud voice, "Father, into your hands I commit my spirit." When he had said this, he breathed his last.

E, clamando Jesus com grande voz, disse: Pai, nas tuas mãos entrego o meu espírito. E, havendo dito isso, expirou.

For we know that if the earthly tent we live in is destroyed, we have a building from God, an eternal house in heaven, not built by human hands.

Porque sabemos que, se a nossa casa terrestre deste tabernáculo se desfizer, temos de Deus um edifício, uma casa não feita por mãos, eterna, nos céus.

Do not be afraid of those who kill the body but cannot kill the soul. Rather, be afraid of the One who can destroy both soul and body in hell.

E não temais os que matam o corpo e não podem matar a alma; temei, antes, aquele que pode fazer perecer no inferno a alma e o corpo.

Blessed and holy are those who share in the first resurrection. The second death has no power over them, but they will be priests of God and of Christ and will reign with him for a thousand years.

Bem-aventurado e santo aquele que tem parte na primeira ressurreição; sobre estes não tem poder a segunda morte, mas serão sacerdotes de Deus e de Cristo e reinarão com ele mil anos.

Very rarely will anyone die for a righteous person, though for a good person someone might possibly dare to die. But God demonstrates his own love for us in this: While we were still sinners, Christ died for us.

Porque apenas alguém morrerá por um justo; pois poderá ser que pelo bom alguém ouse morrer. Mas Deus prova o seu amor para conosco em que Cristo morreu por nós, sendo nós ainda pecadores.

Now I am about to go the way of all the earth. You know with all your heart and soul that not one of all the good promises the L

ord

your God gave you has failed. Every promise has been fulfilled; not one has failed.
E eis aqui eu vou, hoje, pelo caminho de toda a terra; e vós bem sabeis, com todo o vosso coração e com toda a vossa alma que nem uma só palavra caiu de todas as boas palavras que falou de vós o S

enhor

, vosso Deus; todas vos sobrevieram, nem delas caiu uma só palavra.

You belong to your father, the devil, and you want to carry out your father's desires. He was a murderer from the beginning, not holding to the truth, for there is no truth in him. When he lies, he speaks his native language, for he is a liar and the father of lies.

Vós tendes por pai ao diabo e quereis satisfazer os desejos de vosso pai; ele foi homicida desde o princípio e não se firmou na verdade, porque não há verdade nele; quando ele profere mentira, fala do que lhe é próprio, porque é mentiroso e pai da mentira.
Whoever would foster love covers over an offense, but whoever repeats the matter separates close friends.
Personal Bible reading plan
Create an account to configure your Bible reading plan and you will see your progress and the next chapter to read here!
Read more...