Versículos de la Biblia sobre la Adoración
«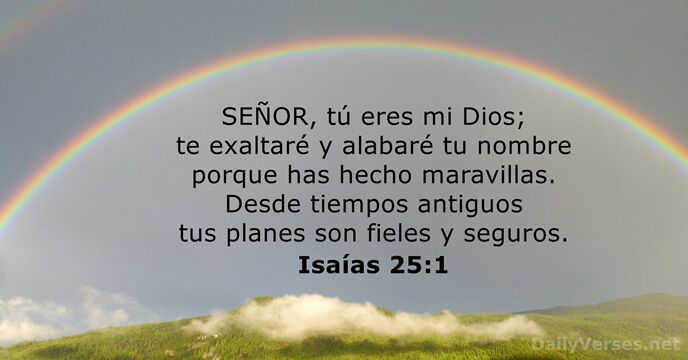 »
S

eñor

, tú eres mi Dios; te exaltaré y alabaré tu nombre porque has hecho maravillas. Desde tiempos antiguos tus planes son fieles y seguros.
O L

ord

, You are my God. I will exalt You, I will praise Your name, For You have done wonderful things; Your counsels of old are faithfulness and truth.
Adora al S

eñor

tu Dios, y él bendecirá tu pan y tu agua. Yo apartaré de ustedes toda enfermedad.
So you shall serve the L

ord

your God, and He will bless your bread and your water. And I will take sickness away from the midst of you.
¡Que todo lo que respira alabe al S

eñor

! ¡Aleluya! ¡Alabado sea el S

eñor

!
Let everything that has breath praise the L

ord

. Praise the L

ord

!

A eso de la medianoche, Pablo y Silas se pusieron a orar y a cantar himnos a Dios, y los otros presos los escuchaban.

But at midnight Paul and Silas were praying and singing hymns to God, and the prisoners were listening to them.

Dios es espíritu, y quienes lo adoran deben hacerlo en espíritu y en verdad.

God is Spirit, and those who worship Him must worship in spirit and truth.
Alaba, alma mía, al S

eñor

; alabe todo mi ser su santo nombre.
Bless the L

ord

, O my soul; And all that is within me, bless His holy name!
¡Alaben al S

eñor

porque él es bueno, y su gran amor perdura para siempre!
Oh, give thanks to the L

ord

, for He is good! For His mercy endures forever.
Aunque la higuera no florezca, ni haya frutos en las vides; aunque falle la cosecha del olivo, y los campos no produzcan alimentos; aunque en el aprisco no haya ovejas, ni ganado alguno en los establos; aun así, yo me regocijaré en el S

eñor

, ¡me alegraré en Dios, mi libertador!
Though the fig tree may not blossom, Nor fruit be on the vines; Though the labor of the olive may fail, And the fields yield no food; Though the flock may be cut off from the fold, And there be no herd in the stalls— Yet I will rejoice in the L

ord

, I will joy in the God of my salvation.

Oh Dios, tú eres mi Dios; yo te busco intensamente. Mi alma tiene sed de ti; todo mi ser te anhela, cual tierra seca, extenuada y sedienta.

O God, You are my God; Early will I seek You; My soul thirsts for You; My flesh longs for You In a dry and thirsty land Where there is no water.
Tuyos son, S

eñor

, la grandeza y el poder, la gloria, la victoria y la majestad. Tuyo es todo cuanto hay en el cielo y en la tierra. Tuyo también es el reino, y tú estás por encima de todo.
Yours, O L

ord

, is the greatness, The power and the glory, The victory and the majesty; For all that is in heaven and in earth is Yours; Yours is the kingdom, O L

ord

, And You are exalted as head over all.

Mi boca rebosa de alabanzas a tu nombre, y todo el día proclama tu grandeza.

Let my mouth be filled with Your praise And with Your glory all the day.

Alabado sea el Dios y Padre de nuestro Señor Jesucristo, Padre misericordioso y Dios de toda consolación, quien nos consuela en todas nuestras tribulaciones para que, con el mismo consuelo que de Dios hemos recibido, también nosotros podamos consolar a todos los que sufren.

Blessed be the God and Father of our Lord Jesus Christ, the Father of mercies and God of all comfort, who comforts us in all our tribulation, that we may be able to comfort those who are in any trouble, with the comfort with which we ourselves are comforted by God.
¡Qué grande eres, S

eñor

omnipotente! Nosotros mismos hemos aprendido que no hay nadie como tú, y que aparte de ti no hay Dios.
Therefore You are great, O Lord G

od

. For there is none like You, nor is there any God besides You, according to all that we have heard with our ears.
Canten a Dios, canten salmos a su nombre; aclamen a quien cabalga por las estepas, y regocíjense en su presencia. ¡Su nombre es el S

eñor

! Padre de los huérfanos y defensor de las viudas es Dios en su morada santa.
Sing to God, sing praises to His name; Extol Him who rides on the clouds, By His name Yah, And rejoice before Him. A father of the fatherless, a defender of widows, Is God in His holy habitation.

Porque todas las cosas proceden de él, y existen por él y para él. ¡A él sea la gloria por siempre! Amén.

For of Him and through Him and to Him are all things, to whom be glory forever. Amen.
Vengan, postrémonos reverentes, doblemos la rodilla ante el S

eñor

nuestro Hacedor.
Oh come, let us worship and bow down; Let us kneel before the L

ord

our Maker.

¿Por qué voy a inquietarme? ¿Por qué me voy a angustiar? En Dios pondré mi esperanza, y todavía lo alabaré. ¡Él es mi Salvador y mi Dios!

Why are you cast down, O my soul? And why are you disquieted within me? Hope in God; For I shall yet praise Him, The help of my countenance and my God.

Entonces ustedes me invocarán, y vendrán a suplicarme, y yo los escucharé.

Then you will call upon Me and go and pray to Me, and I will listen to you.

Está escrito: «Tan cierto como que yo vivo —dice el Señor—, ante mí se doblará toda rodilla y toda lengua confesará a Dios».

For it is written: "As I live, says the L

ord

, Every knee shall bow to Me, And every tongue shall confess to God."
Den gracias al S

eñor

, invoquen su nombre; den a conocer sus obras entre las naciones.
Oh, give thanks to the L

ord

! Call upon His name; Make known His deeds among the peoples!

Tu amor es mejor que la vida; por eso mis labios te alabarán. Te bendeciré mientras viva, y alzando mis manos te invocaré.

Because Your lovingkindness is better than life, My lips shall praise You. Thus I will bless You while I live; I will lift up my hands in Your name.
Hacia ti extiendo las manos; me haces falta, como el agua a la tierra seca. Selah
I spread out my hands to You; My soul longs for You like a thirsty land. Selah
Nadie es santo como el S

eñor

; no hay roca como nuestro Dios. ¡No hay nadie como él!
No one is holy like the L

ord

, For there is none besides You, Nor is there any rock like our God.
Yo le he dicho al S

eñor

: «Mi Señor eres tú. Fuera de ti, no poseo bien alguno».
O my soul, you have said to the L

ord

, "You are my Lord, My goodness is nothing apart from You."

Por eso yo, Nabucodonosor, alabo, exalto y glorifico al Rey del cielo, porque siempre procede con rectitud y justicia, y es capaz de humillar a los soberbios.

Now I, Nebuchadnezzar, praise and extol and honor the King of heaven, all of whose works are truth, and His ways justice. And those who walk in pride He is able to put down.
En cambio, el fruto del Espíritu es amor, alegría, paz, paciencia, amabilidad, bondad, fidelidad, humildad y dominio propio. No hay ley que condene estas cosas.
Plan de lectura de la Biblia
Registrar y configurar su plan de lectura de la Biblia que desea ver su progreso y el siguiente capítulo para leer aquí!