Versículos de la Biblia sobre Dar
«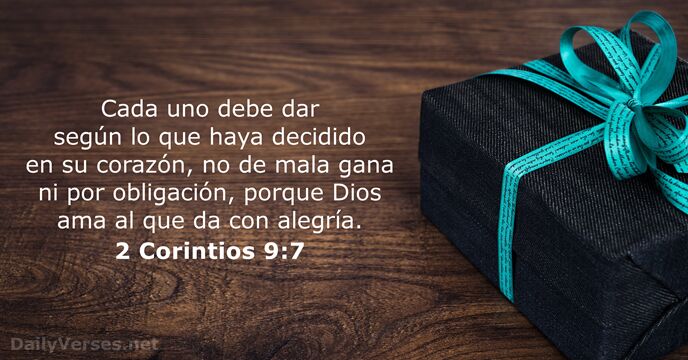 »
Cada uno debe dar según lo que haya decidido en su corazón, no de mala gana ni por obligación, porque Dios ama al que da con alegría.

Each of you should give what you have decided in your heart to give, not reluctantly or under compulsion, for God loves a cheerful giver.

Pero ¿quién soy yo, y quién es mi pueblo, para que podamos darte estas ofrendas voluntarias? En verdad, tú eres el dueño de todo, y lo que te hemos dado, de ti lo hemos recibido.

But who am I, and who are my people, that we should be able to give as generously as this? Everything comes from you, and we have given you only what comes from your hand.

Con regalos se abren todas las puertas y se llega a la presencia de gente importante.

A gift opens the way and ushers the giver into the presence of the great.

El que es generoso prospera; el que reanima será reanimado.

A generous person will prosper; whoever refreshes others will be refreshed.

Porque, si uno lo hace de buena voluntad, lo que da es bien recibido según lo que tiene, y no según lo que no tiene.

For if the willingness is there, the gift is acceptable according to what one has, not according to what one does not have.

Den, y se les dará: se les echará en el regazo una medida llena, apretada, sacudida y desbordante. Porque con la medida que midan a otros, se les medirá a ustedes.

Give, and it will be given to you. A good measure, pressed down, shaken together and running over, will be poured into your lap. For with the measure you use, it will be measured to you.

Honra al S

eñor

con tus riquezas y con los primeros frutos de tus cosechas.
Honor the L

ord

with your wealth, with the firstfruits of all your crops.

El que le suple semilla al que siembra también le suplirá pan para que coma, aumentará los cultivos y hará que ustedes produzcan una abundante cosecha de justicia.

Now he who supplies seed to the sower and bread for food will also supply and increase your store of seed and will enlarge the harvest of your righteousness.

Y Dios puede hacer que toda gracia abunde para ustedes, de manera que siempre, en toda circunstancia, tengan todo lo necesario, y toda buena obra abunde en ustedes.

And God is able to bless you abundantly, so that in all things at all times, having all that you need, you will abound in every good work.

Ustedes serán enriquecidos en todo sentido para que en toda ocasión puedan ser generosos, y para que por medio de nosotros la generosidad de ustedes resulte en acciones de gracias a Dios.

You will be enriched in every way so that you can be generous on every occasion, and through us your generosity will result in thanksgiving to God.

No niegues un favor a quien te lo pida si en tu mano está el otorgarlo.

Do not withhold good from those to whom it is due, when it is in your power to act.

Traigan íntegro el diezmo para los fondos del templo, y así habrá alimento en mi casa. Pruébenme en esto —dice el S

eñor

Todopoderoso—, y vean si no abro las compuertas del cielo y derramo sobre ustedes bendición hasta que sobreabunde.
"Bring the whole tithe into the storehouse, that there may be food in my house. Test me in this," says the L

ord

Almighty, "and see if I will not throw open the floodgates of heaven and pour out so much blessing that there will not be room enough to store it."

Por eso, cuando des a los necesitados, no lo anuncies al son de trompeta, como lo hacen los hipócritas en las sinagogas y en las calles para que la gente les rinda homenaje. Les aseguro que ellos ya han recibido toda su recompensa.

So when you give to the needy, do not announce it with trumpets, as the hypocrites do in the synagogues and on the streets, to be honored by others. Truly I tell you, they have received their reward in full.

Dale a todo el que te pida y, si alguien se lleva lo que es tuyo, no se lo reclames.

Give to everyone who asks you, and if anyone takes what belongs to you, do not demand it back.

Deléitate en el S

eñor

, y él te concederá los deseos de tu corazón.
Take delight in the L

ord

, and he will give you the desires of your heart.

Todo el día se lo pasa codiciando, pero el justo da con generosidad.

All day long he craves for more, but the righteous give without sparing.

Si quieres ser perfecto, anda, vende lo que tienes y dáselo a los pobres, y tendrás tesoro en el cielo. Luego ven y sígueme.

Jesus answered, "If you want to be perfect, go, sell your possessions and give to the poor, and you will have treasure in heaven. Then come, follow me."

Si reparto entre los pobres todo lo que poseo, y si entrego mi cuerpo para que lo consuman las llamas, pero no tengo amor, nada gano con eso.

If I give all I possess to the poor and give over my body to hardship that I may boast, but do not have love, I gain nothing.

Los malvados piden prestado y no pagan, pero los justos dan con generosidad.

The wicked borrow and do not repay, but the righteous give generously.

Sanen a los enfermos, resuciten a los muertos, limpien de su enfermedad a los que tienen lepra, expulsen a los demonios. Lo que ustedes recibieron gratis, denlo gratuitamente.

Heal the sick, raise the dead, cleanse those who have leprosy, drive out demons. Freely you have received; freely give.

Luego Nehemías añadió: «Ya pueden irse. Coman bien, tomen bebidas dulces y compartan su comida con quienes no tengan nada, porque este día ha sido consagrado a nuestro Señor. No estén tristes, pues el gozo del S

eñor

es nuestra fortaleza».
Nehemiah said, "Go and enjoy choice food and sweet drinks, and send some to those who have nothing prepared. This day is holy to our Lord. Do not grieve, for the joy of the L

ord

is your strength."

¡Levanta la voz, y hazles justicia! ¡Defiende a los pobres y necesitados!

Speak up and judge fairly; defend the rights of the poor and needy.

Más bien, cuando des a los necesitados, que no se entere tu mano izquierda de lo que hace la derecha, para que tu limosna sea en secreto. Así tu Padre, que ve lo que se hace en secreto, te recompensará.

But when you give to the needy, do not let your left hand know what your right hand is doing, so that your giving may be in secret. Then your Father, who sees what is done in secret, will reward you.

El que tiene dos camisas debe compartir con el que no tiene ninguna —les contestó Juan—, y el que tiene comida debe hacer lo mismo.

John answered, "Anyone who has two shirts should share with the one who has none, and anyone who has food should do the same."

Recuerden esto: El que siembra escasamente, escasamente cosechará, y el que siembra en abundancia, en abundancia cosechará.

Remember this: Whoever sows sparingly will also reap sparingly, and whoever sows generously will also reap generously.
Grande es el Señor, y digno de toda alabanza; su grandeza es insondable.
Plan de lectura de la Biblia
Registrar y configurar su plan de lectura de la Biblia que desea ver su progreso y el siguiente capítulo para leer aquí!