Bible Verses about Marriage
«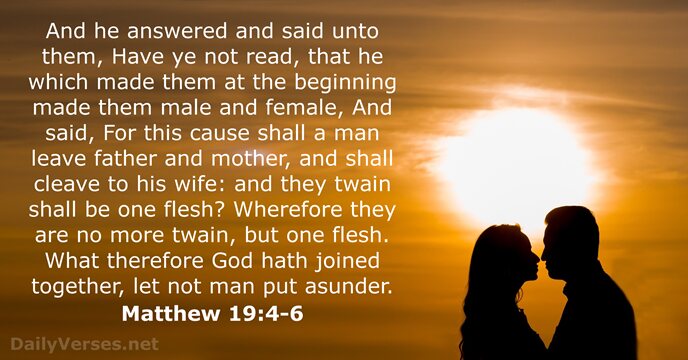 »
Whoso findeth a wife findeth a good thing, and obtaineth favour of the L

ord

.

Wer seine Frau gefunden hat, hat Gutes gefunden und dazu das Gefallen Jahwes.

And he answered and said unto them, Have ye not read, that he which made them at the beginning made them male and female, And said, For this cause shall a man leave father and mother, and shall cleave to his wife: and they twain shall be one flesh? Wherefore they are no more twain, but one flesh. What therefore God hath joined together, let not man put asunder.

"Habt ihr nie gelesen", erwiderte Jesus, "dass Gott die Menschen von Anfang an als Mann und Frau geschaffen hat? Und dass er dann sagte: 'Deshalb wird ein Mann seinen Vater und seine Mutter verlassen und sich an seine Frau binden, und die zwei werden völlig eins sein.'? Sie sind also nicht mehr zwei, sondern eins. Und was Gott so zusammengebracht hat, sollen Menschen nicht scheiden!"

Wives, submit yourselves unto your own husbands, as it is fit in the Lord. Husbands, love your wives, and be not bitter against them.

Ihr Frauen, ordnet euch euren Männern unter, wie es der Herr von euch erwartet! Ihr Männer, liebt eure Frauen und lasst euch nicht gegen sie aufbringen!

Marriage is honourable in all, and the bed undefiled: but whoremongers and adulterers God will judge.

Haltet die Ehe in Ehren und bleibt einander treu! Denn Menschen, die in sexueller Unmoral und fortwährendem Ehebruch leben, werden von Gott gerichtet.

Who can find a virtuous woman? for her price is far above rubies.

Das kostbarste Juwel, das einer finden kann, ist eine tüchtige Frau.

A man's heart deviseth his way: but the L

ord

directeth his steps.

Das Herz des Menschen plant seinen Weg, aber Jahwe lenkt seinen Schritt.

Husbands, love your wives, even as Christ also loved the church, and gave himself for it; That he might sanctify and cleanse it with the washing of water by the word.

Ihr Männer, liebt eure Frauen, und zwar so, wie Christus die Gemeinde geliebt und sein Leben für sie hingegeben hat. Er tat das, um sie zu heiligen, und reinigte sie dazu durch Gottes Wort wie durch ein Wasserbad.

Nevertheless, to avoid fornication, let every man have his own wife, and let every woman have her own husband.

Meine Antwort ist: Um sexuelle Unmoral zu vermeiden, sollte jeder Mann seine Ehefrau haben und jede Frau ihren Ehemann.

And the L

ord

God said, It is not good that the man should be alone; I will make him an help meet for him.

Dann sagte Jahwe, Gott: »Es ist nicht gut, dass der Mensch so allein ist. Ich will ihm eine Hilfe machen, die ihm genau entspricht.«

When a man hath taken a new wife, he shall not go out to war, neither shall he be charged with any business: but he shall be free at home one year, and shall cheer up his wife which he hath taken.

Wenn ein Mann erst kurz verheiratet ist, muss er nicht mit dem Heer ausziehen, und man soll ihm nichts auferlegen. Er soll ein Jahr für sein Haus frei sein und soll seine Frau, die er geheiratet hat, glücklich machen.

And the rib, which the L

ord

God had taken from man, made he a woman, and brought her unto the man. And Adam said, This is now bone of my bones, and flesh of my flesh: she shall be called Woman, because she was taken out of Man. Therefore shall a man leave his father and his mother, and shall cleave unto his wife: and they shall be one flesh.

Aus der Seite baute er eine Frau und brachte sie zum Menschen. Da rief der Mensch: "Diesmal ist sie es! Sie ist genau wie ich, und sie gehört zu mir, sie ist ein Stück von mir! Sie soll Isch-scha heißen, Frau, denn sie kam vom Isch, dem Mann." Aus diesem Grund verlässt ein Mann seinen Vater und seine Mutter, verbindet sich mit seiner Frau und wird völlig eins mit ihr.

Wives, submit yourselves unto your own husbands, as unto the Lord. For the husband is the head of the wife, even as Christ is the head of the church: and he is the saviour of the body.

Ihr Frauen, unterstellt euch euren Männern, so wie ihr euch dem Herrn unterstellt. Denn so wie Christus das Oberhaupt der Gemeinde ist – er hat sie ja gerettet und zu seinem Leib gemacht –, so ist der Mann das Oberhaupt der Frau.

Thou art all fair, my love; there is no spot in thee.

Alles an dir ist schön, meine Freundin, kein Makel ist an dir.

Let the husband render unto the wife due benevolence: and likewise also the wife unto the husband. The wife hath not power of her own body, but the husband: and likewise also the husband hath not power of his own body, but the wife.

Der Mann soll der Frau die eheliche Pflicht erfüllen, aber auch die Frau dem Mann. Die Frau verfügt nicht über ihren Körper, sondern der Mann, ebenso aber verfügt auch der Mann nicht über seinen Körper, sondern die Frau.

Likewise, ye husbands, dwell with them according to knowledge, giving honour unto the wife, as unto the weaker vessel, and as being heirs together of the grace of life; that your prayers be not hindered.

Ihr Männer müsst euch entsprechend verhalten, damit eure Gebete nicht vergeblich sind. Seid also rücksichtsvoll im Umgang mit euren Frauen, denn sie sind die Schwächeren. Achtet und ehrt sie, denn sie haben genauso wie ihr Anteil am Geschenk des ewigen Lebens.

For this cause shall a man leave his father and mother, and shall be joined unto his wife, and they two shall be one flesh.

Darum wird ein Mann seinen Vater und seine Mutter verlassen und sich mit seiner Frau verbinden. Und die zwei werden völlig eins sein.

So ought men to love their wives as their own bodies. He that loveth his wife loveth himself.

So sind auch die Männer verpflichtet, ihre Frauen zu lieben wie ihren eigenen Körper. Wer seine Frau liebt, liebt sich selbst.

Nevertheless let every one of you in particular so love his wife even as himself; and the wife see that she reverence her husband.

Für euch gilt jedenfalls: Jeder liebe seine Frau so wie sich selbst, und die Frau soll ihren Mann achten.

I will greatly rejoice in the L

ord

, my soul shall be joyful in my God; for he hath clothed me with the garments of salvation, he hath covered me with the robe of righteousness, as a bridegroom decketh himself with ornaments, and as a bride adorneth herself with her jewels.

Überaus freue ich mich über Jahwe! Meine Seele jubelt über meinen Gott! Er kleidet mich in Gewänder des Heils und legt mir den Mantel der Gerechtigkeit um. Wie ein Bräutigam bin ich festlich geschmückt, wie eine Braut, die ihr Geschmeide anlegt.

Ye have heard that it was said by them of old time, Thou shalt not commit adultery: But I say unto you, That whosoever looketh on a woman to lust after her hath committed adultery with her already in his heart.

Ihr wisst, dass es heißt: 'Du sollst die Ehe nicht brechen!' Ich aber sage euch: Wer die Frau eines anderen begehrlich ansieht, hat in seinem Herzen schon Ehebruch mit ihr begangen.

Defraud ye not one the other, except it be with consent for a time, that ye may give yourselves to fasting and prayer; and come together again, that Satan tempt you not for your incontinency.

Verweigert euch einander nicht - höchstens für eine begrenzte Zeit und im gegenseitigen Einverständnis, wenn ihr für das Gebet frei sein wollt. Aber danach sollt ihr wieder zusammenkommen, damit euch der Satan nicht verführt, weil ihr euch ja doch nicht enthalten könnt.
Blessed be the God and Father of our Lord Jesus Christ, who hath blessed us with all spiritual blessings in heavenly places in Christ.
Personal Bible reading plan
Create an account to configure your Bible reading plan and you will see your progress and the next chapter to read here!
Read more...