Bible Verses about Orphans
«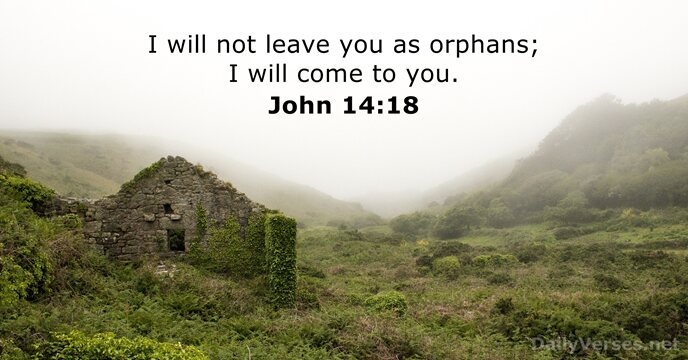 »
Do not take advantage of the widow or the fatherless. If you do and they cry out to me, I will certainly hear their cry. My anger will be aroused, and I will kill you with the sword; your wives will become widows and your children fatherless.

Älkää kohdelko huonosti leskiä älkääkä orpoja. Jos kohtelette heitä huonosti, minä kuulen heidän huutonsa, kun he huutavat minulta apua. Minun vihani syttyy, ja minä surmaan teidät sodalla, niin että teidän vaimoistanne tulee leskiä ja lapsistanne orpoja.

I will not leave you as orphans; I will come to you.

En minä jätä teitä orvoiksi, vaan tulen luoksenne.

Learn to do right; seek justice. Defend the oppressed. Take up the cause of the fatherless; plead the case of the widow.

Opetelkaa tekemään hyvää, tavoitelkaa oikeudenmukaisuutta, puolustakaa sorrettua, hankkikaa orvolle oikeus, ajakaa lesken asiaa.

Religion that God our Father accepts as pure and faultless is this: to look after orphans and widows in their distress and to keep oneself from being polluted by the world.

Puhdasta, Jumalan ja Isän silmissä tahratonta palvelusta on huolehtia orvoista ja leskistä, kun he ovat ahdingossa, ja varjella itsensä niin, ettei maailma saastuta.

Defend the weak and the fatherless; uphold the cause of the poor and the oppressed.

Puolustakaa orpoja ja onnettomia, huolehtikaa köyhistä ja kurjista.

Sing to God, sing in praise of his name, extol him who rides on the clouds; rejoice before him—his name is the L

ord

. A father to the fatherless, a defender of widows, is God in his holy dwelling.

Laulakaa Jumalalle, soittakaa hänen nimensä kunniaksi, ylistäkää häntä, joka kiitää pilvivaunuillaan. Herra on hänen nimensä, iloitkaa hänen edessään! Hän on orpojen isä ja leskien puoltaja, Jumala pyhässä asunnossaan.

The L

ord

watches over the foreigner and sustains the fatherless and the widow, but he frustrates the ways of the wicked.

Hän suojelee muukalaisia ja tukee leskiä ja orpoja, mutta jumalattomien tien hän tekee mutkaiseksi.

This is what the L

ord

Almighty said: 'Administer true justice; show mercy and compassion to one another. Do not oppress the widow or the fatherless, the foreigner or the poor. Do not plot evil against each other.'

Näin sanoo Herra Sebaot: – Tuomitkaa oikein, osoittakaa toinen toisellenne hyvyyttä ja laupeutta. Leskeä ja orpoa, muukalaista ja köyhää älkää sortako, älkää suunnitelko pahaa toinen toisellenne.

Because I rescued the poor who cried for help, and the fatherless who had none to assist them. The one who was dying blessed me; I made the widow's heart sing.

Minä pelastin köyhän, joka pyysi apua, ja orvon, jota kukaan ei auttanut. Epätoivoon vaipuneet siunasivat minua, lesken sydämessä minä herätin ilon.

If you really change your ways and your actions and deal with each other justly, if you do not oppress the foreigner, the fatherless or the widow and do not shed innocent blood in this place, and if you do not follow other gods to your own harm, then I will let you live in this place, in the land I gave your ancestors for ever and ever.

Kääntykää vihdoin oikealle tielle ja tehkää hyvää, kohdelkaa aina oikeudenmukaisesti toisianne. Älkää sortako vierasheimoisia, älkää orpoja älkääkä leskiä. Älkää surmatko syyttömiä tässä maassa. Älkää seuratko muita jumalia, sillä se on teille turmioksi. Jos tottelette minua, niin saatte asua tässä maassa, jonka annoin teidän isillenne ikuisiksi ajoiksi.
Defend the weak and the fatherless; uphold the cause of the poor and the oppressed.
Personal Bible reading plan
Create an account to configure your Bible reading plan and you will see your progress and the next chapter to read here!
Read more...