«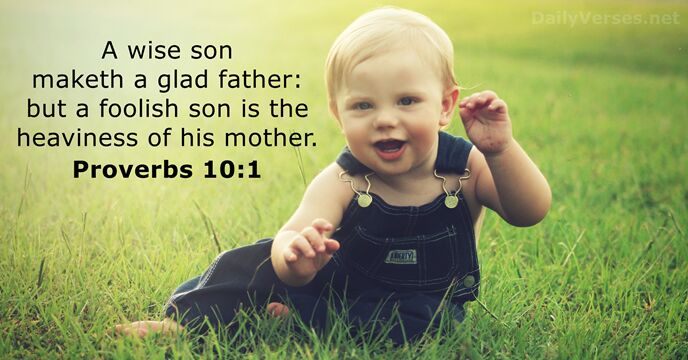 »
A wise son maketh a glad father: but a foolish son is the heaviness of his mother.

Ein kluger Sohn ist Vaters Glück, doch ein dummer ist Mutters Kummer.

Treasures of wickedness profit nothing: but righteousness delivereth from death.

Unrecht Gut gedeiht nicht gut, doch Gerechtigkeit rettet vom Tod.

Blessings are upon the head of the just: but violence covereth the mouth of the wicked.

Das Haupt des Gerechten ist mit Segen gekrönt, doch im Mund des Gottlosen versteckt sich Gewalt.

The memory of the just is blessed: but the name of the wicked shall rot.

Das Andenken des Gerechten ist Segen, doch der Name des Gottlosen verwest.

The wise in heart will receive commandments: but a prating fool shall fall.

Ein weiser Mensch nimmt Weisungen an, doch wer Unsinn redet, kommt zu Fall.

He that walketh uprightly walketh surely: but he that perverteth his ways shall be known.

Wer ehrlich ist, tritt sicher auf, doch wer krumme Wege geht, fängt zu schwitzen an.

Hatred stirreth up strifes: but love covereth all sins.

Hass verlangt nach Streit, doch Liebe deckt alle Vergehen zu.

He is in the way of life that keepeth instruction: but he that refuseth reproof erreth.

Wer auf Mahnungen hört, ist auf dem Weg zum Leben, wer sie verachtet, ist auf einer falschen Spur.

He that hideth hatred with lying lips, and he that uttereth a slander, is a fool.

Wer den Hass versteckt, muss lügen, doch wer Verleumdung ausstreut, ist verrückt.

In the multitude of words there wanteth not sin: but he that refraineth his lips is wise.

Wo viele Worte sind, geht es ohne Sünde nicht ab, doch wer die Zunge im Zaum hält, ist klug.

The tongue of the just is as choice silver: the heart of the wicked is little worth.

Die Worte eines Gerechten, sind wie erlesenes Silber, doch das Gewissen eines Gesetzlosen ist wenig wert.

The blessing of the L

ord

, it maketh rich, and he addeth no sorrow with it.

Wohlstand kommt durch den Segen Jahwes, eigenes Mühen vergrößert ihn nicht.

The hope of the righteous shall be gladness: but the expectation of the wicked shall perish.

Der Gerechte kann Freude erwarten, doch der Gottlose hat seine Hoffnung verspielt.

The way of the L

ord

is strength to the upright: but destruction shall be to the workers of iniquity.

Wer sich an Jahwe hält, hat seine Zuflucht in ihm, doch wer Unrecht tut, für den ist er der Untergang.

The lips of the righteous know what is acceptable: but the mouth of the wicked speaketh frowardness.

Die Worte des Gerechten tun dir wohl, doch der Mund des Gottlosen verbreitet Verkehrtes.
But Jesus beheld them, and said unto them, With men this is impossible; but with God all things are possible.
Personal Bible reading plan
Create an account to configure your Bible reading plan and you will see your progress and the next chapter to read here!
Read more...