Bible Verses about Relationships
«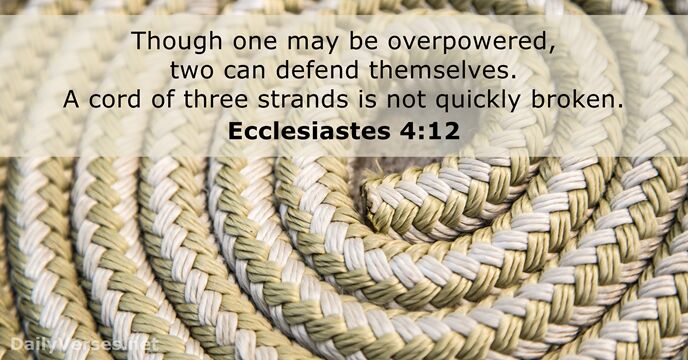 »
Though one may be overpowered, two can defend themselves. A cord of three strands is not quickly broken.

Yksinäisen kimppuun on helppo käydä, mutta kaksi pitää puolensa, eikä kolmisäikeinen lanka katkea helposti.

A wife of noble character who can find? She is worth far more than rubies.

Jos hyvän vaimon löydät, löydät aarteen, kalliimman kuin meren helmet.

If either of them falls down, one can help the other up. But pity anyone who falls and has no one to help them up.

Jos he kaatuvat, toinen auttaa toista nousemaan, mutta voi yksinäistä, joka kaatuu – häntä auttamassa ei ole ketään.

For this very reason, make every effort to add to your faith goodness; and to goodness, knowledge; and to knowledge, self-control; and to self-control, perseverance; and to perseverance, godliness; and to godliness, mutual affection; and to mutual affection, love.

Pyrkikää sen vuoksi osoittamaan uskossanne lujuutta, lujuudessa oikeaa tietoa, tiedossa itsehillintää, itsehillinnässä kestävyyttä, kestävyydessä jumalanpelkoa, jumalanpelossa keskinäistä kiintymystä, kiintymyksessä rakkautta.

Husbands, love your wives, just as Christ loved the church and gave himself up for her to make her holy, cleansing her by the washing with water through the word.

Miehet, rakastakaa vaimoanne niin kuin Kristuskin rakasti seurakuntaa ja antoi henkensä sen puolesta pyhittääkseen sen. Hän pesi sen puhtaaksi vedellä ja sanalla.

You are altogether beautiful, my darling; there is no flaw in you.

Rakkaani, kaikki sinussa on kaunista, sinä olet täydellinen!

So in everything, do to others what you would have them do to you, for this sums up the Law and the Prophets.

Kaikki, minkä tahdotte ihmisten tekevän teille, tehkää te heille. Tässä on laki ja profeetat.

Wives, submit yourselves to your husbands, as is fitting in the Lord. Husbands, love your wives and do not be harsh with them.

Vaimot, suostukaa miehenne tahtoon, niin kuin Herraan uskoville sopii. Miehet, rakastakaa vaimoanne, älkää kohdelko häntä tylysti.

Do not be yoked together with unbelievers. For what do righteousness and wickedness have in common? Or what fellowship can light have with darkness?

Älkää ryhtykö epäuskoisten aisapariksi. Mitä tekemistä on keskenään oikeudella ja vääryydellä, mitä yhteistä on valolla ja pimeydellä?

Two are better than one, because they have a good return for their labor.

Kaksin on parempi kuin yksin, sillä kumpikin saa vaivoistaan hyvän palkan.

The L

ord

God said, "It is not good for the man to be alone. I will make a helper suitable for him."

Herra Jumala sanoi: »Ei ole hyvä ihmisen olla yksinään. Minä teen hänelle kumppanin, joka sopii hänen avukseen.»

Houses and wealth are inherited from parents, but a prudent wife is from the L

ord

.

Talo ja tavara peritään isiltä, mutta viisas vaimo on Herran lahja.

May the Lord make your love increase and overflow for each other and for everyone else, just as ours does for you.

Lisätköön Herra runsain määrin teidän rakkauttanne toisianne ja kaikkia ihmisiä kohtaan – niin kuin mekin rakastamme teitä.

But since sexual immorality is occurring, each man should have sexual relations with his own wife, and each woman with her own husband.

Mutta haureuden välttämiseksi tulee kunkin miehen elää oman vaimonsa ja kunkin naisen oman miehensä kanssa.

As iron sharpens iron, so one person sharpens another.

Rauta rautaa hioo, ihminen hioo ihmistä.

Am I now trying to win the approval of human beings, or of God? Or am I trying to please people? If I were still trying to please people, I would not be a servant of Christ.

Yritänkö minä tässä vaikuttaa ihmisiin? Tai kukaties Jumalaan? Pyrinkö olemaan ihmisille mieliksi? Jos vielä pyrkisin miellyttämään ihmisiä, en olisi Kristuksen palvelija.

A friend loves at all times, and a brother is born for a time of adversity.

Ystävän rakkaus ei koskaan petä, veli auttaa veljeä hädän hetkellä.

Wives, submit yourselves to your own husbands as you do to the Lord. For the husband is the head of the wife as Christ is the head of the church, his body, of which he is the Savior.

Vaimot, suostukaa miehenne tahtoon niin kuin Herran tahtoon, sillä mies on vaimonsa pää, niin kuin Kristus on seurakunnan pää; onhan hän seurakunnan, oman ruumiinsa, pelastaja.

Anyone who does not provide for their relatives, and especially for their own household, has denied the faith and is worse than an unbeliever.

Mutta se, joka ei huolehdi omaisistaan ja kaikkein lähimmistään, on kieltänyt uskonsa ja on epäuskoista pahempi.

A good name is more desirable than great riches; to be esteemed is better than silver or gold.

Hyvä maine on rikkautta arvokkaampi, suosio parempi kuin kulta ja hopea.

In this same way, husbands ought to love their wives as their own bodies. He who loves his wife loves himself.

Samoin aviomiehenkin velvollisuus on rakastaa vaimoaan niin kuin omaa ruumistaan. Joka rakastaa vaimoaan, rakastaa itseään.

'Honor your father and mother,' and 'love your neighbor as yourself.'

Kunnioita isääsi ja äitiäsi, ja rakasta lähimmäistäsi niin kuin itseäsi.

However, each one of you also must love his wife as he loves himself, and the wife must respect her husband.

Mutta se koskee myös kaikkia teitä: jokaisen tulee rakastaa vaimoaan niin kuin itseään, ja vaimon tulee kunnioittaa miestään.
Watch out for false prophets. They come to you in sheep's clothing, but inwardly they are ferocious wolves.
Personal Bible reading plan
Create an account to configure your Bible reading plan and you will see your progress and the next chapter to read here!
Read more...