Bible Verses about Salvation
«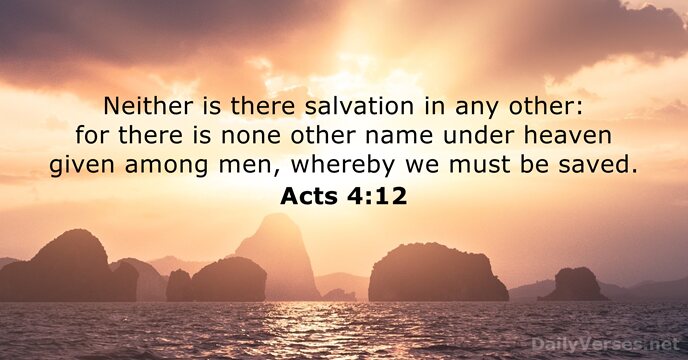 »
Neither is there salvation in any other: for there is none other name under heaven given among men, whereby we must be saved.

In keinem anderen ist Rettung zu finden, denn unter dem ganzen Himmelsgewölbe gibt es keinen vergleichbaren Namen. Nur dieser Name ist den Menschen gegeben worden. Durch ihn müssen wir gerettet werden.

And they said, Believe on the Lord Jesus Christ, and thou shalt be saved, and thy house.

Sie sagten: "Glaube an Jesus, den Herrn! Dann wirst du gerettet und deine Familie mit dir."

Who hath saved us, and called us with an holy calling, not according to our works, but according to his own purpose and grace, which was given us in Christ Jesus before the world began.

Es ist der, der uns gerettet hat. Er rief uns mit einem heiligen Ruf und sah dabei nicht auf unsere Werke, sondern folgte seinem eigenen Entschluss und der Gnade, die er uns in Jesus Christus schon vor ewigen Zeiten schenkte.

Truly my soul waiteth upon God: from him cometh my salvation.

Nur bei Gott wird meine Seele still, denn meine Hilfe kommt von ihm.

And it shall come to pass, that whosoever shall call on the name of the Lord shall be saved.

Aber jeder, der den Namen des Herrn anruft, wird gerettet.

Know ye not that the unrighteous shall not inherit the kingdom of God? Be not deceived: neither fornicators, nor idolaters, nor adulterers, nor effeminate, nor abusers of themselves with mankind, Nor thieves, nor covetous, nor drunkards, nor revilers, nor extortioners, shall inherit the kingdom of God.

Wisst ihr denn nicht, dass ungerechte Menschen keinen Platz im Reich Gottes haben werden? Täuscht euch nicht: Menschen, die in sexueller Unmoral leben, Götzen anbeten oder die Ehe brechen, Lustknaben und Knabenschänder, Diebe oder Habsüchtige, Trinker, Lästerer oder Räuber werden keinen Platz im Reich Gottes haben.

For with the heart man believeth unto righteousness; and with the mouth confession is made unto salvation.

Denn man wird für gerecht erklärt, wenn man mit dem Herzen glaubt, man wird gerettet, wenn man seinen Glauben mit dem Mund bekennt.

For the grace of God that bringeth salvation hath appeared to all men, Teaching us that, denying ungodliness and worldly lusts, we should live soberly, righteously, and godly, in this present world.

Denn die Gnade Gottes ist jetzt sichtbar geworden, um allen Menschen die Rettung zu bringen. Sie erzieht uns dazu, die Gottlosigkeit und die weltlichen Begierden abzuweisen und besonnen, gerecht und mit Ehrfurcht vor Gott in der heutigen Welt zu leben.

For the Son of man is come to seek and to save that which was lost.

Der Menschensohn ist ja gekommen, um Verlorene zu suchen und zu retten.

The Lord is not slack concerning his promise, as some men count slackness; but is longsuffering to us-ward, not willing that any should perish, but that all should come to repentance.

Der Herr verzögert seine Zusage nicht, wie manche das meinen. Im Gegenteil: Er hat Geduld mit euch, denn er will nicht, dass irgendjemand ins Verderben geht, sondern dass alle umkehren zu ihm.

And he said, The things which are impossible with men are possible with God.

Jesus sagte: "Das für Menschen Unmögliche ist möglich bei Gott."

He that believeth and is baptized shall be saved; but he that believeth not shall be damned.

Wer glaubt und sich taufen lässt, wird gerettet werden. Wer aber ungläubig bleibt, wird von Gott verurteilt werden.

Enter ye in at the strait gate: for wide is the gate, and broad is the way, that leadeth to destruction, and many there be which go in thereat: Because strait is the gate, and narrow is the way, which leadeth unto life, and few there be that find it.

Geht durch das enge Tor! Denn das weite Tor und der breite Weg führen ins Verderben, und viele sind dorthin unterwegs. Wie eng ist das Tor und wie schmal der Weg, der ins Leben führt, und nur wenige sind es, die ihn finden!

So Christ was once offered to bear the sins of many; and unto them that look for him shall he appear the second time without sin unto salvation.

So wurde auch der Messias einmal geopfert, um sich die Sünden von vielen aufzuladen. Wenn er dann zum zweiten Mal erscheint, kommt er nicht mehr wegen der Sünde, sondern wird denen die endgültige Rettung bringen, die auf ihn warten.

Whom having not seen, ye love; in whom, though now ye see him not, yet believing, ye rejoice with joy unspeakable and full of glory: Receiving the end of your faith, even the salvation of your souls.

Ihn liebt ihr ja, obwohl ihr ihn noch nie gesehen habt, an ihn glaubt ihr, obgleich ihr ihn auch jetzt nicht seht, und jubelt in unsagbarer, von Herrlichkeit erfüllter Freude. So werdet ihr das Ziel eures Glaubens erreichen: eure Rettung.

For so hath the Lord commanded us, saying, I have set thee to be a light of the Gentiles, that thou shouldest be for salvation unto the ends of the earth.

Ich mache dich zum Licht für die anderen Völker. Du sollst das Heil bis ans Ende der Welt bringen.

For as in Adam all die, even so in Christ shall all be made alive.

Denn wie durch die Verbindung mit Adam alle sterben, so werden durch die Verbindung mit Christus alle lebendig gemacht werden.

For I am not ashamed of the gospel of Christ: for it is the power of God unto salvation to every one that believeth; to the Jew first, and also to the Greek.

Denn ich bekenne mich offen und ohne Scham zu dieser Freudenbotschaft: Sie ist Gottes Kraft und rettet jeden, der ihr glaubt. Das gilt für die Juden zuerst und genauso für alle anderen Menschen.

For scarcely for a righteous man will one die: yet peradventure for a good man some would even dare to die. But God commendeth his love toward us, in that, while we were yet sinners, Christ died for us.

Nun wird sich kaum jemand finden, der für einen Gerechten stirbt; eher noch würde sich jemand für eine gute Sache opfern. Aber Gott hat seine Liebe zu uns dadurch bewiesen, dass Christus für uns starb, als wir noch Sünder waren.

For by grace are ye saved through faith; and that not of yourselves: it is the gift of God: Not of works, lest any man should boast.

Denn aus Gnade seid ihr gerettet worden durch Glauben. Dazu habt ihr selbst nichts getan, es ist Gottes Geschenk und nicht euer eigenes Werk. Denn niemand soll sich darauf etwas einbilden können.

For if, when we were enemies, we were reconciled to God by the death of his Son, much more, being reconciled, we shall be saved by his life.

Denn durch den Tod seines Sohnes hat Gott uns ja schon versöhnt, als wir noch seine Feinde waren. Deshalb werden wir jetzt, nachdem wir versöhnt sind, erst recht durch die Kraft seines Lebens gerettet werden.

Thou hast also given me the shield of thy salvation: and thy right hand hath holden me up, and thy gentleness hath made me great. Thou hast enlarged my steps under me, that my feet did not slip.

Du gabst mir den Schild deines Heils, und deine Hand hat mich gestützt. Deine Demut machte mich groß! Du schafftest meinen Schritten Raum, meine Knöchel blieben fest.

Although the fig tree shall not blossom, neither shall fruit be in the vines; the labour of the olive shall fail, and the fields shall yield no meat; the flock shall be cut off from the fold, and there shall be no herd in the stalls: Yet I will rejoice in the L

ord

, I will joy in the God of my salvation.

Zwar blüht der Feigenbaum nicht, der Weinstock bringt keinen Ertrag, der Ölbaum hat keine Oliven, die Kornfelder keine Frucht, aus dem Pferch sind die Schafe verschwunden, kein Rind steht mehr in den Ställen, dennoch will ich jubeln über Jahwe, will mich freuen über den Gott meines Heils.

And Jesus looking upon them saith, With men it is impossible, but not with God: for with God all things are possible.

Jesus blickte sie an und sagte: "Für Menschen ist das unmöglich, nicht aber für Gott. Für Gott ist alles möglich."

And Jesus said unto him, Go thy way; thy faith hath made thee whole. And immediately he received his sight, and followed Jesus in the way.

Jesus sagte ihm: "Geh nur! Dein Vertrauen hat dich geheilt!" Im gleichen Augenblick konnte der Mann sehen und folgte Jesus auf dem Weg.
Blessed is the man that walketh not in the counsel of the ungodly, nor standeth in the way of sinners, nor sitteth in the seat of the scornful.
Personal Bible reading plan
Create an account to configure your Bible reading plan and you will see your progress and the next chapter to read here!
Read more...