Bible Verses about 'Believe'
«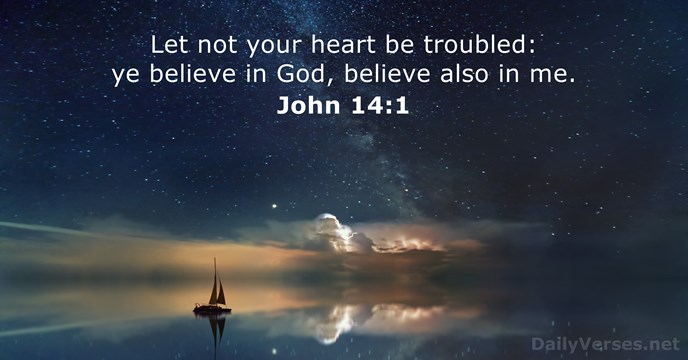 »
Let not your heart be troubled: ye believe in God, believe also in me.

Não se turbe o vosso coração; credes em Deus, crede também em mim.

And they said, Believe on the Lord Jesus Christ, and thou shalt be saved, and thy house.

E eles disseram: Crê no Senhor Jesus Cristo e serás salvo, tu e a tua casa.

The time is fulfilled, and the kingdom of God is at hand: repent ye, and believe the gospel.

O tempo está cumprido, e o Reino de Deus está próximo. Arrependei-vos e crede no evangelho.

Jesus answered and said unto them, This is the work of God, that ye believe on him whom he hath sent.

Jesus respondeu e disse-lhes: A obra de Deus é esta: que creiais naquele que ele enviou.

These things have I written unto you that believe on the name of the Son of God; that ye may know that ye have eternal life, and that ye may believe on the name of the Son of God.

Estas coisas vos escrevi, para que saibais que tendes a vida eterna e para que creiais no nome do Filho de Deus.

But when Jesus heard it, he answered him, saying, Fear not: believe only, and she shall be made whole.

Jesus, porém, ouvindo-o, respondeu-lhe, dizendo: Não temas; crê somente, e será salva.

Therefore I say unto you, What things soever ye desire, when ye pray, believe that ye receive them, and ye shall have them.

Por isso, vos digo que tudo o que pedirdes, orando, crede que o recebereis e tê-lo-eis.

For if we believe that Jesus died and rose again, even so them also which sleep in Jesus will God bring with him.

Porque, se cremos que Jesus morreu e ressuscitou, assim também aos que em Jesus dormem Deus os tornará a trazer com ele.

For unto you it is given in the behalf of Christ, not only to believe on him, but also to suffer for his sake.

Porque a vós vos foi concedido, em relação a Cristo, não somente crer nele, como também padecer por ele.

Jesus said unto him, If thou canst believe, all things are possible to him that believeth.

E Jesus disse-lhe: Se tu podes crer; tudo é possível ao que crê.

Jesus saith unto her, Said I not unto thee, that, if thou wouldest believe, thou shouldest see the glory of God?

Disse-lhe Jesus: Não te hei dito que, se creres, verás a glória de Deus?

But the scripture hath concluded all under sin, that the promise by faith of Jesus Christ might be given to them that believe.

Mas a Escritura encerrou tudo debaixo do pecado, para que a promessa pela fé em Jesus Cristo fosse dada aos crentes.

Beloved, believe not every spirit, but try the spirits whether they are of God: because many false prophets are gone out into the world.

Amados, não creiais em todo espírito, mas provai se os espíritos são de Deus, porque já muitos falsos profetas se têm levantado no mundo.

That if thou shalt confess with thy mouth the Lord Jesus, and shalt believe in thine heart that God hath raised him from the dead, thou shalt be saved.

A saber: Se, com a tua boca, confessares ao Senhor Jesus e, em teu coração, creres que Deus o ressuscitou dos mortos, serás salvo.

But without faith it is impossible to please him: for he that cometh to God must believe that he is, and that he is a rewarder of them that diligently seek him.

Ora, sem fé é impossível agradar-lhe, porque é necessário que aquele que se aproxima de Deus creia que ele existe e que é galardoador dos que o buscam.

Then said Paul, John verily baptized with the baptism of repentance, saying unto the people, that they should believe on him which should come after him, that is, on Christ Jesus.

Mas Paulo disse: Certamente João batizou com o batismo do arrependimento, dizendo ao povo que cresse no que após ele havia de vir, isto é, em Jesus Cristo.

But as many as received him, to them gave he power to become the sons of God, even to them that believe on his name.

Mas a todos quantos o receberam deu-lhes o poder de serem feitos filhos de Deus: aos que creem no seu nome.

Howbeit for this cause I obtained mercy, that in me first Jesus Christ might shew forth all longsuffering, for a pattern to them which should hereafter believe on him to life everlasting.

Mas, por isso, alcancei misericórdia, para que em mim, que sou o principal, Jesus Cristo mostrasse toda a sua longanimidade, para exemplo dos que haviam de crer nele para a vida eterna.

But now the righteousness of God without the law is manifested, being witnessed by the law and the prophets; Even the righteousness of God which is by faith of Jesus Christ unto all and upon all them that believe: for there is no difference.

Mas, agora, se manifestou, sem a lei, a justiça de Deus, tendo o testemunho da Lei e dos Profetas, isto é, a justiça de Deus pela fé em Jesus Cristo para todos e sobre todos os que creem; porque não há diferença.

He that believeth and is baptized shall be saved; but he that believeth not shall be damned.

Quem crer e for batizado será salvo; mas quem não crer será condenado.

Be it known unto you therefore, men and brethren, that through this man is preached unto you the forgiveness of sins: And by him all that believe are justified from all things, from which ye could not be justified by the law of Moses.

Seja-vos, pois, notório, varões irmãos, que por este se vos anuncia a remissão dos pecados. E de tudo o que, pela lei de Moisés, não pudestes ser justificados, por ele é justificado todo aquele que crê.

For verily I say unto you, That whosoever shall say unto this mountain, Be thou removed, and be thou cast into the sea; and shall not doubt in his heart, but shall believe that those things which he saith shall come to pass; he shall have whatsoever he saith.

Porque em verdade vos digo que qualquer que disser a este monte: Ergue-te e lança-te no mar, e não duvidar em seu coração, mas crer que se fará aquilo que diz, tudo o que disser lhe será feito.

He that believeth on him is not condemned: but he that believeth not is condemned already, because he hath not believed in the name of the only begotten Son of God.

Quem crê nele não é condenado; mas quem não crê já está condenado, porquanto não crê no nome do unigênito Filho de Deus.

I had fainted, unless I had believed to see the goodness of the L

ord

in the land of the living.
Pereceria sem dúvida, se não cresse que veria os bens do S

enhor

na terra dos viventes.

Jesus said unto her, I am the resurrection, and the life: he that believeth in me, though he were dead, yet shall he live: And whosoever liveth and believeth in me shall never die. Believest thou this?

Disse-lhe Jesus: Eu sou a ressurreição e a vida; quem crê em mim, ainda que esteja morto, viverá; e todo aquele que vive e crê em mim nunca morrerá. Crês tu isso?
A soft answer turneth away wrath: but grievous words stir up anger.
Personal Bible reading plan
Create an account to configure your Bible reading plan and you will see your progress and the next chapter to read here!
Read more...