Bible Verses about 'Born'
«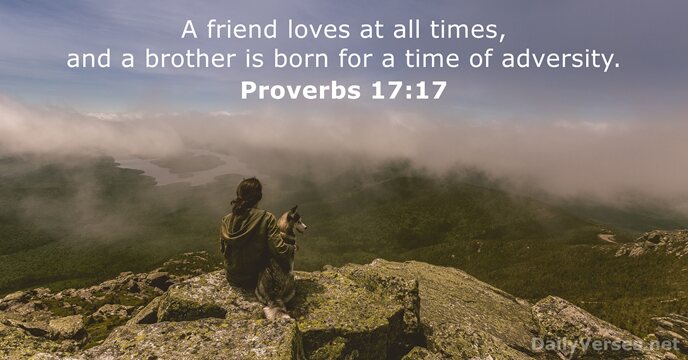 »
A friend loves at all times,
and a brother is born for a time of adversity.

Today in the town of David a Savior has been born to you; he is the Messiah, the Lord.

Flesh gives birth to flesh, but the Spirit gives birth to spirit.

Jesus replied, "Very truly I tell you, no one can see the kingdom of God unless they are born again."

Dear friends, let us love one another, for love comes from God. Everyone who loves has been born of God and knows God.

For everyone born of God overcomes the world. This is the victory that has overcome the world, even our faith.

After Jesus was born in Bethlehem in Judea, during the time of King Herod, Magi from the east came to Jerusalem and asked, "Where is the one who has been born king of the Jews? We saw his star when it rose and have come to worship him."

For you have been born again, not of perishable seed, but of imperishable, through the living and enduring word of God.

Jesus answered, "Very truly I tell you, no one can enter the kingdom of God unless they are born of water and the Spirit."

The angel answered, "The Holy Spirit will come on you, and the power of the Most High will overshadow you. So the holy one to be born will be called the Son of God."

For to us a child is born,
to us a son is given,
and the government will be on his shoulders.
And he will be called
Wonderful Counselor, Mighty God,
Everlasting Father, Prince of Peace.
Before the mountains were born
or you brought forth the whole world,
from everlasting to everlasting you are God.

While they were there, the time came for the baby to be born, and she gave birth to her firstborn, a son. She wrapped him in cloths and placed him in a manger, because there was no guest room available for them.

Surely he took up our pain
and bore our suffering,
yet we considered him punished by God,
stricken by him, and afflicted.

Praise be to the God and Father of our Lord Jesus Christ! In his great mercy he has given us new birth into a living hope through the resurrection of Jesus Christ from the dead.

Can a mother forget the baby at her breast
and have no compassion on the child she has borne?
Though she may forget,
I will not forget you!
See, I have engraved you on the palms of my hands;
your walls are ever before me.
Who, being in very nature God,
did not consider equality with God something to be used to his own advantage;
rather, he made himself nothing
by taking the very nature of a servant,
being made in human likeness.
And being found in appearance as a man,
he humbled himself
by becoming obedient to death—
even death on a cross!

Like newborn babies, crave pure spiritual milk, so that by it you may grow up in your salvation.

For the practices of the peoples are worthless;
they cut a tree out of the forest,
and a craftsman shapes it with his chisel.
They adorn it with silver and gold;
they fasten it with hammer and nails
so it will not totter.
Like a scarecrow in a cucumber field,
their idols cannot speak;
they must be carried
because they cannot walk.
Do not fear them;
they can do no harm
nor can they do any good.
The prudent see danger and take refuge, but the simple keep going and pay the penalty.
Personal Bible reading plan
Create an account to configure your Bible reading plan and you will see your progress and the next chapter to read here!
Read more...