Bible Verses about 'Call'
«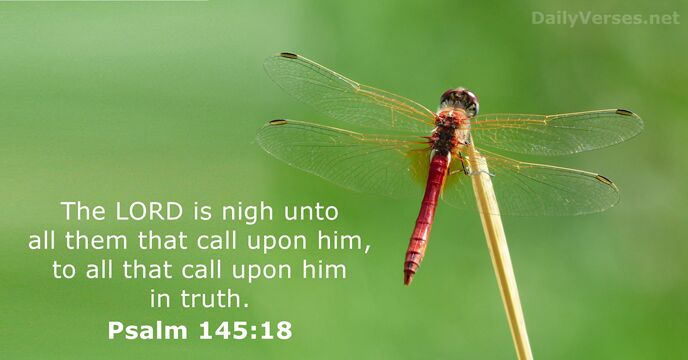 »
The L

ord

is nigh unto all them that call upon him, to all that call upon him in truth.
Perto está o S

enhor

de todos os que o invocam, de todos os que o invocam em verdade.

Ye call me Master and Lord: and ye say well; for so I am.

Vós me chamais Mestre e Senhor e dizeis bem, porque eu o sou.

I came not to call the righteous, but sinners to repentance.

Eu não vim chamar os justos, mas sim os pecadores, ao arrependimento.

Seek ye the L

ord

while he may be found, call ye upon him while he is near.
Buscai ao S

enhor

enquanto se pode achar, invocai-o enquanto está perto.

Then shall ye call upon me, and ye shall go and pray unto me, and I will hearken unto you.

Então, me invocareis, e ireis, e orareis a mim, e eu vos ouvirei.

For thou, Lord, art good, and ready to forgive; and plenteous in mercy unto all them that call upon thee.

Pois tu, Senhor, és bom, e pronto a perdoar, e abundante em benignidade para com todos os que te invocam.

Call unto me, and I will answer thee, and show thee great and mighty things, which thou knowest not.

Clama a mim, e responder-te-ei e anunciar-te-ei coisas grandes e firmes, que não sabes.

O give thanks unto the L

ord

; call upon his name: make known his deeds among the people.
Louvai ao S

enhor

e invocai o seu nome; fazei conhecidas as suas obras entre os povos.

Therefore the Lord himself shall give you a sign; Behold, a virgin shall conceive, and bear a son, and shall call his name Immanuel.

Portanto, o mesmo Senhor vos dará um sinal: eis que uma virgem conceberá, e dará à luz um filho, e será o seu nome Emanuel.

But go ye and learn what that meaneth, I will have mercy, and not sacrifice: for I am not come to call the righteous, but sinners to repentance.

Ide, porém, e aprendei o que significa: Misericórdia quero e não sacrifício. Porque eu não vim para chamar os justos, mas os pecadores, ao arrependimento.

And she shall bring forth a son, and thou shalt call his name Jesus: for he shall save his people from their sins.

E ela dará à luz um filho, e lhe porás o nome de Jesus, porque ele salvará o seu povo dos seus pecados.

For whosoever shall call upon the name of the Lord shall be saved.

Porque todo aquele que invocar o nome do Senhor será salvo.

I love the L

ord

, because he hath heard my voice and my supplications. Because he hath inclined his ear unto me, therefore will I call upon him as long as I live.
Amo ao S

enhor

, porque ele ouviu a minha voz e a minha súplica. Porque inclinou para mim os seus ouvidos; portanto, invocá-lo-ei enquanto viver.
And in that day shall ye say, Praise the L

ord

, call upon his name, declare his doings among the people, make mention that his name is exalted.
E direis, naquele dia: Dai graças ao S

enhor

, invocai o seu nome, tornai manifestos os seus feitos entre os povos e contai quão excelso é o seu nome.

And the angel said unto her, Fear not, Mary: for thou hast found favour with God. And, behold, thou shalt conceive in thy womb, and bring forth a son, and shalt call his name Jesus.

Disse-lhe, então, o anjo: Maria, não temas, porque achaste graça diante de Deus, E eis que em teu ventre conceberás, e darás à luz um filho, e pôr-lhe-ás o nome de Jesus.

And it shall come to pass, that whosoever shall call on the name of the Lord shall be saved.

E acontecerá que todo aquele que invocar o nome do Senhor será salvo.

Now all this was done, that it might be fulfilled which was spoken of the Lord by the prophet, saying, Behold, a virgin shall be with child, and shall bring forth a son, and they shall call his name Emmanuel, which being interpreted is, God with us.

Tudo isso aconteceu para que se cumprisse o que foi dito da parte do Senhor pelo profeta, que diz: Eis que a virgem conceberá e dará à luz um filho, e ele será chamado pelo nome de Emanuel. (Emanuel traduzido é: Deus conosco).

Is any sick among you? let him call for the elders of the church; and let them pray over him, anointing him with oil in the name of the Lord: And the prayer of faith shall save the sick, and the Lord shall raise him up; and if he have committed sins, they shall be forgiven him.

Está alguém entre vós doente? Chame os presbíteros da igreja, e orem sobre ele, ungindo-o com azeite em nome do Senhor; e a oração da fé salvará o doente, e o Senhor o levantará; e, se houver cometido pecados, ser-lhe-ão perdoados.

I press toward the mark for the prize of the high calling of God in Christ Jesus.

Prossigo para o alvo, pelo prêmio da soberana vocação de Deus em Cristo Jesus.

If thou turn away thy foot from the sabbath, from doing thy pleasure on my holy day; and call the sabbath a delight, the holy of the L

ord

, honourable; and shalt honour him, not doing thine own ways, nor finding thine own pleasure, nor speaking thine own words: Then shalt thou delight thyself in the L

ord

; and I will cause thee to ride upon the high places of the earth, and feed thee with the heritage of Jacob thy father: for the mouth of the L

ord

hath spoken it.
Se desviares o teu pé do sábado, de fazer a tua vontade no meu santo dia, e se chamares ao sábado deleitoso e santo dia do S

enhor

digno de honra, e se o honrares, não seguindo os teus caminhos, nem pretendendo fazer a tua própria vontade, nem falar as tuas próprias palavras, então, te deleitarás no S

enhor

, e te farei cavalgar sobre as alturas da terra e te sustentarei com a herança de Jacó, teu pai; porque a boca do S

enhor

o disse.

There is one body, and one Spirit, even as ye are called in one hope of your calling.

Há um só corpo e um só Espírito, como também fostes chamados em uma só esperança da vossa vocação.

Thinkest thou that I cannot now pray to my Father, and he shall presently give me more than twelve legions of angels?

Ou pensas tu que eu não poderia, agora, orar a meu Pai e que ele não me daria mais de doze legiões de anjos?

I am sought of them that asked not for me; I am found of them that sought me not: I said, Behold me, behold me, unto a nation that was not called by my name.

Fui buscado pelos que não perguntavam por mim; fui achado por aqueles que me não buscavam; a um povo que se não chamava do meu nome eu disse: Eis-me aqui.

Wherefore the rather, brethren, give diligence to make your calling and election sure: for if ye do these things, ye shall never fall: For so an entrance shall be ministered unto you abundantly into the everlasting kingdom of our Lord and Saviour Jesus Christ.

Portanto, irmãos, procurai fazer cada vez mais firme a vossa vocação e eleição; porque, fazendo isto, nunca jamais tropeçareis. Porque assim vos será amplamente concedida a entrada no Reino eterno de nosso Senhor e Salvador Jesus Cristo.

For the Lord himself shall descend from heaven with a shout, with the voice of the archangel, and with the trump of God: and the dead in Christ shall rise first: Then we which are alive and remain shall be caught up together with them in the clouds, to meet the Lord in the air: and so shall we ever be with the Lord.

Porque o mesmo Senhor descerá do céu com alarido, e com voz de arcanjo, e com a trombeta de Deus; e os que morreram em Cristo ressuscitarão primeiro; depois, nós, os que ficarmos vivos, seremos arrebatados juntamente com eles nas nuvens, a encontrar o Senhor nos ares, e assim estaremos sempre com o Senhor.
A prudent man foreseeth the evil, and hideth himself; but the simple pass on, and are punished.
Personal Bible reading plan
Create an account to configure your Bible reading plan and you will see your progress and the next chapter to read here!
Read more...