Bible Verses about 'Child'
«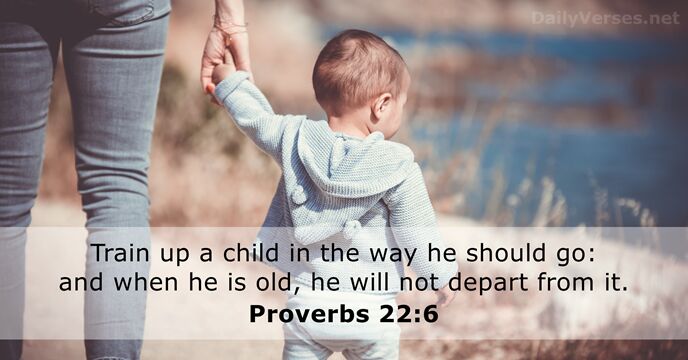 »
Train up a child in the way he should go:
and when he is old, he will not depart from it.
The father of the righteous shall greatly rejoice:
and he that begetteth a wise child shall have joy of him.

And said unto them, Whosoever shall receive this child in my name receiveth me: and whosoever shall receive me receiveth him that sent me: for he that is least among you all, the same shall be great.

Now the birth of Jesus Christ was on this wise: When as his mother Mary was espoused to Joseph, before they came together, she was found with child of the Holy Ghost.

For unto us a child is born,
unto us a son is given:
and the government shall be upon his shoulder:
and his name shall be called
Wonderful, Counsellor, The mighty God,
The everlasting Father, The Prince of Peace.

As thou knowest not what is the way of the spirit, nor how the bones do grow in the womb of her that is with child: even so thou knowest not the works of God who maketh all.

Can a woman forget her sucking child,
that she should not have compassion on the son of her womb?
yea, they may forget,
yet will I not forget thee.
Behold, I have graven thee upon the palms of my hands;
thy walls are continually before me.

And Joseph also went up from Galilee, out of the city of Nazareth, into Judaea, unto the city of David, which is called Bethlehem; (because he was of the house and lineage of David:) To be taxed with Mary his espoused wife, being great with child.

Through faith also Sara herself received strength to conceive seed, and was delivered of a child when she was past age, because she judged him faithful who had promised.

Ye shall not afflict any widow, or fatherless child. If thou afflict them in any wise, and they cry at all unto me, I will surely hear their cry; And my wrath shall wax hot, and I will kill you with the sword; and your wives shall be widows, and your children fatherless.

Now all this was done, that it might be fulfilled which was spoken of the Lord by the prophet, saying, Behold, a virgin shall be with child, and shall bring forth a son, and they shall call his name Emmanuel, which being interpreted is, God with us.

Children's children are the crown of old men;
and the glory of children are their fathers.

Therefore remove sorrow from thy heart, and put away evil from thy flesh: for childhood and youth are vanity.

Thou therefore, my son, be strong in the grace that is in Christ Jesus.

Little children, keep yourselves from idols. Amen.

Be ye therefore followers of God, as dear children.

I have no greater joy than to hear that my children walk in truth.

Blessed are the peacemakers:
for they shall be called the children of God.
Like as a father pitieth his children,
so the L

ord

pitieth them that fear him.

The Spirit itself beareth witness with our spirit, that we are the children of God.

My little children, let us not love in word, neither in tongue; but in deed and in truth.

But the mercy of the L

ord

is
from everlasting to everlasting upon them that fear him,
and his righteousness unto children's children;
To such as keep his covenant,
and to those that remember his commandments to do them.

And, ye fathers, provoke not your children to wrath: but bring them up in the nurture and admonition of the Lord.

But Jesus said, Suffer little children, and forbid them not, to come unto me: for of such is the kingdom of heaven.

And the angel answered and said unto her, The Holy Ghost shall come upon thee, and the power of the Highest shall overshadow thee: therefore also that holy thing which shall be born of thee shall be called the Son of God.
But Jesus beheld them, and said unto them, With men this is impossible; but with God all things are possible.
Personal Bible reading plan
Create an account to configure your Bible reading plan and you will see your progress and the next chapter to read here!
Read more...