Bible Verses about 'Fast'
«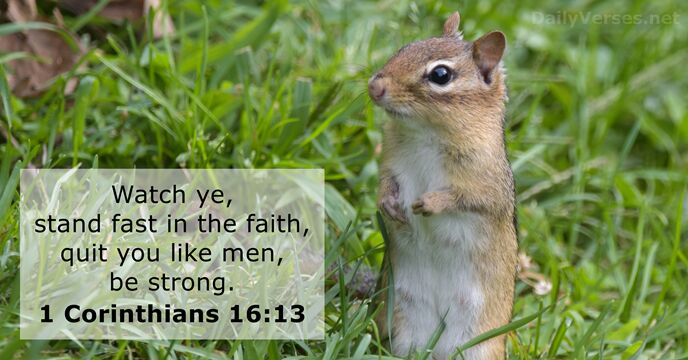 »
Watch ye, stand fast in the faith, quit you like men, be strong.

Vigiai, estai firmes na fé, portai-vos varonilmente e fortalecei-vos.

Behold, I come quickly: hold that fast which thou hast, that no man take thy crown.

Eis que venho sem demora; guarda o que tens, para que ninguém tome a tua coroa.

Prove all things; hold fast that which is good. Abstain from all appearance of evil.

Examinai tudo. Retende o bem. Abstende-vos de toda aparência do mal.

Moreover when ye fast, be not, as the hypocrites, of a sad countenance: for they disfigure their faces, that they may appear unto men to fast. Verily I say unto you, They have their reward.

E, quando jejuardes, não vos mostreis contristados como os hipócritas, porque desfiguram o rosto, para que aos homens pareça que jejuam. Em verdade vos digo que já receberam o seu galardão.

Let us hold fast the profession of our faith without wavering; (for he is faithful that promised;)

Retenhamos firmes a confissão da nossa esperança, porque fiel é o que prometeu.

Go, gather together all the Jews that are present in Shushan, and fast ye for me, and neither eat nor drink three days, night or day: I also and my maidens will fast likewise; and so will I go in unto the king, which is not according to the law: and if I perish, I perish.

Vai, e ajunta todos os judeus que se acharem em Susã, e jejuai por mim, e não comais nem bebais por três dias, nem de dia nem de noite, e eu e as minhas moças também assim jejuaremos; e assim irei ter com o rei, ainda que não é segundo a lei; e, perecendo, pereço.

But thou, when thou fastest, anoint thine head, and wash thy face; That thou appear not unto men to fast, but unto thy Father which is in secret: and thy Father, which seeth in secret, shall reward thee openly.

Porém tu, quando jejuares, unge a cabeça e lava o rosto, para não pareceres aos homens que jejuas, mas sim a teu Pai, que está oculto; e teu Pai, que vê o que está oculto, te recompensará.

Stand fast therefore in the liberty wherewith Christ hath made us free, and be not entangled again with the yoke of bondage.

Estai, pois, firmes na liberdade com que Cristo nos libertou e não torneis a meter-vos debaixo do jugo da servidão.

Is not this the fast that I have chosen? to loose the bands of wickedness, to undo the heavy burdens, and to let the oppressed go free, and that ye break every yoke?

Porventura, não é este o jejum que escolhi: que soltes as ligaduras da impiedade, que desfaças as ataduras do jugo, e que deixes livres os quebrantados, e que despedaces todo o jugo?
Ye shall walk after the L

ord

your God, and fear him, and keep his commandments, and obey his voice, and ye shall serve him, and cleave unto him.
Após o S

enhor

, vosso Deus, andareis, e a ele temereis, e os seus mandamentos guardareis, e a sua voz ouvireis, e a ele servireis, e a ele vos achegareis.

So we fasted and besought our God for this: and he was intreated of us.

Nós, pois, jejuamos e pedimos isso ao nosso Deus, e moveu-se pelas nossas orações.

And when they had fasted and prayed, and laid their hands on them, they sent them away.

Então, jejuando, e orando, e pondo sobre eles as mãos, os despediram.

Let love be without dissimulation. Abhor that which is evil; cleave to that which is good.

O amor seja não fingido. Aborrecei o mal e apegai-vos ao bem.

But he knoweth the way that I take: when he hath tried me, I shall come forth as gold. My foot hath held his steps, his way have I kept, and not declined.

Mas ele sabe o meu caminho; prove-me, e sairei como o ouro. Nas suas pisadas os meus pés se afirmaram; guardei o seu caminho e não me desviei dele.
Therefore also now, saith the L

ord

, turn ye even to me with all your heart, and with fasting, and with weeping, and with mourning.
Ainda assim, agora mesmo diz o S

enhor

: Convertei-vos a mim de todo o vosso coração; e isso com jejuns, e com choro, e com pranto.

As they ministered to the Lord, and fasted, the Holy Ghost said, Separate me Barnabas and Saul for the work whereunto I have called them.

E, servindo eles ao Senhor e jejuando, disse o Espírito Santo: Apartai-me a Barnabé e a Saulo para a obra a que os tenho chamado.

Moreover, brethren, I declare unto you the gospel which I preached unto you, which also ye have received, and wherein ye stand; By which also ye are saved, if ye keep in memory what I preached unto you, unless ye have believed in vain.

Também vos notifico, irmãos, o evangelho que já vos tenho anunciado, o qual também recebestes e no qual também permaneceis; pelo qual também sois salvos, se o retiverdes tal como vo-lo tenho anunciado, se não é que crestes em vão.

For this cause shall a man leave his father and mother, and shall be joined unto his wife, and they two shall be one flesh.

Por isso, deixará o homem seu pai e sua mãe e se unirá à sua mulher; e serão dois numa carne.

Do all things without murmurings and disputings: That ye may be blameless and harmless, the sons of God, without rebuke, in the midst of a crooked and perverse nation, among whom ye shine as lights in the world; Holding forth the word of life.

Fazei todas as coisas sem murmurações nem contendas; para que sejais irrepreensíveis e sinceros, filhos de Deus inculpáveis no meio duma geração corrompida e perversa, entre a qual resplandeceis como astros no mundo; retendo a palavra da vida.
But take diligent heed to do the commandment and the law, which Moses the servant of the L

ord

charged you, to love the L

ord

your God, and to walk in all his ways, and to keep his commandments, and to cleave unto him, and to serve him with all your heart and with all your soul.
Tão somente tende cuidado de guardar com diligência o mandamento e a lei que Moisés, o servo do S

enhor

, vos mandou: que ameis ao S

enhor

, vosso Deus, e andeis em todos os seus caminhos, e guardeis os seus mandamentos, e vos achegueis a ele, e o sirvais com todo o vosso coração e com toda a vossa alma.

Defraud ye not one the other, except it be with consent for a time, that ye may give yourselves to fasting and prayer; and come together again, that Satan tempt you not for your incontinency.

Não vos defraudeis um ao outro, senão por consentimento mútuo, por algum tempo, para vos aplicardes à oração; e, depois, ajuntai-vos outra vez, para que Satanás vos não tente pela vossa incontinência.

And he answered and said unto them, Have ye not read, that he which made them at the beginning made them male and female, And said, For this cause shall a man leave father and mother, and shall cleave to his wife: and they twain shall be one flesh? Wherefore they are no more twain, but one flesh. What therefore God hath joined together, let not man put asunder.

Ele, porém, respondendo, disse-lhes: Não tendes lido que, no princípio, o Criador os fez macho e fêmea e disse: Portanto, deixará o homem pai e mãe e se unirá à sua mulher, e serão dois numa só carne? Assim não são mais dois, mas uma só carne. Portanto, o que Deus ajuntou não separe o homem.

For the customs of the people are vain: for one cutteth a tree out of the forest, the work of the hands of the workman, with the axe. They deck it with silver and with gold; they fasten it with nails and with hammers, that it move not. They are upright as the palm tree, but speak not: they must needs be borne, because they cannot go. Be not afraid of them; for they cannot do evil, neither also is it in them to do good.

Porque os costumes dos povos são vaidade; pois cortam do bosque um madeiro, obra das mãos do artífice, com machado. Com prata e com ouro o enfeitam, com pregos e com martelos o firmam, para que não se mova. São como a palmeira, obra torneada, mas não podem falar; necessitam de quem os leve, porquanto não podem andar; não tenhais receio deles, pois não podem fazer mal, nem tampouco têm poder de fazer bem.
And the rib, which the L

ord

God had taken from man, made he a woman, and brought her unto the man. And Adam said, This is now bone of my bones, and flesh of my flesh: she shall be called Woman, because she was taken out of Man. Therefore shall a man leave his father and his mother, and shall cleave unto his wife: and they shall be one flesh.
E da costela que o S

enhor

Deus tomou do homem formou uma mulher; e trouxe-a a Adão. E disse Adão: Esta é agora osso dos meus ossos e carne da minha carne; esta será chamada varoa, porquanto do varão foi tomada. Portanto, deixará o varão o seu pai e a sua mãe e apegar-se-á à sua mulher, e serão ambos uma carne.
A prudent man foreseeth the evil, and hideth himself; but the simple pass on, and are punished.
Personal Bible reading plan
Create an account to configure your Bible reading plan and you will see your progress and the next chapter to read here!
Read more...