«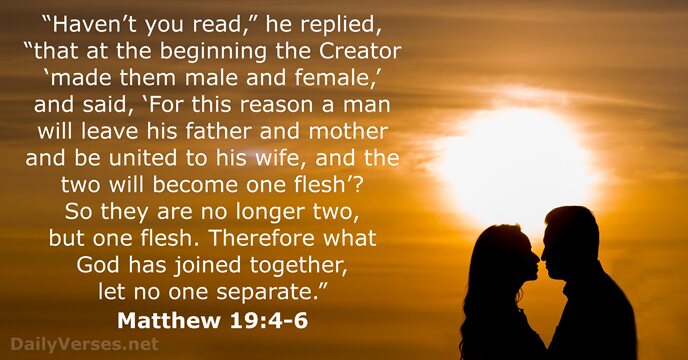 »
"Haven't you read," he replied, "that at the beginning the Creator 'made them male and female,' and said, 'For this reason a man will leave his father and mother and be united to his wife, and the two will become one flesh'? So they are no longer two, but one flesh. Therefore what God has joined together, let no one separate."

Then the L

ord

God made a woman from the rib he had taken out of the man, and he brought her to the man. The man said, "This is now bone of my bones and flesh of my flesh; she shall be called 'woman,' for she was taken out of man." That is why a man leaves his father and mother and is united to his wife, and they become one flesh.

"Truly I tell you," Jesus replied, "no one who has left home or brothers or sisters or mother or father or children or fields for me and the gospel will fail to receive a hundred times as much in this present age: homes, brothers, sisters, mothers, children and fields—along with persecutions—and in the age to come eternal life."

My Father's house has many rooms; if that were not so, would I have told you that I am going there to prepare a place for you?

If you keep my commands, you will remain in my love, just as I have kept my Father's commands and remain in his love.

"If you keep your feet from breaking the Sabbath
and from doing as you please on my holy day,
if you call the Sabbath a delight
and the L

ord

's holy day honorable,
and if you honor it by not going your own way
and not doing as you please or speaking idle words,
then you will find your joy in the L

ord

,
and I will cause you to ride in triumph on the heights of the land
and to feast on the inheritance of your father Jacob."
For the mouth of the L

ord

has spoken.
Do not forsake your friend or a friend of your family,
and do not go to your relative's house when disaster strikes you—
better a neighbor nearby than a relative far away.
Children's children are a crown to the aged,
and parents are the pride of their children.

My goal is that they may be encouraged in heart and united in love, so that they may have the full riches of complete understanding, in order that they may know the mystery of God, namely, Christ.

Are not two sparrows sold for a penny? Yet not one of them will fall to the ground outside your Father's care. And even the very hairs of your head are all numbered. So don't be afraid; you are worth more than many sparrows.
Deceit is in the hearts of those who plot evil, but those who promote peace have joy.
Personal Bible reading plan
Create an account to configure your Bible reading plan and you will see your progress and the next chapter to read here!
Read more...