«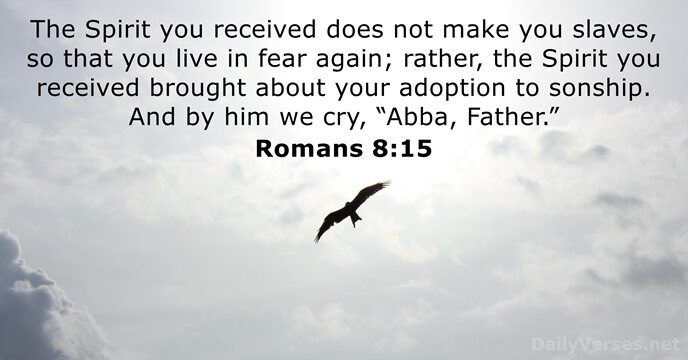 »
The Spirit you received does not make you slaves, so that you live in fear again; rather, the Spirit you received brought about your adoption to sonship. And by him we cry, "Abba, Father."

Very truly I tell you, whoever believes in me will do the works I have been doing, and they will do even greater things than these, because I am going to the Father.

Look at the birds of the air; they do not sow or reap or store away in barns, and yet your heavenly Father feeds them. Are you not much more valuable than they?

Religion that God our Father accepts as pure and faultless is this: to look after orphans and widows in their distress and to keep oneself from being polluted by the world.

My son, do not despise the L

ord

's discipline,
and do not resent his rebuke,
because the L

ord

disciplines those he loves,
as a father the son he delights in.

Whoever has my commands and keeps them is the one who loves me. The one who loves me will be loved by my Father, and I too will love them and show myself to them.

The Word became flesh and made his dwelling among us. We have seen his glory, the glory of the one and only Son, who came from the Father, full of grace and truth.

Father, I want those you have given me to be with me where I am, and to see my glory, the glory you have given me because you loved me before the creation of the world.

Do not work for food that spoils, but for food that endures to eternal life, which the Son of Man will give you. For on him God the Father has placed his seal of approval.

See what great love the Father has lavished on us, that we should be called children of God! And that is what we are! The reason the world does not know us is that it did not know him.

Yet for us there is but one God, the Father, from whom all things came and for whom we live; and there is but one Lord, Jesus Christ, through whom all things came and through whom we live.

You did not choose me, but I chose you and appointed you so that you might go and bear fruit—fruit that will last—and so that whatever you ask in my name the Father will give you.

'You shall not murder, you shall not commit adultery, you shall not steal, you shall not give false testimony, honor your father and mother,' and 'love your neighbor as yourself.'

Praise be to the God and Father of our Lord Jesus Christ! In his great mercy he has given us new birth into a living hope through the resurrection of Jesus Christ from the dead.

For to us a child is born,
to us a son is given,
and the government will be on his shoulders.
And he will be called
Wonderful Counselor, Mighty God,
Everlasting Father, Prince of Peace.

The one who is victorious will, like them, be dressed in white. I will never blot out the name of that person from the book of life, but will acknowledge that name before my Father and his angels.

But when you give to the needy, do not let your left hand know what your right hand is doing, so that your giving may be in secret. Then your Father, who sees what is done in secret, will reward you.

Sing to God, sing in praise of his name,
extol him who rides on the clouds;
rejoice before him—his name is the L

ord

.
A father to the fatherless, a defender of widows,
is God in his holy dwelling.
My son, keep your father's command
and do not forsake your mother's teaching.

Neither do people light a lamp and put it under a bowl. Instead they put it on its stand, and it gives light to everyone in the house. In the same way, let your light shine before others, that they may see your good deeds and glorify your Father in heaven.

Therefore go and make disciples of all nations, baptizing them in the name of the Father and of the Son and of the Holy Spirit, and teaching them to obey everything I have commanded you. And surely I am with you always, to the very end of the age.

In Hades, where he was in torment, he looked up and saw Abraham far away, with Lazarus by his side. So he called to him, 'Father Abraham, have pity on me and send Lazarus to dip the tip of his finger in water and cool my tongue, because I am in agony in this fire.'

Go back and tell Hezekiah, the ruler of my people, 'This is what the L

ord

, the God of your father David, says: I have heard your prayer and seen your tears; I will heal you. On the third day from now you will go up to the temple of the L

ord

.'

"Haven't you read," he replied, "that at the beginning the Creator 'made them male and female,' and said, 'For this reason a man will leave his father and mother and be united to his wife, and the two will become one flesh'? So they are no longer two, but one flesh. Therefore what God has joined together, let no one separate."

Then the L

ord

God made a woman from the rib he had taken out of the man, and he brought her to the man. The man said, "This is now bone of my bones and flesh of my flesh; she shall be called 'woman,' for she was taken out of man." That is why a man leaves his father and mother and is united to his wife, and they become one flesh.
So that, just as sin reigned in death, so also grace might reign through righteousness to bring eternal life through Jesus Christ our Lord.
Personal Bible reading plan
Create an account to configure your Bible reading plan and you will see your progress and the next chapter to read here!
Read more...