Bible Verses about 'Free'
«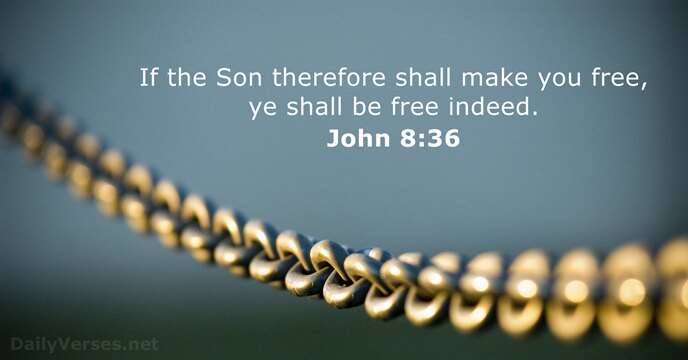 »
If the Son therefore shall make you free, ye shall be free indeed.

As free, and not using your liberty for a cloke of maliciousness, but as the servants of God.

Stand fast therefore in the liberty wherewith Christ hath made us free, and be not entangled again with the yoke of bondage.

But now being made free from sin, and become servants to God, ye have your fruit unto holiness, and the end everlasting life.

For by one Spirit are we all baptized into one body, whether we be Jews or Gentiles, whether we be bond or free; and have been all made to drink into one Spirit.

Is not this the fast that I have chosen?
to loose the bands of wickedness,
to undo the heavy burdens,
and to let the oppressed go free,
and that ye break every yoke?

Then said Jesus to those Jews which believed on him, If ye continue in my word, then are ye my disciples indeed; And ye shall know the truth, and the truth shall make you free.

When a man hath taken a new wife, he shall not go out to war, neither shall he be charged with any business: but he shall be free at home one year, and shall cheer up his wife which he hath taken.

But not as the offence, so also is the free gift. For if through the offence of one many be dead, much more the grace of God, and the gift by grace, which is by one man, Jesus Christ, hath abounded unto many.

There is therefore now no condemnation to them which are in Christ Jesus, who walk not after the flesh, but after the Spirit. For the law of the Spirit of life in Christ Jesus hath made me free from the law of sin and death.

There is neither Jew nor Greek, there is neither bond nor free, there is neither male nor female: for ye are all one in Christ Jesus. And if ye be Christ's, then are ye Abraham's seed, and heirs according to the promise.

Let your conversation be without covetousness; and be content with such things as ye have: for he hath said, I will never leave thee, nor forsake thee.

Put away from thee a froward mouth,
and perverse lips put far from thee.
I called upon the L

ord

in distress:
the L

ord

answered me, and set me in a large place.

For the wages of sin is death; but the gift of God is eternal life through Jesus Christ our Lord.

For, brethren, ye have been called unto liberty; only use not liberty for an occasion to the flesh, but by love serve one another.

The Spirit of the Lord is upon me, because he hath anointed me to preach the gospel to the poor; he hath sent me to heal the brokenhearted, to preach deliverance to the captives, and recovering of sight to the blind, to set at liberty them that are bruised.

And for this cause he is the mediator of the new testament, that by means of death, for the redemption of the transgressions that were under the first testament, they which are called might receive the promise of eternal inheritance.

Be it known unto you therefore, men and brethren, that through this man is preached unto you the forgiveness of sins: And by him all that believe are justified from all things, from which ye could not be justified by the law of Moses.

And he was teaching in one of the synagogues on the sabbath. And, behold, there was a woman which had a spirit of infirmity eighteen years, and was bowed together, and could in no wise lift up herself. And when Jesus saw her, he called her to him, and said unto her, Woman, thou art loosed from thine infirmity. And he laid his hands on her: and immediately she was made straight, and glorified God. And the ruler of the synagogue answered with indignation, because that Jesus had healed on the sabbath day, and said unto the people, There are six days in which men ought to work: in them therefore come and be healed, and not on the sabbath day. The Lord then answered him, and said, Thou hypocrite, doth not each one of you on the sabbath loose his ox or his ass from the stall, and lead him away to watering? And ought not this woman, being a daughter of Abraham, whom Satan hath bound, lo, these eighteen years, be loosed from this bond on the sabbath day? And when he had said these things, all his adversaries were ashamed: and all the people rejoiced for all the glorious things that were done by him.
Wherefore, my beloved brethren, let every man be swift to hear, slow to speak, slow to wrath.
Personal Bible reading plan
Create an account to configure your Bible reading plan and you will see your progress and the next chapter to read here!
Read more...