Bible Verses about 'Look'
«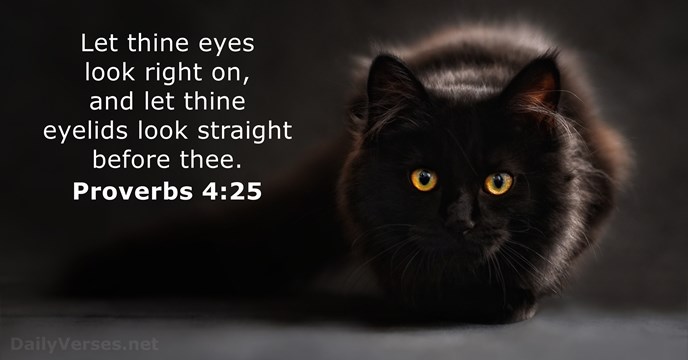 »
Let thine eyes look right on, and let thine eyelids look straight before thee.

Os teus olhos olhem direitos, e as tuas pálpebras olhem diretamente diante de ti.

Therefore I will look unto the L

ord

; I will wait for the God of my salvation: my God will hear me.
Eu, porém, esperarei no S

enhor

; esperei no Deus da minha salvação; o meu Deus me ouvirá.

Look to yourselves, that we lose not those things which we have wrought, but that we receive a full reward.

Olhai por vós mesmos, para que não percamos o que temos ganhado; antes, recebamos o inteiro galardão.

My voice shalt thou hear in the morning, O L

ord

; in the morning will I direct my prayer unto thee, and will look up.
Pela manhã, ouvirás a minha voz, ó S

enhor

; pela manhã, me apresentarei a ti, e vigiarei.
But the L

ord

said unto Samuel, Look not on his countenance, or on the height of his stature; because I have refused him: for the L

ord

seeth not as man seeth; for man looketh on the outward appearance, but the L

ord

looketh on the heart.
Porém o S

enhor

disse a Samuel: Não atentes para a sua aparência, nem para a altura da sua estatura, porque o tenho rejeitado; porque o S

enhor

não vê como vê o homem. Pois o homem vê o que está diante dos olhos, porém o S

enhor

olha para o coração.

For our conversation is in heaven; from whence also we look for the Saviour, the Lord Jesus Christ.

Mas a nossa cidade está nos céus, donde também esperamos o Salvador, o Senhor Jesus Cristo.

And it shall be unto you for a fringe, that ye may look upon it, and remember all the commandments of the L

ord

, and do them; and that ye seek not after your own heart and your own eyes, after which ye use to go a whoring.
E nas franjas vos estará, para que o vejais, e vos lembreis de todos os mandamentos do S

enhor

, e os façais; e não seguireis após o vosso coração, nem após os vossos olhos, após os quais andais adulterando.

While we look not at the things which are seen, but at the things which are not seen: for the things which are seen are temporal; but the things which are not seen are eternal.

Não atentando nós nas coisas que se veem, mas nas que se não veem; porque as que se veem são temporais, e as que se não veem são eternas.

I made a covenant with mine eyes; why then should I think upon a maid?

Fiz concerto com os meus olhos; como, pois, os fixaria numa virgem?

So Christ was once offered to bear the sins of many; and unto them that look for him shall he appear the second time without sin unto salvation.

Assim também Cristo, oferecendo-se uma vez, para tirar os pecados de muitos, aparecerá segunda vez, sem pecado, aos que o esperam para a salvação.

Behold the fowls of the air: for they sow not, neither do they reap, nor gather into barns; yet your heavenly Father feedeth them. Are ye not much better than they?

Olhai para as aves do céu, que não semeiam, nem segam, nem ajuntam em celeiros; e vosso Pai celestial as alimenta. Não tendes vós muito mais valor do que elas?

And why beholdest thou the mote that is in thy brother's eye, but considerest not the beam that is in thine own eye?

E por que reparas tu no argueiro que está no olho do teu irmão e não vês a trave que está no teu olho?
Seek the L

ord

, and his strength: seek his face evermore.
Buscai ao S

enhor

e a sua força; buscai a sua face continuamente.
Seek the L

ord

and his strength, seek his face continually.
Buscai o S

enhor

e a sua força; buscai a sua face continuamente.

Moreover when ye fast, be not, as the hypocrites, of a sad countenance: for they disfigure their faces, that they may appear unto men to fast. Verily I say unto you, They have their reward.

E, quando jejuardes, não vos mostreis contristados como os hipócritas, porque desfiguram o rosto, para que aos homens pareça que jejuam. Em verdade vos digo que já receberam o seu galardão.

I had fainted, unless I had believed to see the goodness of the L

ord

in the land of the living.
Pereceria sem dúvida, se não cresse que veria os bens do S

enhor

na terra dos viventes.
Thus saith the L

ord

, Stand ye in the ways, and see, and ask for the old paths, where is the good way, and walk therein, and ye shall find rest for your souls. But they said, We will not walk therein.
Assim diz o S

enhor

: Ponde-vos nos caminhos, e vede, e perguntai pelas veredas antigas, qual é o bom caminho, e andai por ele; e achareis descanso para a vossa alma; mas eles dizem: Não andaremos.

And, behold, I come quickly; and my reward is with me, to give every man according as his work shall be.

E eis que cedo venho, e o meu galardão está comigo para dar a cada um segundo a sua obra.

See then that ye walk circumspectly, not as fools, but as wise, Redeeming the time, because the days are evil.

Portanto, vede prudentemente como andais, não como néscios, mas como sábios, remindo o tempo, porquanto os dias são maus.

Return, thou backsliding Israel, saith the L

ord

; and I will not cause mine anger to fall upon you: for I am merciful, saith the L

ord

, and I will not keep anger for ever.
Volta, ó rebelde Israel, diz o S

enhor

, e não farei cair a minha ira sobre vós; porque benigno sou, diz o S

enhor

, e não conservarei para sempre a minha ira.

Let no man despise thy youth; but be thou an example of the believers, in word, in conversation, in charity, in spirit, in faith, in purity.

Ninguém despreze a tua mocidade; mas sê o exemplo dos fiéis, na palavra, no trato, no amor, no espírito, na fé, na pureza.

Behold, he cometh with clouds; and every eye shall see him, and they also which pierced him: and all kindreds of the earth shall wail because of him. Even so, Amen.

Eis que vem com as nuvens, e todo olho o verá, até os mesmos que o traspassaram; e todas as tribos da terra se lamentarão sobre ele. Sim! Amém!

Pure religion and undefiled before God and the Father is this, To visit the fatherless and widows in their affliction, and to keep himself unspotted from the world.

A religião pura e imaculada para com Deus, o Pai, é esta: visitar os órfãos e as viúvas nas suas tribulações e guardar-se da corrupção do mundo.

And it came to pass, that he went through the corn fields on the sabbath day; and his disciples began, as they went, to pluck the ears of corn. And the Pharisees said unto him, Behold, why do they on the sabbath day that which is not lawful? And he said unto them, Have ye never read what David did, when he had need, and was an hungred, he, and they that were with him? How he went into the house of God in the days of Abiathar the high priest, and did eat the shewbread, which is not lawful to eat but for the priests, and gave also to them which were with him? And he said unto them, The sabbath was made for man, and not man for the sabbath: Therefore the Son of man is Lord also of the sabbath.

E aconteceu que, passando ele num sábado pelas searas, os seus discípulos, caminhando, começaram a colher espigas. E os fariseus lhe disseram: Vês? Por que fazem no sábado o que não é lícito? Mas ele disse-lhes: Nunca lestes o que fez Davi, quando estava em necessidade e teve fome, ele e os que com ele estavam? Como entrou na Casa de Deus, no tempo de Abiatar, sumo sacerdote, e comeu os pães da proposição, dos quais não era lícito comer senão aos sacerdotes, dando também aos que com ele estavam? E disse-lhes: O sábado foi feito por causa do homem, e não o homem, por causa do sábado. Assim, o Filho do Homem até do sábado é senhor.

And I heard a great voice out of heaven saying, Behold, the tabernacle of God is with men, and he will dwell with them, and they shall be his people, and God himself shall be with them, and be their God. And God shall wipe away all tears from their eyes; and there shall be no more death, neither sorrow, nor crying, neither shall there be any more pain: for the former things are passed away.

E ouvi uma grande voz do céu, que dizia: Eis aqui o tabernáculo de Deus com os homens, pois com eles habitará, e eles serão o seu povo, e o mesmo Deus estará com eles e será o seu Deus. E Deus limpará de seus olhos toda lágrima, e não haverá mais morte, nem pranto, nem clamor, nem dor, porque já as primeiras coisas são passadas.
A prudent man foreseeth the evil, and hideth himself; but the simple pass on, and are punished.
Personal Bible reading plan
Create an account to configure your Bible reading plan and you will see your progress and the next chapter to read here!
Read more...