Bible Verses about 'Nothing'
«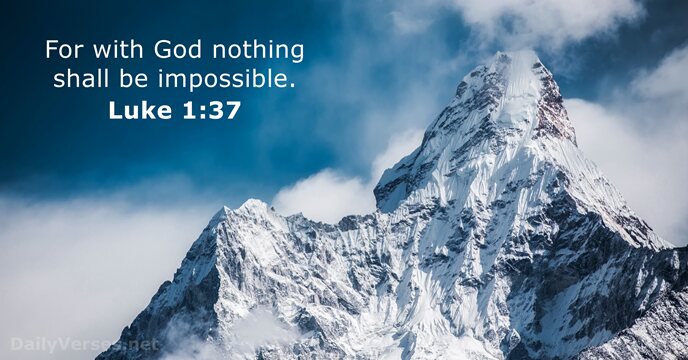 »
For with God nothing shall be impossible.

For we brought nothing into this world, and it is certain we can carry nothing out. And having food and raiment let us be therewith content.

Great peace have they which love thy law:
and nothing shall offend them.

For there is nothing covered, that shall not be revealed; neither hid, that shall not be known.

Surely the Lord G

od

will do nothing,
but he revealeth his secret
unto his servants the prophets.

Hitherto have ye asked nothing in my name: ask, and ye shall receive, that your joy may be full.

As sorrowful, yet alway rejoicing; as poor, yet making many rich; as having nothing, and yet possessing all things.

Treasures of wickedness profit nothing:
but righteousness delivereth from death.

Let nothing be done through strife or vainglory; but in lowliness of mind let each esteem other better than themselves.

I am the vine, ye are the branches: He that abideth in me, and I in him, the same bringeth forth much fruit: for without me ye can do nothing.

And though I bestow all my goods to feed the poor, and though I give my body to be burned, and have not charity, it profiteth me nothing.

Ah Lord G

od

! behold, thou hast made the heaven and the earth by thy great power and stretched out arm, and there is nothing too hard for thee.

As he came forth of his mother's womb, naked shall he return to go as he came, and shall take nothing of his labour, which he may carry away in his hand.

And though I have the gift of prophecy, and understand all mysteries, and all knowledge; and though I have all faith, so that I could remove mountains, and have not charity, I am nothing.

And how I kept back nothing that was profitable unto you, but have shewed you, and have taught you publicly, and from house to house.

But let him ask in faith, nothing wavering. For he that wavereth is like a wave of the sea driven with the wind and tossed.

Then he said unto them, Go your way, eat the fat, and drink the sweet, and send portions unto them for whom nothing is prepared: for this day is holy unto our L

ord

: neither be ye sorry; for the joy of the L

ord

is your strength.

And Jesus being full of the Holy Ghost returned from Jordan, and was led by the Spirit into the wilderness, Being forty days tempted of the devil. And in those days he did eat nothing: and when they were ended, he afterward hungered.

And Jesus said unto them, Because of your unbelief: for verily I say unto you, If ye have faith as a grain of mustard seed, ye shall say unto this mountain, Remove hence to yonder place; and it shall remove; and nothing shall be impossible unto you.

In the day of prosperity be joyful, but in the day of adversity consider: God also hath set the one over against the other, to the end that man should find nothing after him.

Ye are the salt of the earth: but if the salt have lost his savour, wherewith shall it be salted? it is thenceforth good for nothing, but to be cast out, and to be trodden under foot of men.

All things were made by him; and without him was not any thing made that was made.

Only by pride cometh contention:
but with the well advised is wisdom.
Whom have I in heaven but thee?
and there is none upon earth that I desire beside thee.

Be careful for nothing; but in every thing by prayer and supplication with thanksgiving let your requests be made known unto God. And the peace of God, which passeth all understanding, shall keep your hearts and minds through Christ Jesus.
Let your conversation be without covetousness; and be content with such things as ye have: for he hath said, I will never leave thee, nor forsake thee.
Personal Bible reading plan
Create an account to configure your Bible reading plan and you will see your progress and the next chapter to read here!
Read more...