Bible Verses about 'She'
«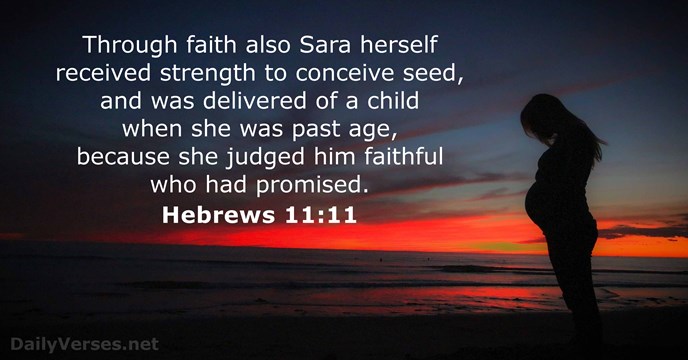 »
Through faith also Sara herself received strength to conceive seed, and was delivered of a child when she was past age, because she judged him faithful who had promised.

Pela fé, também a mesma Sara recebeu a virtude de conceber e deu à luz já fora da idade; porquanto teve por fiel aquele que lho tinha prometido.

But when Jesus heard it, he answered him, saying, Fear not: believe only, and she shall be made whole.

Jesus, porém, ouvindo-o, respondeu-lhe, dizendo: Não temas; crê somente, e será salva.

And she shall bring forth a son, and thou shalt call his name Jesus: for he shall save his people from their sins.

E ela dará à luz um filho, e lhe porás o nome de Jesus, porque ele salvará o seu povo dos seus pecados.

And so it was, that, while they were there, the days were accomplished that she should be delivered. And she brought forth her firstborn son, and wrapped him in swaddling clothes, and laid him in a manger; because there was no room for them in the inn.

E aconteceu que, estando eles ali, se cumpriram os dias em que ela havia de dar à luz. E deu à luz o seu filho primogênito, e envolveu-o em panos, e deitou-o numa manjedoura, porque não havia lugar para eles na estalagem.
Favour is deceitful, and beauty is vain: but a woman that feareth the L

ord

, she shall be praised.
Enganosa é a graça, e vaidade, a formosura, mas a mulher que teme ao S

enhor

, essa será louvada.

Nevertheless let every one of you in particular so love his wife even as himself; and the wife see that she reverence her husband.

Assim também vós, cada um em particular ame a sua própria mulher como a si mesmo, e a mulher reverencie o marido.

And the rib, which the L

ord

God had taken from man, made he a woman, and brought her unto the man. And Adam said, This is now bone of my bones, and flesh of my flesh: she shall be called Woman, because she was taken out of Man. Therefore shall a man leave his father and his mother, and shall cleave unto his wife: and they shall be one flesh.
E da costela que o S

enhor

Deus tomou do homem formou uma mulher; e trouxe-a a Adão. E disse Adão: Esta é agora osso dos meus ossos e carne da minha carne; esta será chamada varoa, porquanto do varão foi tomada. Portanto, deixará o varão o seu pai e a sua mãe e apegar-se-á à sua mulher, e serão ambos uma carne.

Now the birth of Jesus Christ was on this wise: When as his mother Mary was espoused to Joseph, before they came together, she was found with child of the Holy Ghost.

Ora, o nascimento de Jesus Cristo foi assim: Estando Maria, sua mãe, desposada com José, antes de se ajuntarem, achou-se ter concebido do Espírito Santo.

Can a woman forget her sucking child, that she should not have compassion on the son of her womb? yea, they may forget, yet will I not forget thee. Behold, I have graven thee upon the palms of my hands; thy walls are continually before me.

Pode uma mulher esquecer-se tanto do filho que cria, que se não compadeça dele, do filho do seu ventre? Mas, ainda que esta se esquecesse, eu, todavia, me não esquecerei de ti. Eis que, na palma das minhas mãos, te tenho gravado; os teus muros estão continuamente perante mim.

The heavens declare the glory of God; and the firmament sheweth his handywork. Day unto day uttereth speech, and night unto night sheweth knowledge.

Os céus manifestam a glória de Deus e o firmamento anuncia a obra das suas mãos. Um dia faz declaração a outro dia, e uma noite mostra sabedoria a outra noite.

Who can find a virtuous woman? for her price is far above rubies.

Mulher virtuosa, quem a achará? O seu valor muito excede o de rubins.

A good man sheweth favour, and lendeth: he will guide his affairs with discretion.

Bem irá ao homem que se compadece e empresta; disporá as suas coisas com juízo.

Shew me thy ways, O L

ord

; teach me thy paths.
Faze-me saber os teus caminhos, S

enhor

; ensina-me as tuas veredas.

The wicked borroweth, and payeth not again: but the righteous sheweth mercy, and giveth.

O ímpio toma emprestado e não paga; mas o justo se compadece e dá.

And the shepherds returned, glorifying and praising God for all the things that they had heard and seen, as it was told unto them.

E voltaram os pastores glorificando e louvando a Deus por tudo o que tinham ouvido e visto, como lhes havia sido dito.

The L

ord

is my shepherd; I shall not want. He maketh me to lie down in green pastures: he leadeth me beside the still waters.
O S

enhor

é o meu pastor; nada me faltará. Deitar-me faz em verdes pastos, guia-me mansamente a águas tranquilas.

To him that is afflicted pity should be shewed from his friend; but he forsaketh the fear of the Almighty.

Ao que está aflito devia o amigo mostrar compaixão, ainda ao que deixasse o temor do Todo-Poderoso.

How much then is a man better than a sheep? Wherefore it is lawful to do well on the sabbath days.

Pois quanto mais vale um homem do que uma ovelha? É, por consequência, lícito fazer bem nos sábados.

Beware of false prophets, which come to you in sheep's clothing, but inwardly they are ravening wolves.

Acautelai-vos, porém, dos falsos profetas, que vêm até vós vestidos como ovelhas, mas interiormente são lobos devoradores.

And how I kept back nothing that was profitable unto you, but have shewed you, and have taught you publicly, and from house to house.

Como nada, que útil seja, deixei de vos anunciar e ensinar publicamente e pelas casas.

I will praise thee, O L

ord

, with my whole heart; I will shew forth all thy marvellous works.
Eu te louvarei, S

enhor

, de todo o meu coração; contarei todas as tuas maravilhas.

Now the God of peace, that brought again from the dead our Lord Jesus, that great shepherd of the sheep, through the blood of the everlasting covenant, Make you perfect in every good work to do his will, working in you that which is wellpleasing in his sight, through Jesus Christ; to whom be glory for ever and ever. Amen.

Ora, o Deus de paz, que pelo sangue do concerto eterno tornou a trazer dos mortos a nosso Senhor Jesus Cristo, grande Pastor das ovelhas, vos aperfeiçoe em toda a boa obra, para fazerdes a sua vontade, operando em vós o que perante ele é agradável por Cristo Jesus, ao qual seja glória para todo o sempre. Amém!

He hath shewed thee, O man, what is good; and what doth the L

ord

require of thee, but to do justly, and to love mercy, and to walk humbly with thy God?
Ele te declarou, ó homem, o que é bom; e que é o que o S

enhor

pede de ti, senão que pratiques a justiça, e ames a beneficência, e andes humildemente com o teu Deus?

And he was teaching in one of the synagogues on the sabbath. And, behold, there was a woman which had a spirit of infirmity eighteen years, and was bowed together, and could in no wise lift up herself. And when Jesus saw her, he called her to him, and said unto her, Woman, thou art loosed from thine infirmity. And he laid his hands on her: and immediately she was made straight, and glorified God. And the ruler of the synagogue answered with indignation, because that Jesus had healed on the sabbath day, and said unto the people, There are six days in which men ought to work: in them therefore come and be healed, and not on the sabbath day. The Lord then answered him, and said, Thou hypocrite, doth not each one of you on the sabbath loose his ox or his ass from the stall, and lead him away to watering? And ought not this woman, being a daughter of Abraham, whom Satan hath bound, lo, these eighteen years, be loosed from this bond on the sabbath day? And when he had said these things, all his adversaries were ashamed: and all the people rejoiced for all the glorious things that were done by him.

E ensinava no sábado, numa das sinagogas. E eis que estava ali uma mulher que tinha um espírito de enfermidade havia já dezoito anos; e andava curvada e não podia de modo algum endireitar-se. E, vendo-a Jesus, chamou-a a si, e disse-lhe: Mulher, estás livre da tua enfermidade. E impôs as mãos sobre ela, e logo se endireitou e glorificava a Deus. E, tomando a palavra o príncipe da sinagoga, indignado porque Jesus curava no sábado, disse à multidão: Seis dias há em que é mister trabalhar; nestes, pois, vinde para serdes curados e não no dia de sábado. Respondeu-lhe, porém, o Senhor e disse: Hipócrita, no sábado não desprende da manjedoura cada um de vós o seu boi ou jumento e não o leva a beber água? E não convinha soltar desta prisão, no dia de sábado, esta filha de Abraão, a qual há dezoito anos Satanás mantinha presa? E, dizendo ele isso, todos os seus adversários ficaram envergonhados, e todo o povo se alegrava por todas as coisas gloriosas que eram feitas por ele.

For God is not unrighteous to forget your work and labour of love, which ye have shewed toward his name, in that ye have ministered to the saints, and do minister.

Porque Deus não é injusto para se esquecer da vossa obra e do trabalho de amor que, para com o seu nome, mostrastes, enquanto servistes aos santos e ainda servis.
And though I have the gift of prophecy, and understand all mysteries, and all knowledge; and though I have all faith, so that I could remove mountains, and have not charity, I am nothing.
Personal Bible reading plan
Create an account to configure your Bible reading plan and you will see your progress and the next chapter to read here!
Read more...