Bible Verses about 'Themselves'
«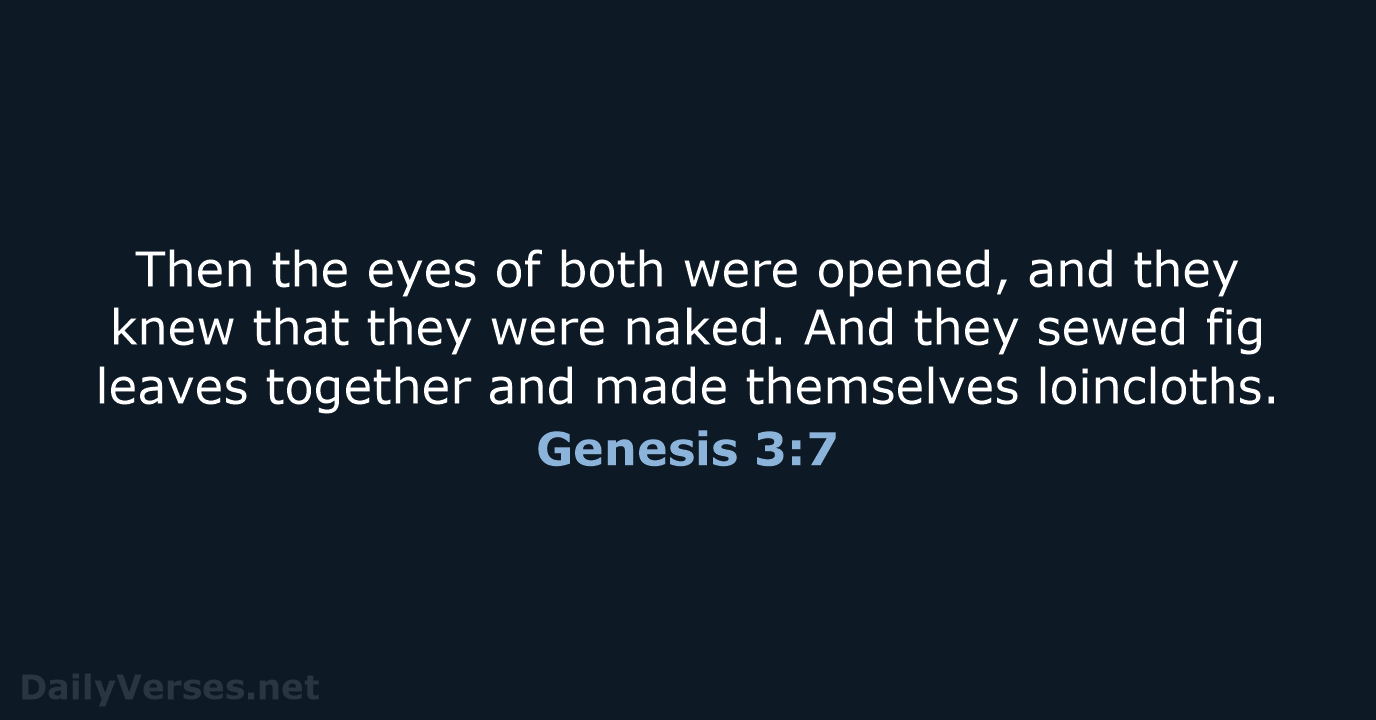 »
Then the eyes of both were opened, and they knew that they were naked. And they sewed fig leaves together and made themselves loincloths.

And they devoted themselves to the apostles' teaching and the fellowship, to the breaking of bread and the prayers.

For the love of money is a root of all kinds of evils. It is through this craving that some have wandered away from the faith and pierced themselves with many pangs.

If my people who are called by my name humble themselves, and pray and seek my face and turn from their wicked ways, then I will hear from heaven and will forgive their sin and heal their land.

Likewise also that women should adorn themselves in respectable apparel, with modesty and self-control, not with braided hair and gold or pearls or costly attire, but with what is proper for women who profess godliness—with good works.

Many shall purify themselves and make themselves white and be refined, but the wicked shall act wickedly. And none of the wicked shall understand, but those who are wise shall understand.

For the love of Christ controls us, because we have concluded this: that one has died for all, therefore all have died; and he died for all, that those who live might no longer live for themselves but for him who for their sake died and was raised.

All these with one accord were devoting themselves to prayer, together with the women and Mary the mother of Jesus, and his brothers.

Open your mouth for the mute,
for the rights of all who are destitute.

And he said to all, "If anyone would come after me, let him deny himself and take up his cross daily and follow me."

Do not toil to acquire wealth;
be discerning enough to desist.
When your eyes light on it, it is gone,
for suddenly it sprouts wings,
flying like an eagle toward heaven.

But be doers of the word, and not hearers only, deceiving yourselves.

And calling the crowd to him with his disciples, he said to them, "If anyone would come after me, let him deny himself and take up his cross and follow me."

Beloved, we are God's children now, and what we will be has not yet appeared; but we know that when he appears we shall be like him, because we shall see him as he is. And everyone who thus hopes in him purifies himself as he is pure.

"Let the one who boasts, boast in the Lord." For it is not the one who commends himself who is approved, but the one whom the Lord commends.

Whoever brings blessing will be enriched,
and one who waters will himself be watered.

And though a man might prevail against one who is alone, two will withstand him—a threefold cord is not quickly broken.

Do nothing from selfish ambition or conceit, but in humility count others more significant than yourselves.

Behold, his soul is puffed up; it is not upright within him,
but the righteous shall live by his faith.

I perceived that there is nothing better for them than to be joyful and to do good as long as they live; also that everyone should eat and drink and take pleasure in all his toil—this is God's gift to man.

Bondservants are to be submissive to their own masters in everything; they are to be well-pleasing, not argumentative, not pilfering, but showing all good faith, so that in everything they may adorn the doctrine of God our Savior.

I will multiply your offspring as the stars of heaven and will give to your offspring all these lands. And in your offspring all the nations of the earth shall be blessed, because Abraham obeyed my voice and kept my charge, my commandments, my statutes, and my laws.

Or do you not know that the unrighteous will not inherit the kingdom of God? Do not be deceived: neither the sexually immoral, nor idolaters, nor adulterers, nor men who practice homosexuality, nor thieves, nor the greedy, nor drunkards, nor revilers, nor swindlers will inherit the kingdom of God.

For the customs of the peoples are vanity.
A tree from the forest is cut down
and worked with an axe by the hands of a craftsman.
They decorate it with silver and gold;
they fasten it with hammer and nails
so that it cannot move.
Their idols are like scarecrows in a cucumber field,
and they cannot speak;
they have to be carried,
for they cannot walk.
Do not be afraid of them,
for they cannot do evil,
neither is it in them to do good.
Jesus answered them, "Truly, truly, I say to you, everyone who practices sin is a slave to sin."
Personal Bible reading plan
Create an account to configure your Bible reading plan and you will see your progress and the next chapter to read here!
Read more...