Bible Verses about 'Under'
«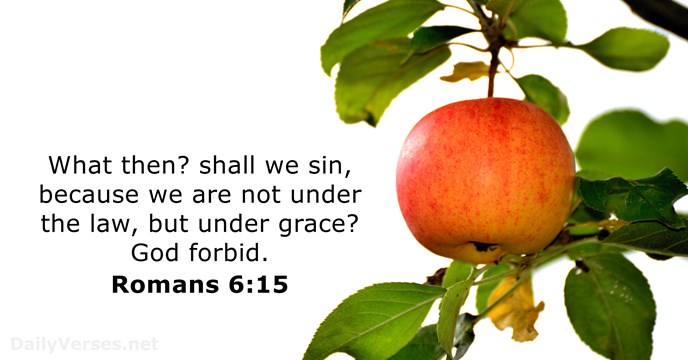 »
What then? shall we sin, because we are not under the law, but under grace? God forbid.

Pois quê? Pecaremos porque não estamos debaixo da lei, mas debaixo da graça? De modo nenhum!

For sin shall not have dominion over you: for ye are not under the law, but under grace.

Porque o pecado não terá domínio sobre vós, pois não estais debaixo da lei, mas debaixo da graça.

To every thing there is a season, and a time to every purpose under the heaven.

Tudo tem o seu tempo determinado, e há tempo para todo o propósito debaixo do céu.

Humble yourselves therefore under the mighty hand of God, that he may exalt you in due time.

Humilhai-vos, pois, debaixo da potente mão de Deus, para que, a seu tempo, vos exalte.

And the God of peace shall bruise Satan under your feet shortly. The grace of our Lord Jesus Christ be with you. Amen.

E o Deus de paz esmagará em breve Satanás debaixo dos vossos pés. A graça de nosso Senhor Jesus Cristo seja convosco. Amém!

He shall cover thee with his feathers, and under his wings shalt thou trust: his truth shall be thy shield and buckler.

Ele te cobrirá com as suas penas, e debaixo das suas asas estarás seguro; a sua verdade é escudo e broquel.

Neither is there salvation in any other: for there is none other name under heaven given among men, whereby we must be saved.

E em nenhum outro há salvação, porque também debaixo do céu nenhum outro nome há, dado entre os homens, pelo qual devamos ser salvos.

But the scripture hath concluded all under sin, that the promise by faith of Jesus Christ might be given to them that believe.

Mas a Escritura encerrou tudo debaixo do pecado, para que a promessa pela fé em Jesus Cristo fosse dada aos crentes.

No man, when he hath lighted a candle, covereth it with a vessel, or putteth it under a bed; but setteth it on a candlestick, that they which enter in may see the light.

E ninguém, acendendo uma candeia, a cobre com algum vaso ou a põe debaixo da cama; mas põe-na no velador, para que os que entram vejam a luz.

The hand of the diligent shall bear rule: but the slothful shall be under tribute.

A mão dos diligentes dominará, mas os enganadores serão tributários.

Wherefore God also hath highly exalted him, and given him a name which is above every name: That at the name of Jesus every knee should bow, of things in heaven, and things in earth, and things under the earth.

Pelo que também Deus o exaltou soberanamente e lhe deu um nome que é sobre todo o nome, para que ao nome de Jesus se dobre todo joelho dos que estão nos céus, e na terra, e debaixo da terra.

But I keep under my body, and bring it into subjection: lest that by any means, when I have preached to others, I myself should be a castaway.

Antes, subjugo o meu corpo e o reduzo à servidão, para que, pregando aos outros, eu mesmo não venha de alguma maneira a ficar reprovado.

All things are lawful unto me, but all things are not expedient: all things are lawful for me, but I will not be brought under the power of any.

Todas as coisas me são lícitas, mas nem todas as coisas convêm; todas as coisas me são lícitas, mas eu não me deixarei dominar por nenhuma.

Behold that which I have seen: it is good and comely for one to eat and to drink, and to enjoy the good of all his labour that he taketh under the sun all the days of his life, which God giveth him: for it is his portion.

Eis aqui o que eu vi, uma boa e bela coisa: comer, e beber, e gozar cada um do bem de todo o seu trabalho, em que trabalhou debaixo do sol, todos os dias da sua vida que Deus lhe deu; porque esta é a sua porção.

Thou hast also given me the shield of thy salvation: and thy right hand hath holden me up, and thy gentleness hath made me great. Thou hast enlarged my steps under me, that my feet did not slip.

Também me deste o escudo da tua salvação; a tua mão direita me susteve, e a tua mansidão me engrandeceu. Alargaste os meus passos e os meus artelhos não vacilaram.

And for this cause he is the mediator of the new testament, that by means of death, for the redemption of the transgressions that were under the first testament, they which are called might receive the promise of eternal inheritance.

E, por isso, é Mediador de um novo testamento, para que, intervindo a morte para remissão das transgressões que havia debaixo do primeiro testamento, os chamados recebam a promessa da herança eterna.

Neither do men light a candle, and put it under a bushel, but on a candlestick; and it giveth light unto all that are in the house. Let your light so shine before men, that they may see your good works, and glorify your Father which is in heaven.

Nem se acende a candeia e se coloca debaixo do alqueire, mas, no velador, e dá luz a todos que estão na casa. Assim resplandeça a vossa luz diante dos homens, para que vejam as vossas boas obras e glorifiquem o vosso Pai, que está nos céus.

And every creature which is in heaven, and on the earth, and under the earth, and such as are in the sea, and all that are in them, heard I saying, Blessing, and honour, and glory, and power, be unto him that sitteth upon the throne, and unto the Lamb for ever and ever.

E ouvi a toda criatura que está no céu, e na terra, e debaixo da terra, e que está no mar, e a todas as coisas que neles há, dizer: Ao que está assentado sobre o trono e ao Cordeiro sejam dadas ações de graças, e honra, e glória, e poder para todo o sempre.

He that dwelleth in the secret place of the most High shall abide under the shadow of the Almighty. I will say of the L

ord

, He is my refuge and my fortress: my God; in him will I trust.
Aquele que habita no esconderijo do Altíssimo, à sombra do Onipotente descansará. Direi do S

enhor

: Ele é o meu Deus, o meu refúgio, a minha fortaleza, e nele confiarei.

Ye are the salt of the earth: but if the salt have lost his savour, wherewith shall it be salted? it is thenceforth good for nothing, but to be cast out, and to be trodden under foot of men.

Vós sois o sal da terra; e, se o sal for insípido, com que se há de salgar? Para nada mais presta, senão para se lançar fora e ser pisado pelos homens.

The Lord knoweth how to deliver the godly out of temptations, and to reserve the unjust unto the day of judgment to be punished.

Assim, sabe o Senhor livrar da tentação os piedosos e reservar os injustos para o Dia de Juízo, para serem castigados.

For as many as have sinned without law shall also perish without law: and as many as have sinned in the law shall be judged by the law.

Porque todos os que sem lei pecaram sem lei também perecerão; e todos os que sob a lei pecaram pela lei serão julgados.

Every man according as he purposeth in his heart, so let him give; not grudgingly, or of necessity: for God loveth a cheerful giver.

Cada um contribua segundo propôs no seu coração, não com tristeza ou por necessidade; porque Deus ama ao que dá com alegria.

Blessed is the man that endureth temptation: for when he is tried, he shall receive the crown of life, which the Lord hath promised to them that love him.

Bem-aventurado o varão que sofre a tentação; porque, quando for provado, receberá a coroa da vida, a qual o Senhor tem prometido aos que o amam.

But above all things, my brethren, swear not, neither by heaven, neither by the earth, neither by any other oath: but let your yea be yea; and your nay, nay; lest ye fall into condemnation.

Mas, sobretudo, meus irmãos, não jureis nem pelo céu nem pela terra, nem façais qualquer outro juramento; mas que a vossa palavra seja sim, sim e não, não, para que não caiais em condenação.
A soft answer turneth away wrath: but grievous words stir up anger.
Personal Bible reading plan
Create an account to configure your Bible reading plan and you will see your progress and the next chapter to read here!
Read more...