Bible Verses about 'Wherefore'
«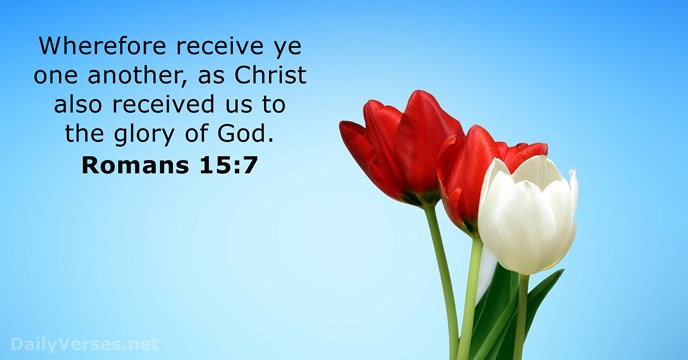 »
Wherefore receive ye one another, as Christ also received us to the glory of God.

Portanto, recebei-vos uns aos outros, como também Cristo nos recebeu para glória de Deus.

Wherefore comfort yourselves together, and edify one another, even as also ye do.

Pelo que exortai-vos uns aos outros e edificai-vos uns aos outros, como também o fazeis.

Wherefore, my beloved brethren, let every man be swift to hear, slow to speak, slow to wrath.

Sabeis isto, meus amados irmãos; mas todo o homem seja pronto para ouvir, tardio para falar, tardio para se irar.

How much then is a man better than a sheep? Wherefore it is lawful to do well on the sabbath days.

Pois quanto mais vale um homem do que uma ovelha? É, por consequência, lícito fazer bem nos sábados.

For I have no pleasure in the death of him that dieth, saith the Lord G

od

: wherefore turn yourselves, and live ye.
Porque não tomo prazer na morte do que morre, diz o Senhor J

eová

; convertei-vos, pois, e vivei.

Wherefore take unto you the whole armour of God, that ye may be able to withstand in the evil day, and having done all, to stand.

Portanto, tomai toda a armadura de Deus, para que possais resistir no dia mau e, havendo feito tudo, ficar firmes.

Wherefore he is able also to save them to the uttermost that come unto God by him, seeing he ever liveth to make intercession for them.

Portanto, pode também salvar perfeitamente os que por ele se chegam a Deus, vivendo sempre para interceder por eles.

Wherefore lay apart all filthiness and superfluity of naughtiness, and receive with meekness the engrafted word, which is able to save your souls.

Pelo que, rejeitando toda imundícia e acúmulo de malícia, recebei com mansidão a palavra em vós enxertada, a qual pode salvar a vossa alma.

Wherefore gird up the loins of your mind, be sober, and hope to the end for the grace that is to be brought unto you at the revelation of Jesus Christ.

Portanto, cingindo os lombos do vosso entendimento, sede sóbrios e esperai inteiramente na graça que se vos ofereceu na revelação de Jesus Cristo.

Wherefore thou art great, O L

ord

God: for there is none like thee, neither is there any God beside thee, according to all that we have heard with our ears.
Portanto, grandioso és, ó Senhor J

eová

, porque não há semelhante a ti, e não há outro Deus, senão tu só, segundo tudo o que temos ouvido com os nossos ouvidos.

Wherefore I say unto you, All manner of sin and blasphemy shall be forgiven unto men: but the blasphemy against the Holy Ghost shall not be forgiven unto men.

Portanto, eu vos digo: todo pecado e blasfêmia se perdoará aos homens, mas a blasfêmia contra o Espírito não será perdoada aos homens.

Wherefore God also hath highly exalted him, and given him a name which is above every name: That at the name of Jesus every knee should bow, of things in heaven, and things in earth, and things under the earth.

Pelo que também Deus o exaltou soberanamente e lhe deu um nome que é sobre todo o nome, para que ao nome de Jesus se dobre todo joelho dos que estão nos céus, e na terra, e debaixo da terra.

Wherefore seeing we also are compassed about with so great a cloud of witnesses, let us lay aside every weight, and the sin which doth so easily beset us, and let us run with patience the race that is set before us.

Portanto, nós também, pois, que estamos rodeados de uma tão grande nuvem de testemunhas, deixemos todo embaraço e o pecado que tão de perto nos rodeia e corramos, com paciência, a carreira que nos está proposta.

Wherefore the rather, brethren, give diligence to make your calling and election sure: for if ye do these things, ye shall never fall: For so an entrance shall be ministered unto you abundantly into the everlasting kingdom of our Lord and Saviour Jesus Christ.

Portanto, irmãos, procurai fazer cada vez mais firme a vossa vocação e eleição; porque, fazendo isto, nunca jamais tropeçareis. Porque assim vos será amplamente concedida a entrada no Reino eterno de nosso Senhor e Salvador Jesus Cristo.

And he answered and said unto them, Have ye not read, that he which made them at the beginning made them male and female, And said, For this cause shall a man leave father and mother, and shall cleave to his wife: and they twain shall be one flesh? Wherefore they are no more twain, but one flesh. What therefore God hath joined together, let not man put asunder.

Ele, porém, respondendo, disse-lhes: Não tendes lido que, no princípio, o Criador os fez macho e fêmea e disse: Portanto, deixará o homem pai e mãe e se unirá à sua mulher, e serão dois numa só carne? Assim não são mais dois, mas uma só carne. Portanto, o que Deus ajuntou não separe o homem.

Remember the sabbath day, to keep it holy. Six days shalt thou labour, and do all thy work: But the seventh day is the sabbath of the L

ord

thy God: in it thou shalt not do any work, thou, nor thy son, nor thy daughter, thy manservant, nor thy maidservant, nor thy cattle, nor thy stranger that is within thy gates: For in six days the L

ord

made heaven and earth, the sea, and all that in them is, and rested the seventh day: wherefore the L

ord

blessed the sabbath day, and hallowed it.
Lembra-te do dia do sábado, para o santificar. Seis dias trabalharás e farás toda a tua obra, mas o sétimo dia é o sábado do S

enhor

, teu Deus; não farás nenhuma obra, nem tu, nem o teu filho, nem a tua filha, nem o teu servo, nem a tua serva, nem o teu animal, nem o teu estrangeiro que está dentro das tuas portas. Porque em seis dias fez o S

enhor

os céus e a terra, o mar e tudo que neles há e ao sétimo dia descansou; portanto, abençoou o S

enhor

o dia do sábado e o santificou.
And though I have the gift of prophecy, and understand all mysteries, and all knowledge; and though I have all faith, so that I could remove mountains, and have not charity, I am nothing.
Personal Bible reading plan
Create an account to configure your Bible reading plan and you will see your progress and the next chapter to read here!
Read more...