81 Bible Verses about Blessing (3/4)
«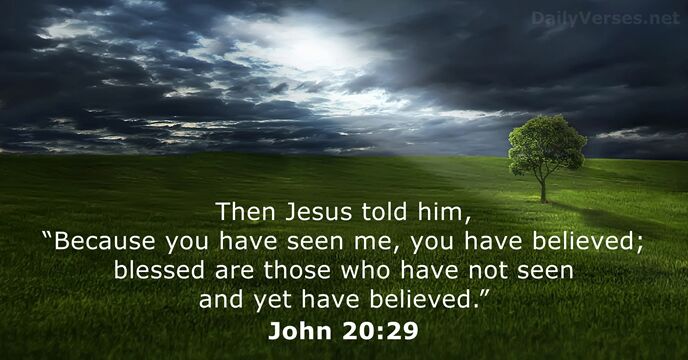 »
Then Jesus told him, "Because you have seen me, you have believed; blessed are those who have not seen and yet have believed."

Blessings crown the head of the righteous,
but violence overwhelms the mouth of the wicked.

When he had led them out to the vicinity of Bethany, he lifted up his hands and blessed them. While he was blessing them, he left them and was taken up into heaven.

Blessed is the nation whose God is the L

ord

,
the people he chose for his inheritance.
"If you do not listen, and if you do not resolve to honor my name," says the L

ord

Almighty, "I will send a curse on you, and I will curse your blessings. Yes, I have already cursed them, because you have not resolved to honor me."

May the grace of the Lord Jesus Christ, and the love of God, and the fellowship of the Holy Spirit be with you all.

The name of the righteous is used in blessings,
but the name of the wicked will rot.

Out of the same mouth come praise and cursing. My brothers and sisters, this should not be.

Let your face shine on your servant;
save me in your unfailing love.

Then God blessed the seventh day and made it holy, because on it he rested from all the work of creating that he had done.

He holds success in store for the upright,
he is a shield to those whose walk is blameless.

But whoever looks intently into the perfect law that gives freedom, and continues in it—not forgetting what they have heard, but doing it—they will be blessed in what they do.

So after they had fasted and prayed, they placed their hands on them and sent them off.

And because the midwives feared God, he gave them families of their own.

Listen, my son, accept what I say,
and the years of your life will be many.

"Truly I tell you," Jesus replied, "no one who has left home or brothers or sisters or mother or father or children or fields for me and the gospel will fail to receive a hundred times as much in this present age: homes, brothers, sisters, mothers, children and fields—along with persecutions—and in the age to come eternal life."

Blessed are you when people hate you,
when they exclude you and insult you
and reject your name as evil,
because of the Son of Man.
Blessed is the one
whose transgressions are forgiven,
whose sins are covered.
After Job had prayed for his friends, the L

ord

restored his fortunes and gave him twice as much as he had before.

Grace and peace to you from God our Father and from the Lord Jesus Christ.

L

ord

, save us!
L

ord

, grant us success!
Blessed is he who comes in the name of the L

ord

.
From the house of the L

ord

we bless you.
What is mankind that you are mindful of them,
human beings that you care for them?

If you follow my decrees and are careful to obey my commands, I will send you rain in its season, and the ground will yield its crops and the trees their fruit.

God blessed them and said to them, "Be fruitful and increase in number; fill the earth and subdue it. Rule over the fish in the sea and the birds in the sky and over every living creature that moves on the ground."

I will make your descendants as numerous as the stars in the sky and will give them all these lands, and through your offspring all nations on earth will be blessed, because Abraham obeyed me and did everything I required of him, keeping my commands, my decrees and my instructions.
The L

ord

is my shepherd, I lack nothing.
He makes me lie down in green pastures,
he leads me beside quiet waters.
Now he who supplies seed to the sower and bread for food will also supply and increase your store of seed and will enlarge the harvest of your righteousness.
Read more
The L

ord

is my shepherd, I lack nothing. He makes me lie down in green pastures, he leads me beside quiet waters.
Personal Bible reading plan
Create an account to configure your Bible read plan and you will see your progress and the next chapter to read here!
Read more...