Bible Verses about Death
«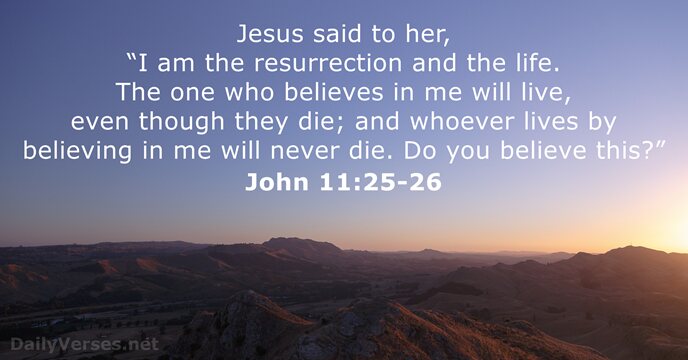 »
Jesus said to her, "I am the resurrection and the life. The one who believes in me will live, even though they die; and whoever lives by believing in me will never die. Do you believe this?"

Le dijo Jesús: —Yo soy la resurrección y la vida; el que cree en mí, aunque esté muerto, vivirá. Y todo aquel que vive y cree en mí, no morirá eternamente. ¿Crees esto?

If we live, we live for the Lord; and if we die, we die for the Lord. So, whether we live or die, we belong to the Lord.

Si vivimos, para el Señor vivimos; y si morimos, para el Señor morimos. Así pues, sea que vivamos o que muramos, del Señor somos.

For the Lord himself will come down from heaven, with a loud command, with the voice of the archangel and with the trumpet call of God, and the dead in Christ will rise first. After that, we who are still alive and are left will be caught up together with them in the clouds to meet the Lord in the air. And so we will be with the Lord forever.

El Señor mismo, con voz de mando, con voz de arcángel y con trompeta de Dios, descenderá del cielo. Entonces, los muertos en Cristo resucitarán primero. Luego nosotros, los que vivimos, los que hayamos quedado, seremos arrebatados juntamente con ellos en las nubes para recibir al Señor en el aire, y así estaremos siempre con el Señor.

Even though I walk through the darkest valley, I will fear no evil, for you are with me; your rod and your staff, they comfort me.

Aunque ande en valle de sombra de muerte, no temeré mal alguno, porque tú estarás conmigo; tu vara y tu cayado me infundirán aliento.

For to me, to live is Christ and to die is gain.

Porque para mí el vivir es Cristo y el morir, ganancia.

Here is a trustworthy saying: If we died with him, we will also live with him.

Palabra fiel es ésta: Si somos muertos con él, también viviremos con él.

Place me like a seal over your heart, like a seal on your arm; for love is as strong as death, its jealousy unyielding as the grave. It burns like blazing fire, like a mighty flame.

Ponme como un sello sobre tu corazón, como una marca sobre tu brazo; porque fuerte como la muerte es el amor y duros como el seol los celos. Sus brasas son brasas de fuego, potente llama.

For as in Adam all die, so in Christ all will be made alive.

Así como en Adán todos mueren, también en Cristo todos serán vivificados.

For I am convinced that neither death nor life, neither angels nor demons, neither the present nor the future, nor any powers, neither height nor depth, nor anything else in all creation, will be able to separate us from the love of God that is in Christ Jesus our Lord.

Por lo cual estoy seguro de que ni la muerte ni la vida, ni ángeles ni principados ni potestades, ni lo presente ni lo por venir, ni lo alto ni lo profundo, ni ninguna otra cosa creada nos podrá separar del amor de Dios, que es en Cristo Jesús, Señor nuestro.

For I take no pleasure in the death of anyone, declares the Sovereign L

ord

. Repent and live!

Porque yo no quiero la muerte del que muere, dice Jehová, el Señor. ¡Convertíos, pues, y viviréis!

And I heard a loud voice from the throne saying, "Look! God's dwelling place is now among the people, and he will dwell with them. They will be his people, and God himself will be with them and be their God. 'He will wipe every tear from their eyes. There will be no more death' or mourning or crying or pain, for the old order of things has passed away."

Y oí una gran voz del cielo, que decía: «El tabernáculo de Dios está ahora con los hombres. Él morará con ellos, ellos serán su pueblo y Dios mismo estará con ellos como su Dios. Enjugará Dios toda lágrima de los ojos de ellos; y ya no habrá más muerte, ni habrá más llanto ni clamor ni dolor, porque las primeras cosas ya pasaron.»

I am torn between the two: I desire to depart and be with Christ, which is better by far; but it is more necessary for you that I remain in the body.

De ambas cosas estoy puesto en estrecho, teniendo deseo de partir y estar con Cristo, lo cual es muchísimo mejor; pero quedar en la carne es más necesario por causa de vosotros.

For since death came through a man, the resurrection of the dead comes also through a man.

Pues por cuanto la muerte entró por un hombre, también por un hombre la resurrección de los muertos.

For whoever wants to save their life will lose it, but whoever loses their life for me will find it.

Porque todo el que quiera salvar su vida, la perderá; y todo el que pierda su vida por causa de mí, la hallará.

Where can I go from your Spirit? Where can I flee from your presence? If I go up to the heavens, you are there; if I make my bed in the depths, you are there.

¿A dónde me iré de tu espíritu? ¿Y a dónde huiré de tu presencia? Si subiera a los cielos, allí estás tú; y si en el seol hiciera mi estrado, allí tú estás.

In Hades, where he was in torment, he looked up and saw Abraham far away, with Lazarus by his side. So he called to him, 'Father Abraham, have pity on me and send Lazarus to dip the tip of his finger in water and cool my tongue, because I am in agony in this fire.'

En el Hades alzó sus ojos, estando en tormentos, y vio de lejos a Abraham, y a Lázaro en su seno. Entonces, gritando, dijo: "Padre Abraham, ten misericordia de mí y envía a Lázaro para que moje la punta de su dedo en agua y refresque mi lengua, porque estoy atormentado en esta llama."

Jesus called out with a loud voice, "Father, into your hands I commit my spirit." When he had said this, he breathed his last.

Entonces Jesús, clamando a gran voz, dijo: —Padre, en tus manos encomiendo mi espíritu. Habiendo dicho esto, expiró.

Do not be afraid of those who kill the body but cannot kill the soul. Rather, be afraid of the One who can destroy both soul and body in hell.

No temáis a los que matan el cuerpo pero el alma no pueden matar; temed más bien a aquel que puede destruir el alma y el cuerpo en el infierno.

For we know that if the earthly tent we live in is destroyed, we have a building from God, an eternal house in heaven, not built by human hands.

Sabemos que si nuestra morada terrestre, este tabernáculo, se deshace, tenemos de Dios un edificio, una casa no hecha por manos, eterna, en los cielos.

Very rarely will anyone die for a righteous person, though for a good person someone might possibly dare to die. But God demonstrates his own love for us in this: While we were still sinners, Christ died for us.

Ciertamente, apenas morirá alguno por un justo; con todo, pudiera ser que alguien tuviera el valor de morir por el bueno. Pero Dios muestra su amor para con nosotros, en que siendo aún pecadores, Cristo murió por nosotros.

Blessed and holy are those who share in the first resurrection. The second death has no power over them, but they will be priests of God and of Christ and will reign with him for a thousand years.

Bienaventurado y santo el que tiene parte en la primera resurrección; la segunda muerte no tiene poder sobre estos, sino que serán sacerdotes de Dios y de Cristo y reinarán con él mil años.

Now I am about to go the way of all the earth. You know with all your heart and soul that not one of all the good promises the L

ord

your God gave you has failed. Every promise has been fulfilled; not one has failed.

Yo estoy próximo a entrar hoy por el camino que recorren todos. Reconoced, pues, con todo vuestro corazón y con toda vuestra alma, que no ha faltado ni una sola de todas las bendiciones que Jehová, vuestro Dios, os había dicho; todas se os han cumplido, no ha faltado ninguna de ellas.

You belong to your father, the devil, and you want to carry out your father's desires. He was a murderer from the beginning, not holding to the truth, for there is no truth in him. When he lies, he speaks his native language, for he is a liar and the father of lies.

Vosotros sois de vuestro padre el diablo, y los deseos de vuestro padre queréis hacer. Él ha sido homicida desde el principio y no ha permanecido en la verdad, porque no hay verdad en él. Cuando habla mentira, de suyo habla, pues es mentiroso y padre de mentira.
This is the confidence we have in approaching God: that if we ask anything according to his will, he hears us.
Personal Bible reading plan
Create an account to configure your Bible reading plan and you will see your progress and the next chapter to read here!
Read more...