29 Versículos de la Biblia sobre Alabanza
«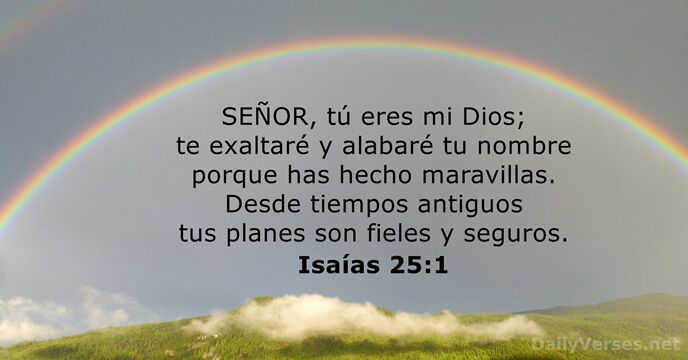 »
S

eñor

, tú eres mi Dios; te exaltaré y alabaré tu nombre porque has hecho maravillas. Desde tiempos antiguos tus planes son fieles y seguros.
O L

ord

, you are my God; I will exalt you; I will praise your name, for you have done wonderful things, plans formed of old, faithful and sure.
¡Que todo lo que respira alabe al S

eñor

! ¡Aleluya! ¡Alabado sea el S

eñor

!
Let everything that has breath praise the L

ord

! Praise the L

ord

!
Alaba, alma mía, al S

eñor

; alabe todo mi ser su santo nombre.
Bless the L

ord

, O my soul, and all that is within me, bless his holy name!

A eso de la medianoche, Pablo y Silas se pusieron a orar y a cantar himnos a Dios, y los otros presos los escuchaban.

About midnight Paul and Silas were praying and singing hymns to God, and the prisoners were listening to them.

¿Por qué voy a inquietarme? ¿Por qué me voy a angustiar? En Dios pondré mi esperanza, y todavía lo alabaré. ¡Él es mi Salvador y mi Dios!

Why are you cast down, O my soul, and why are you in turmoil within me? Hope in God; for I shall again praise him, my salvation and my God.

Quiero alabarte, S

eñor

, con todo el corazón, y contar todas tus maravillas.
I will give thanks to the L

ord

with my whole heart; I will recount all of your wonderful deeds.
El S

eñor

es mi fuerza y mi escudo; mi corazón en él confía; de él recibo ayuda. Mi corazón salta de alegría, y con cánticos le daré gracias.
The L

ord

is my strength and my shield; in him my heart trusts, and I am helped; my heart exults, and with my song I give thanks to him.

Tu amor es mejor que la vida; por eso mis labios te alabarán. Te bendeciré mientras viva, y alzando mis manos te invocaré.

Because your steadfast love is better than life, my lips will praise you. So I will bless you as long as I live; in your name I will lift up my hands.

Tú creaste mis entrañas; me formaste en el vientre de mi madre. ¡Te alabo porque soy una creación admirable! ¡Tus obras son maravillosas, y esto lo sé muy bien!

For you formed my inward parts; you knitted me together in my mother's womb. I praise you, for I am fearfully and wonderfully made. Wonderful are your works; my soul knows it very well.

Mi boca rebosa de alabanzas a tu nombre, y todo el día proclama tu grandeza.

My mouth is filled with your praise, and with your glory all the day.

Grande es el S

eñor

, y digno de toda alabanza; su grandeza es insondable.
Great is the L

ord

, and greatly to be praised, and his greatness is unsearchable.

Y oí a cuanta criatura hay en el cielo, y en la tierra, y debajo de la tierra y en el mar, a todos en la creación, que cantaban: «¡Al que está sentado en el trono y al Cordero, sean la alabanza y la honra, la gloria y el poder, por los siglos de los siglos!»

And I heard every creature in heaven and on earth and under the earth and in the sea, and all that is in them, saying, "To him who sits on the throne and to the Lamb be blessing and honor and glory and might forever and ever!"

Que habite en ustedes la palabra de Cristo con toda su riqueza: instrúyanse y aconséjense unos a otros con toda sabiduría; canten salmos, himnos y canciones espirituales a Dios, con gratitud de corazón.

Let the word of Christ dwell in you richly, teaching and admonishing one another in all wisdom, singing psalms and hymns and spiritual songs, with thankfulness in your hearts to God.

Bendeciré al S

eñor

en todo tiempo; mis labios siempre lo alabarán.
I will bless the L

ord

at all times; his praise shall continually be in my mouth.
Den gracias al S

eñor

, invoquen su nombre; den a conocer sus obras entre las naciones.
Oh give thanks to the L

ord

; call upon his name; make known his deeds among the peoples!

Por último, hermanos, consideren bien todo lo verdadero, todo lo respetable, todo lo justo, todo lo puro, todo lo amable, todo lo digno de admiración, en fin, todo lo que sea excelente o merezca elogio.

Finally, brothers, whatever is true, whatever is honorable, whatever is just, whatever is pure, whatever is lovely, whatever is commendable, if there is any excellence, if there is anything worthy of praise, think about these things.

Confío en Dios y alabo su palabra; confío en Dios y no siento miedo. ¿Qué puede hacerme un simple mortal?

In God, whose word I praise, in God I trust; I shall not be afraid. What can flesh do to me?

Está escrito: «Tan cierto como que yo vivo —dice el Señor—, ante mí se doblará toda rodilla y toda lengua confesará a Dios.»

For it is written, "As I live, says the Lord, every knee shall bow to me, and every tongue shall confess to God."

No dejaban de reunirse en el templo ni un solo día. De casa en casa partían el pan y compartían la comida con alegría y generosidad, alabando a Dios y disfrutando de la estimación general del pueblo. Y cada día el Señor añadía al grupo los que iban siendo salvos.

And day by day, attending the temple together and breaking bread in their homes, they received their food with glad and generous hearts, praising God and having favor with all the people. And the Lord added to their number day by day those who were being saved.

Clamé a él con mi boca; lo alabé con mi lengua.

I cried to him with my mouth, and high praise was on my tongue.

Sáname, S

eñor

, y seré sanado; sálvame y seré salvado, porque tú eres mi alabanza.
Heal me, O L

ord

, and I shall be healed; save me, and I shall be saved, for you are my praise.
En aquel día se dirá: «Alaben al S

eñor

, invoquen su nombre; den a conocer entre los pueblos sus obras; proclamen la grandeza de su nombre.»
And you will say in that day: "Give thanks to the L

ord

, call upon his name, make known his deeds among the peoples, proclaim that his name is exalted."

Te alabaré con integridad de corazón, cuando aprenda tus justos juicios.

I will praise you with an upright heart, when I learn your righteous rules.

De una misma boca salen bendición y maldición. Hermanos míos, esto no debe ser así.

From the same mouth come blessing and cursing. My brothers, these things ought not to be so.

A ti, Dios de mis padres, te alabo y te doy gracias. Me has dado sabiduría y poder, me has dado a conocer lo que te pedimos, ¡me has dado a conocer el sueño del rey!

To you, O God of my fathers, I give thanks and praise, for you have given me wisdom and might, and have now made known to me what we asked of you, for you have made known to us the king's matter.
Confía en el S

eñor

y haz el bien;
establécete en la tierra y mantente fiel.
El Señor no tarda en cumplir su promesa, según entienden algunos la tardanza. Más bien, él tiene paciencia con ustedes, porque no quiere que nadie perezca sino que todos se arrepientan.
Confía en el S

eñor

y haz el bien; establécete en la tierra y mantente fiel.
Plan de lectura de la Biblia
Registrar y configurar su plan de lectura de la Biblia que desea ver su progreso y el siguiente capítulo para leer aquí!